Holliday's bat backs Lynn's strong arm against LA
Slugger, current No. 2 starter open second half on impressive note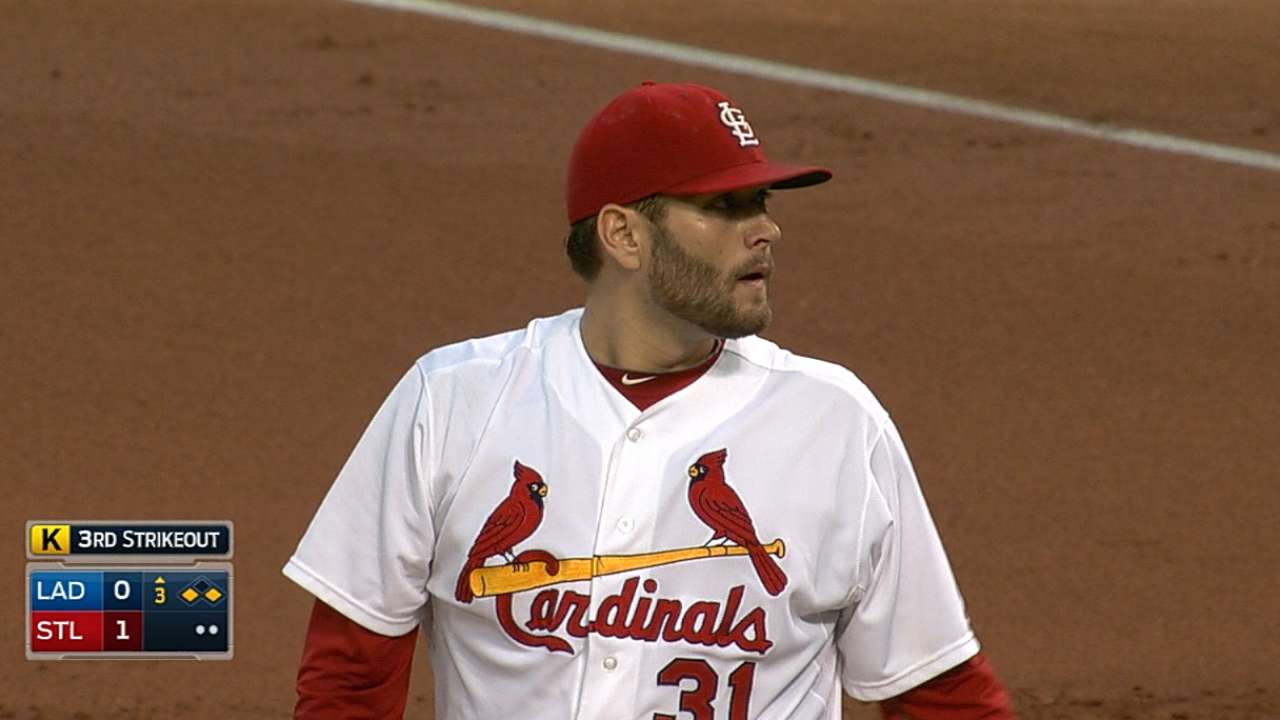 ST. LOUIS -- As the Cardinals hope to ride a second-half surge to another division title, they'll look for Matt Holliday to be as he was after the All-Star break a year ago and for Lance Lynn to be everything he wasn't.
Both players hit that mark in Friday's opening act.
Behind Holliday's power and Lynn's power arm, the Cardinals, playing in front of 45,010 at Busch Stadium, returned to play with a 3-2 victory over the Dodgers, who entered the night with a National League-leading 54 wins. Now, they have just one more than the Cardinals, who have to like their division chances if Friday's performances by their left fielder and current No. 2 starter are a harbinger for second-half contributions.
"[Holliday] looked great today and Lance did what he needed to do to keep us there," manager Mike Matheny said. "He had a very good outing."
Holliday drove in all three of the Cardinals' runs against Dodgers starter Dan Haren. He followed Kolten Wong's first-inning double with one of his own and drove Wong home again with a 435-foot homer to straightaway center in the fifth.
"I made a bad pitch to Holliday," Haren said of the fifth-inning, down-the-middle fastball. "I didn't make that many mistakes, but I probably got caught up with a runner on first and tried to be too quick to home and left it right over the plate for him."
The double was the 400th of Holliday's career, while the run scored was No. 1,000.
"He's really capable of doing something every time," Wong said. "To have someone of his caliber [hitting] behind you, you definitely want to get on base, whether it's a walk, hit, whatever."
The three-RBI night had shades of 2013, when Holliday became the Cardinals' top offensive catalyst once the team returned from its mid-July hiatus. He was among the league's best second-half performers, exceeding his first-half number of doubles and matching his first-half RBI total in 24 fewer games.
This season, Holliday entered the second half with a team-high 45 RBIs, 12 of which were game-winning ones, but also a pedestrian .265 average. If the season ended now, his average and slugging percentage (.389) would be the lowest of his career. Yet he does see tangible signs of an oncoming turnaround.
"When I'm hitting the ball toward the grass and landing the ball in the grass, that's a good sign," Holliday said. "That's what I'm best at."
While Holliday is seeking to follow his 2013 script, Lynn would like to write a better one. The right-hander has struggled out of the All-Star break each of the last two seasons, having such a hard time in 2012 that he was temporarily relocated to the bullpen.
On Friday, he held Los Angeles scoreless for six innings before a pair of leadoff doubles in the seventh led to two runs. The second scored on a wild pitch by reliever Seth Maness, who relieved Lynn after 107 pitches.
For the first time since April, Lynn struck out nine, none bigger than getting Matt Kemp to swing through a 96-mph fastball to leave the bases full in the third.
"It's pretty simple," Lynn said of his approach against Kemp. "Here's my fastball. Hit it."
The results were a significant improvement over Lynn's June start against the Dodgers in which he allowed seven runs in two innings before exiting with an open blister on his pitching hand.
"Lance Lynn is just so effective attacking with his fastball, he moves it around so early in the count, both sides of the plate, and then he tends to find an extra gear with two strikes," Dodgers catcher A.J. Ellis said. "He's got that instinct to put guys away late with two strikes with his fastball."
Lynn entered the year with the stated goal of being able to better maintain his stamina for a full season, and Friday's start was an indication he's better positioned to do so. Out of the All-Star break a year ago, Lynn posted a 4.91 ERA and led the Cardinals to wins in just three of his first nine starts. A year before, he posted a 6.03 ERA before being yanked out of the rotation.
"I think the experience has been a good teacher for him," Matheny said. "Physically, I think he's strong right now. Mentally, I think he realizes how quick this can slip if you start to back off at all. I see him having as strong a finish as he started."
Lynn became the NL's sixth starter to 11 wins, as Maness, Pat Neshek and Trevor Rosenthal held a one-run lead behind him. Neshek stranded the potential tying run on second in the eighth. Rosenthal had his first clean inning since June 13.
Jenifer Langosch is a reporter for MLB.com. Read her blog, By Gosh, It's Langosch, and follow her on Twitter @LangoschMLB. This story was not subject to the approval of Major League Baseball or its clubs.