Braves reporter celebrated at Triple-A Gwinnett
Bowman tosses ceremonial first pitch, fields questions from fans at Coolray Field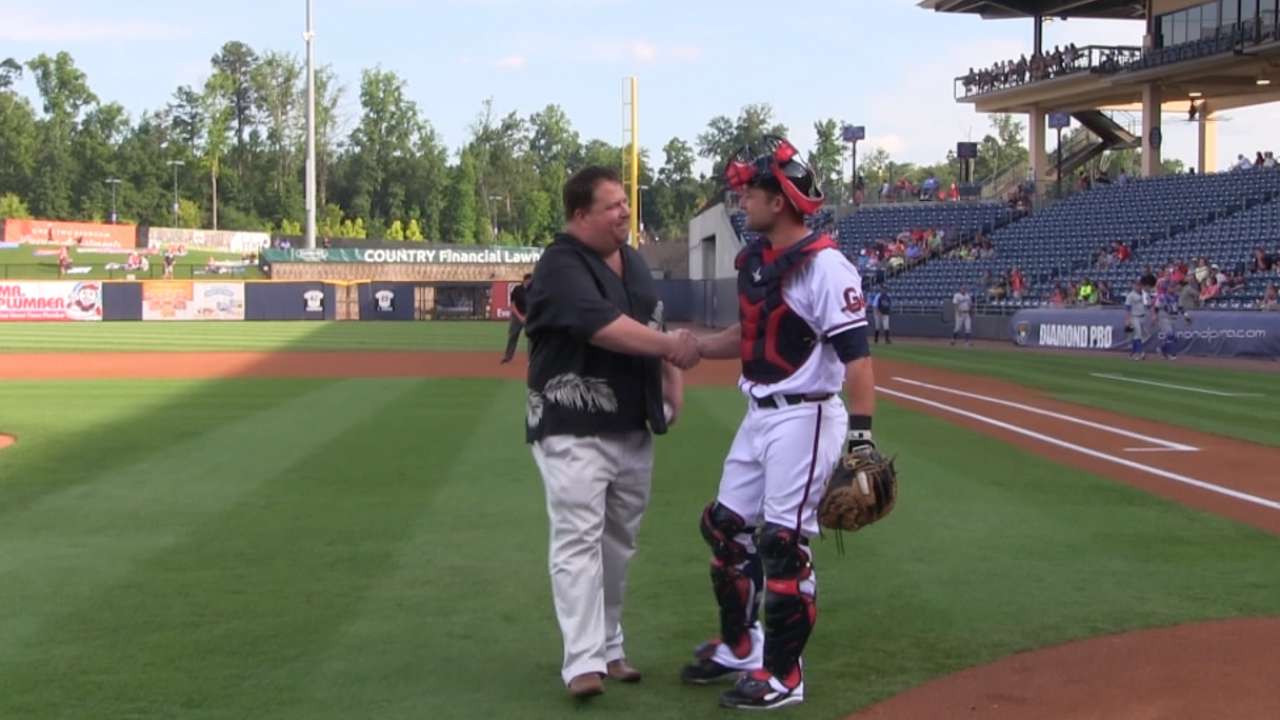 LAWRENCEVILLE, Ga. -- The Gwinnett Braves hosted "Mark Bowman Day" at Coolray Field on Thursday evening, and the man of the hour was well prepared. Before taking the field to throw out the first pitch, he warmed up in the batting cages.
"It kind of felt just like the driving range," Bowman said, laughing. "The first one was straight as can be. The next 15, I didn't know where they were going."
The Braves beat reporter then took the field along with the Gwinnett players, stood in front of the mound and fired a strike to catcher Steven Lerud. Bowman had no plans of toeing the rubber, instead choosing to heed Braves pitching coach Roger McDowell's advice.
"Roger McDowell said, 'Know your limits,'" Bowman joked.
Bowman's ceremonial first toss was part of a day that included a question-and-answer session with members of Gwinnett's Home Plate Club and a night spent watching baseball with his family in a suite.
He was especially happy that his parents, Ed and Sara Bowman, who recently moved to Atlanta from West Virginia, were there. Ed took a 4-year-old Mark to his first baseball game between the Pirates and Expos at Three Rivers Stadium in 1988.
"For them to come here and see this, that's kind of cool," said Bowman, who has been covering the club since 2001. "They've been following the Braves from afar since I moved down here, and they've kind of slowly gotten rid of some of their Pirates stuff."
Bowman was also excited to see some familiar faces on Thursday, including Gwinnett manager and former Atlanta third-base coach Brian Snitker. "He is one of the most important people to this organization," Bowman said.
A fan asked Bowman during the Q&A session how he felt about being a part of Braves history. Bowman answered that he valued his responsibility to document the team's history for future fans and analysts of the game.
As he prepares for the second half of his 14th year with MLB.com, Bowman was humbled to receive recognition of his continuing work of telling the Braves' stories.
"It's always nice to have somebody appreciate what you've done," he said. "This is certainly not anything I would have expected, but at the same time, I truly did enjoy the opportunity to come up here and see what is a great stadium and be around some great people."
Joe Morgan is an associate reporter for MLB.com. This story was not subject to the approval of Major League Baseball or its clubs.