Pitchers whose value could change due to a trade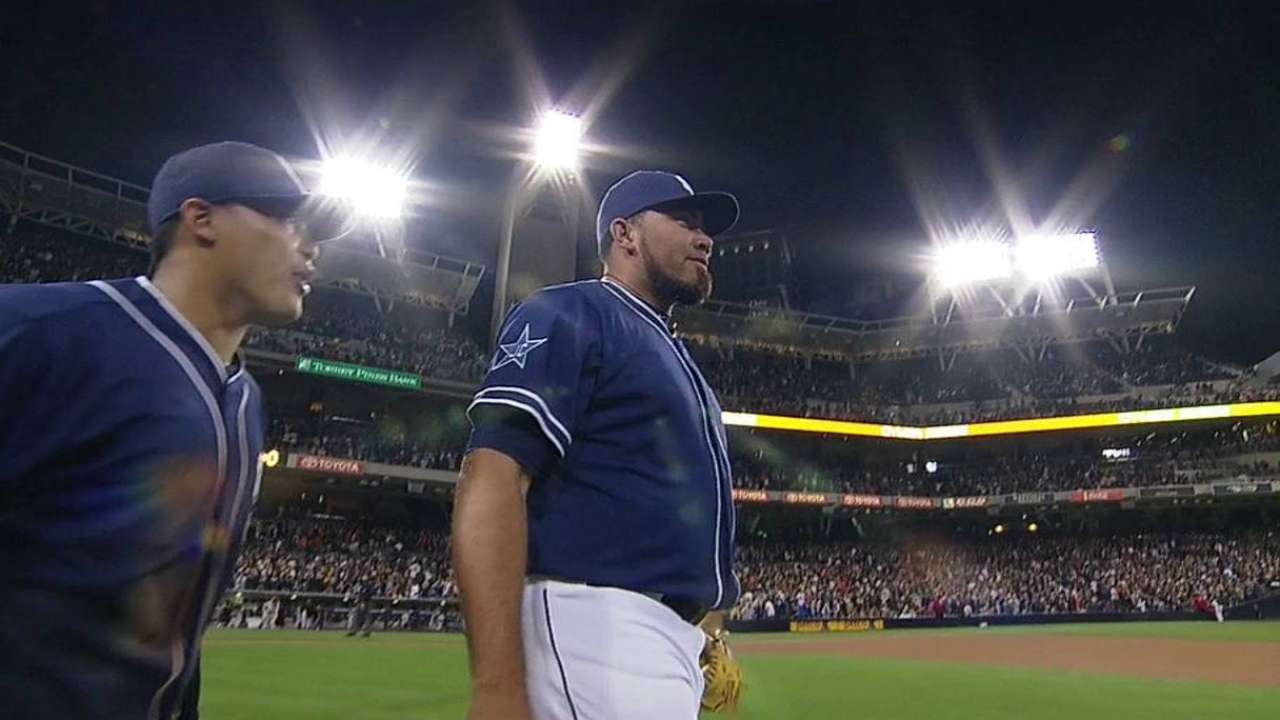 In the next two weeks leading up to baseball's July 31 non-waiver Trade Deadline, several key players will likely change teams. Smart owners will get ahead of the competition by anticipating player movement and making the wise moves ahead of their leaguemates. Earlier this week, we looked at several hitters whose fantasy value could be affected. Now, let's take a look at some of the arms.
Joaquin Benoit, Padres: Of all the setup men in baseball, Benoit has arguably the best chance to be saving games by August 1. The 36-year-old proved last season that he could be an effective closer, and he has posted outstanding numbers in a setup role with San Diego this year. The Padres went into the All-Star break 12 games behind the pace in the National League West, and they could choose to trade Benoit or closer Huston Street this month. If Street leaves San Diego, Benoit would almost certainly take over the ninth-inning role. And if Benoit were moved to another club, it could be to finish games. Fantasy owners would be wise to stash Benoit until the Padres choose their Trade Deadline path.
Ken Giles, Phillies: If the Phils choose to jump-start a movement toward 2015 by dealing Jonathan Papelbon, Giles would be a strong candidate to take over ninth-inning duties. The 23-year-old owns a 0.64 ERA and a 0.72 WHIP, and his 18-to-3 strikeout-to-walk ratio in 14 innings shows that he could have the dominant stuff needed to close out games. Fantasy owners in search of cheap saves could stash Giles now and send him back to waivers on Aug. 1 if Papelbon is still a member of the Phillies.
LaTroy Hawkins, Rex Brothers, Rockies: Hawkins has fared better than many had expected, as he has converted 17 of 18 save chances for Colorado. Several Rockies players could be in play at the Trade Deadline, and the 41-year-old reliever is among the top targets. If Hawkins were sent to a new home, it is unlikely that he would be placed in a closer's role, which would take away any mixed-league value that he currently carries. Many fantasy owners assumed that Brothers would have taken over the closer's role by now, but he has not been able to duplicate his impressive 2013 numbers. A lack of control has been Brothers' biggest problem, but the 26-year-old could still get a shot at the ninth inning if the Rockies want to take a look at him before making decisions for their 2015 bullpen makeup.
Neftali Feliz, Joakim Soria, Rangers: Texas is currently sitting in last place in the Majors, so it makes sense that the club may move some veterans in an effort to retool for 2015. Soria is among the Rangers who have already been mentioned in trade talks. The 30-year-old has pitched well this season, and he has a reasonable $7 million club option for 2015, so Texas may choose to keep him and stay secure at the back end of its bullpen. If the club decides to deal its stopper, Feliz could step into the role. The 26-year-old has plenty of experience as a closer, and he has pitched well since working his way back to the Majors. The Rangers could choose to give him a two-month trial with the job and then determine whether they need to shop for a closer next winter.
Jorge De La Rosa, Rockies: The left-hander has seen his name floated in recent trade rumors, with Baltimore being a possible destination. At first glance, a move out of Colorado would seem to be a good thing for any pitcher. But if any starter has ever conquered Coors Field, it would be De La Rosa. The 33-year-old owns a 41-14 record in his home park, and his 4.11 career ERA at home is notably lower than his mark on the road. This season, De La Rosa's home ERA is more than two runs lower than his ERA when working as a visitor. Fantasy owners should be careful not to assume that De La Rosa's fantasy value would go up if he is traded. At best, a trade would be a lateral move for the southpaw, and he may be best off staying with the Rockies and trying to conquer his road woes.
Allen Webster, Red Sox: Rubby De La Rosa was not the only notable young starter that Boston picked up in its massive 2012 trade with the Dodgers. Webster, also acquired in the deal, has had some inconsistencies in Triple-A, and he struggled in a brief Major League audition last season. With that said, he started the 2014 season ranked third among all Red Sox prospects by MLB.com. Veteran starter Jake Peavy has recently popped up in trade rumors, and even though Peavy has said that he hopes to stay with Boston, he could be wearing a new jersey by the end of the month. A Peavy trade could clear a rotation spot for Webster to get an extended look. Or, at the very least, it would move the 24-year-old one step closer to getting a spot in the Red Sox's starting rotation. Fantasy owners should be aware that Webster's control could be an issue when he gets to the Majors, meaning it may be hard for him to post a low WHIP. Regardless, the youngster should offer a solid strikeout rate, which would help him dance around the occasional free pass.
Fred Zinkie is a fantasy writer for MLB.com. This story was not subject to the approval of Major League Baseball or its clubs.