MLB.com Columnist
Matthew Leach
Statcast offers in-depth look at All-Star highlights
MLBAM's tracking technology provides details on running speeds, HR distances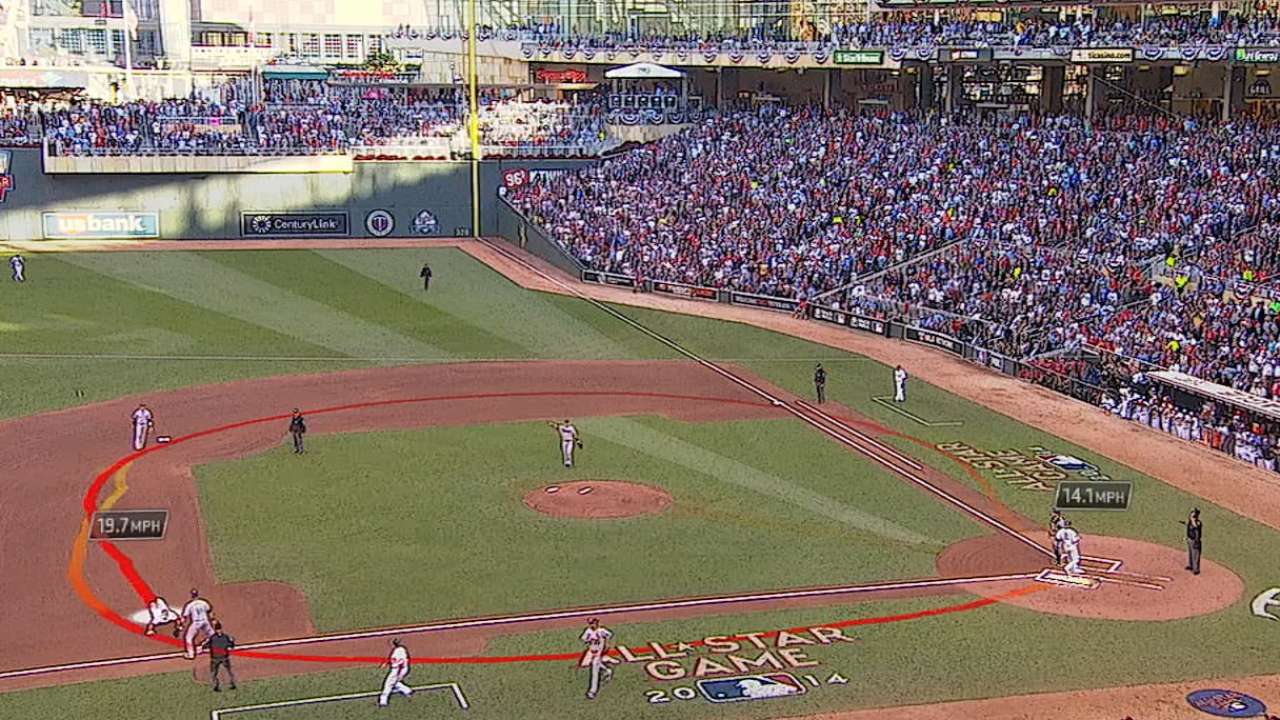 As MLBAM's Statcast player-tracking technology continues to roll out, fans got a look at some of the special tools on display over All-Star Week in Minneapolis.
From the speed of Phillies prospect J.P. Crawford in Sunday's SiriusXM Futures Game, to the raw power of Giancarlo Stanton in Monday's Gillette Home Run Derby, to the speed-power combination of MVP Mike Trout and the baserunning acumen of Derek Jeter in the All-Star Game, Statcast highlights some of what made the festivities so much fun. All-Stars make it to the top based on honed skills, but pure tools are often the base from which skills develop.
Besides the stage, one other difference in this new round of clips, which debuted over the course of All-Star events, is that they're a little less polished. That's the price you pay for being able to see them sooner, but more important, it sheds some light on the various ways this information will be able to be used.
The really heavy-duty stuff, with multiple variables available within a single play, has seemingly limitless potential. Front offices can use it to measure defense or baserunning skills. We could get a better understanding of optimal tactics as we see just how close some decisions are to paying off.
These lighter versions have more immediate impact. You see something remarkable, and you want to know soon some more detail. That's what we're looking at this week.
Crawford's steal: First is a stolen base by Phillies infield prospect Crawford in the Futures Game. We see Crawford had a lead of 11 feet off of first base, and we see he reaches a peak velocity of about 19 mph.
Stanton's barrage: For the Home Run Derby, Statcast definitely adds a fun wrinkle. We see the actual distance each homer traveled, that is, how far it is from the plate to the spot the ball landed. But that's enhanced by the projected distance, which is to say how far the ball would have traveled if not for those pesky seats and fans. In the case of Stanton's spectacular last homer, that distance is a jaw-dropping 483 feet.
Trout's triple: There's not much that's more fun to watch than a player like Trout hitting and legging out a triple, and now we have more data on what goes into that. For Trout's first-inning triple from Tuesday night, we see data on Trout's romp as well as Jeter's run home.
Trout gets up around 21 mph peak velocity, which must have looked like a freight train to National League infielders. Meanwhile, we also see tracking of Jeter's path as he keeps an eye on the ball and bolts home, and we even see that Jeter gets up over 19 mph himself. Not too bad.
Altuve vs. Gordon: A little later in Tuesday's game, another speedster, Dee Gordon, hit a ground ball to second base. And it's in Gordon's speed that we see just how good a play Jose Altuve makes.
Gordon reaches about 21 mph before even getting to first base, and he gets to that speed quickly. But Altuve, ranging to his right and making a quick, strong throw, still manages to get Gordon out.
Matthew Leach is an editor and reporter for MLB.com. Read his blog, Obviously, You're Not a Golfer and follow him on Twitter at @MatthewHLeach. This story was not subject to the approval of Major League Baseball or its clubs.