MVP Trout chooses from pair of Chevy vehicles
Fans can bid on Corvette Stingray Z51 favored by Angels star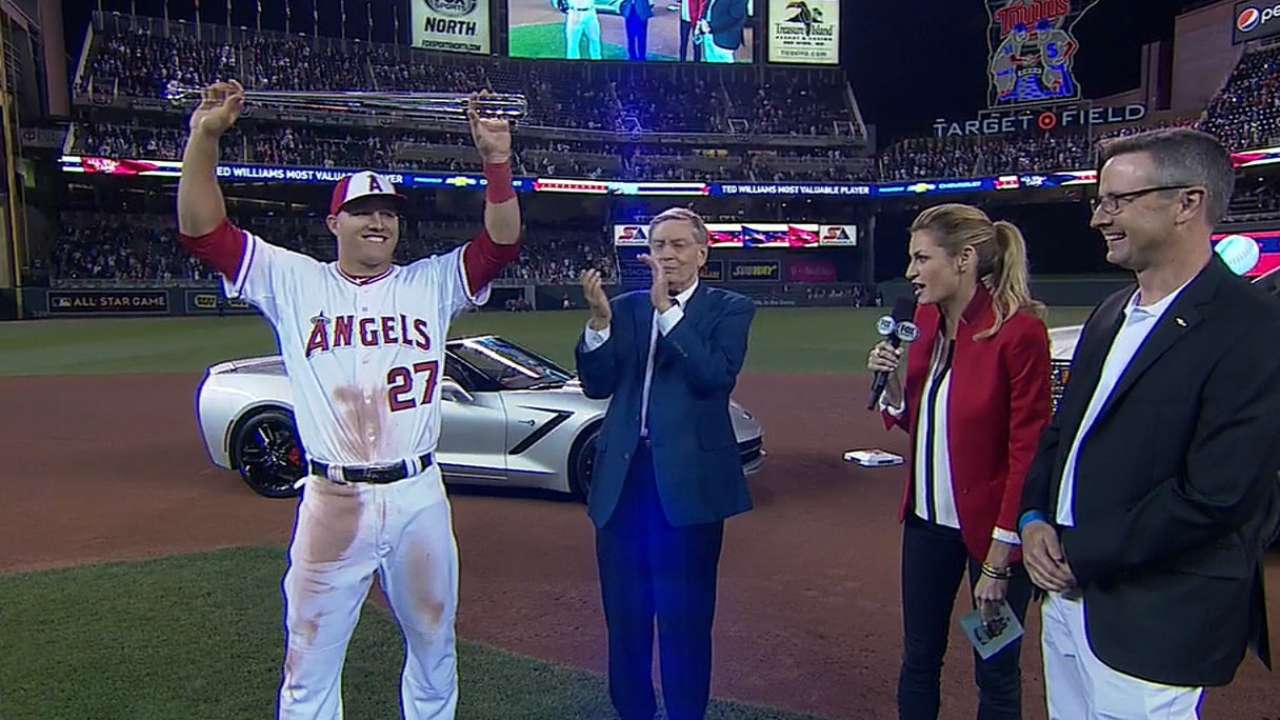 MINNEAPOLIS -- Mike Trout chose the Corvette Stingray Z51 over the Silverado as his vehicle of choice after winning the Ted Williams Most Valuable Player Award presented by Chevrolet, with many of the remaining fans at Target Field offering their own input.
"When they came out and told me I've got a choice, I was pretty pumped," Trout said in the postgame news conference. "I got my dad a truck a couple weeks ago. So I probably would have chosen a truck if I hadn't done that. But you gotta go with the sports car.
"It's pretty funny it's a 'Vette, because our bench coach, Dino Ebel, he loves 'Vettes and we keep talking day in and day out of getting a Corvette, me getting a Corvette, and now that I've got one I am going to rub it in his face, for sure."
Now that it's decided, you can be involved in that same ceremony that followed the American League's 5-3 victory in the 85th All-Star Game on Tuesday night. Bidding is underway for a chance to own your own Stingray Z51, while helping a worthy cause.
Trout doubled and tripled to give the AL home-field advantage in this World Series. Chevrolet officials walked him out toward second base, where he was given his choice of the 2014 North American Car and Truck of the Year -- the Stingray -- or the Silverado full-size pickup.
Chevrolet announced it would provide a Stingray Z51, featuring a unique hood autographed by Jeter and all the 2014 All-Stars, for auction at ChevyBaseball.com, with proceeds to benefit charity.
Earlier in the day, Trout was among the All-Stars who signed the Stingray hood in the staging area at the Hyatt before boarding a Silverado in the All-Star Game Red Carpet Parade presented by Chevy.
"Tonight, we honor the achievements of Mike Trout, the 2014 All-Star Game Most Valuable Player, while we showcase our own MVPs, the Corvette Stingray and Chevrolet Silverado," said Paul Edwards, U.S. vice president, Chevrolet Marketing. "We hope many of our fellow baseball fans join us to help raise funds for a worthy cause."
The Stingray being auctioned features both an autographed display hood signed by the players and a factory original hood for driving. Bidding on the Corvette Stingray opened immediately following the MVP ceremony, and will continue until 5 p.m. ET on Aug. 1.
In addition to the Stingray for auction on ChevyBaseball.com, Chevrolet will provide MLB and the MLB Players Association with a commemorative Corvette Stingray hood, also signed by 2014 All-Star players and coaches, for auction with proceeds to benefit MLB Charities.
Chevrolet has been the official vehicle of MLB since 2005. The company supports the friendships, optimism and spirit of teamwork built through the power of play. Currently in its ninth year, Chevy Youth Baseball has impacted the lives of approximately 3.8 million youth. Nearly 1,700 Chevrolet dealers support a youth league in communities across the country and have hosted more than 200 youth baseball clinics this year.
Mark Newman is enterprise editor of MLB.com. Read and join other baseball fans on his MLB.com community blog. This story was not subject to the approval of Major League Baseball or its clubs.