MLB.com Columnist
Megan Zahneis
Harrison soaking in first All-Star experience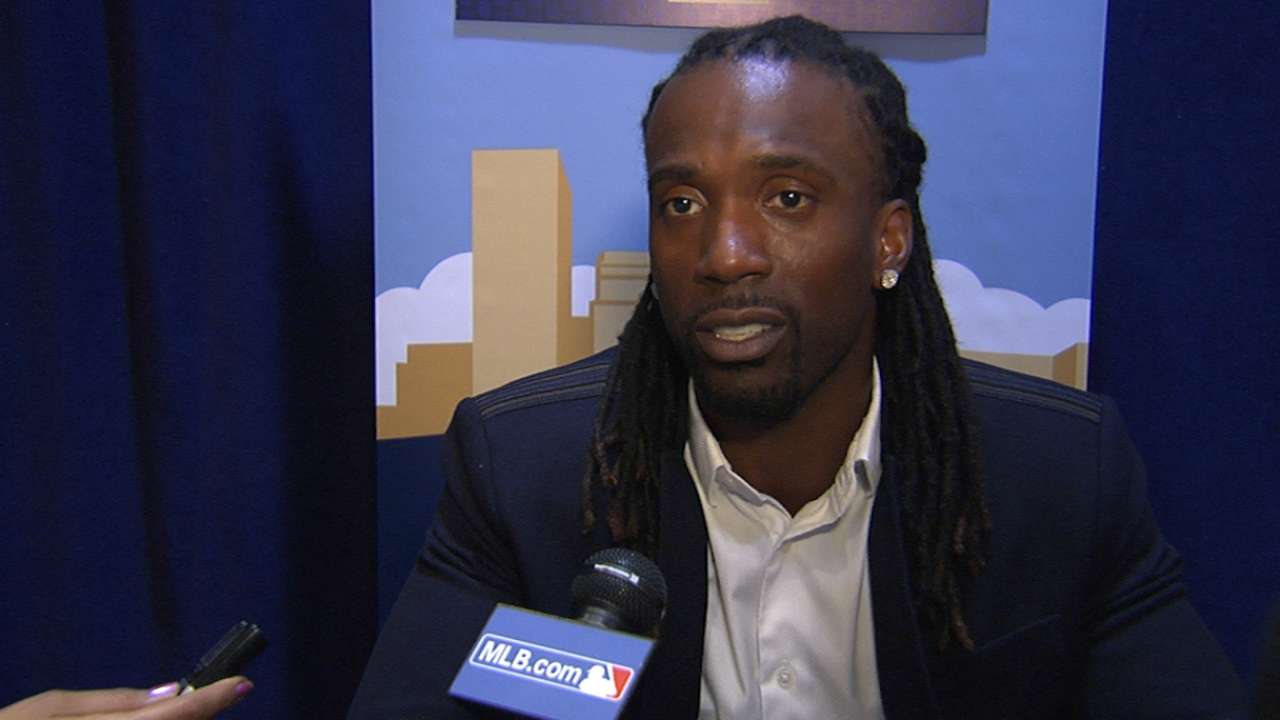 MINNEAPOLIS -- Josh Harrison's family has had to deal with a bit of a conflict of interest.
After being born and raised in Cincinnati, their son has found his niche in the Major Leagues, with the Pittsburgh Pirates.
So when the Reds and Pirates square off, a fairly frequent occurrence as NL Central rivals, Harrison's family and friends have a choice to make.
"It's not as bad as you would think," Harrison said. "I know Pittsburgh and Cincinnati, the cities, just from football and everything, had a little rivalry. But you know going back -- it's a lot of proud people. They might be Reds fans, but when we come in town they at least throw on the Pirates hat. So it's pretty cool to go back to Cincinnati playing for the Pirates and still have the support.
"My immediate family roots for the Pirates. They're all Pirates. But people I went to high school with, you know, that grew up Reds fans -- they'll still be Reds fans. But when we play them, they're like, 'Well, if we got to lose to anybody …' They don't mind, just because I'm associated with the Pirates. It's kind of a win-win for me because I'm kind of converting some people to maybe being Pirates fans."
Has Harrison, who was one of this year's underdogs to make the All-Star roster, given any thought to the possibility of a homecoming next summer when Cincinnati is slated to host the Midsummer Classic?
"Honestly, when I was named, that was one of the first things that most people said was, 'Oh, you gotta make it next year,' you know, 'It's at home,'" Harrison explained. "But to be honest, I haven't really thought about it. I'm just trying to still enjoy this first one. I don't want to look too far in the future and miss something in the present."
Harrison deserves that chance to bask in the present. Why wouldn't he, after scoring an All-Star nomination from NL manager Mike Matheny despite not even starting the season until April 20?
Understandably enough, he's got a lot on his mind.
"I got here [to Minneapolis] and didn't know what to expect. I knew it was going to be here, be there, all over the place.
"But it's actually been pretty cool to see some of the other guys and talk to them about just certain things that have happened throughout the season and be on the same team as some of these guys who are some of the best players in the world."
Meggie Zahneis is a youth correspondent for MLB.com. This story was not subject to the approval of Major League Baseball or its clubs.