Selig feted at annual FanFest Town Hall Chat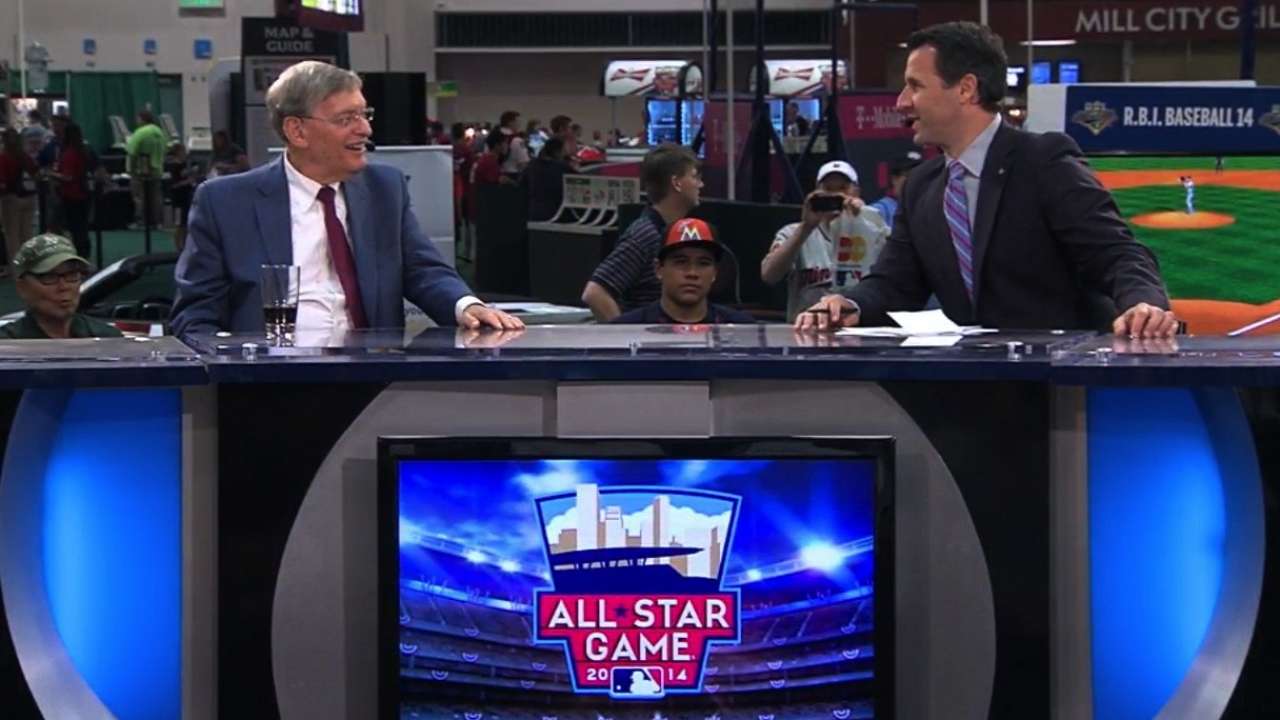 MINNEAPOLIS -- It started 14 years ago with a few emails answered in his office. Like the All-Star Game itself, it has grown by leaps and bounds. Commissioner Bud Selig conducted his traditional Town Hall chat at the T-Mobile All-Star FanFest in the Minneapolis Convention Center on Tuesday, fielding questions culled from thousands that were submitted on MLB.com, as well as some live from the audience.
Selig has announced he will step down in January, and Major League Baseball Advanced Media presented him with a special cake decorated with stars to represent each of the All-Star Games played under his stewardship and a video commemorating special All-Star moments from his tenure.
Looking around the vast hall at the thousands of fans celebrating the game, the Commissioner couldn't help but reflect on how much things have changed.
"In 1975, we had the All-Star Game in Milwaukee. We had a little luncheon and then the game and a little party before the game, and after the game everybody was gone," Selig noted. "It's like a lot of other things with baseball. It's something you couldn't have dreamed even 15 or 20 years ago. I love All-Star Games. They mean so much to so many people."
As usual, Selig's Q&A session touched on a wide range of topics. Among the highlights:
• Derek Jeter's legacy
"That's an easy one," Selig said. "To have a great face of baseball, one of the great icons of this generation, to be a person of Derek Jeter's class, his dignity, his respect for the game? We're lucky. Derek Jeter is everything that you would want.
"And I have a great relationship with him. I have the utmost respect. The great Stan Musial [was] an icon in his generation, and my friend Henry Aaron, a great icon of all time, and now you come to Derek Jeter. Baseball is lucky. People like Derek Jeter make it easy to be the Commissioner of Baseball. It makes me proud."
• Concern that limiting home-plate collisions has taken some excitement out of the game
"No, I don't [think so]," Selig said. "I think it has worked out really well. Our job is to protect the health of the players. I think it is an absolutely right rule. The plays at the home plate are still very exciting, but [we want to] eliminate violent collisions where people get hurt, tearing up a knee. It certainly hasn't changed the game from my standpoint, and I watch it every day."
• Whether there should be a limit on how many times a hitter step out
"Way back when, years ago, decades ago, once a player got in the batter's box, he stayed in the batter's box," Selig said. "Henry Aaron in his years, he never got out of the batter's box. [Today], the pitcher pitches ball one, a guy gets out and starts adjusting everything and he hasn't swung yet. That takes time. And we really are working on time of the game."
• The chances of Montreal getting another team, or of expansion to Louisiana or Oregon
"Hard to forecast," Selig said in reference to Montreal. "They had two exhibition games [last spring], they drew 95,000 people. They did very, very well. I'm very pleased and proud of what they have done. They have got work to do, but I like what they are doing there, and I wish them well.
"There are wonderful areas [including Louisiana and Oregon] that deserve a franchise, but I think with 30 right now, I don't see any expansion. I think we're at the appropriate number now and I think we will stay at that number."
• The recent spate of arm injuries to high school and college pitchers
"We have a special committee of outstanding doctors, team physicians, trainers and baseball people," Selig said. "They are very concerned about it. Very concerned. We've had a lot of Tommy John problems. Not good for the sport. ... It is a problem and we need to really go to work, and I'm anxious to get this committee's report and see exactly what we can do."
• Further changes to the All-Star Home Run Derby
"They changed the format of the Derby [this year]," Selig said. "Unfortunately, Monday night, we had an hour rain delay. Hour rain delays for home run contests or playoffs are never good. The metaphor is, they sort of wet things down a little bit. But the Derby is very, very popular. We'll continue to tweak it and see if we can come up with something."
• The one thing he'd like to be remembered for as Commissioner
"I'm proud of so much, but I would say the changing of the economics of the game," Selig said. "And I'll tell you why I say that. Because it's our job to provide hope and faith and have the system where teams can compete. Not just on the size of the market, but on what they do. And so with all the things that we've done, we had to change the whole economic structure. It was tough.
"Today there's hope and faith in Milwaukee, Cincinnati, Pittsburgh, the Twin Cities, on and on and on. As a result, baseball is so much stronger and so much better. There are a lot of things, but the big change, and it took us years, is the economic change that gave hope and faith to a lot of places."
Paul Hagen is a reporter for MLB.com. This story was not subject to the approval of Major League Baseball or its clubs.