Torre signs pledge promoting inclusion in sports
Non-profit Athlete Ally receives support in fighting homophobia, transphobia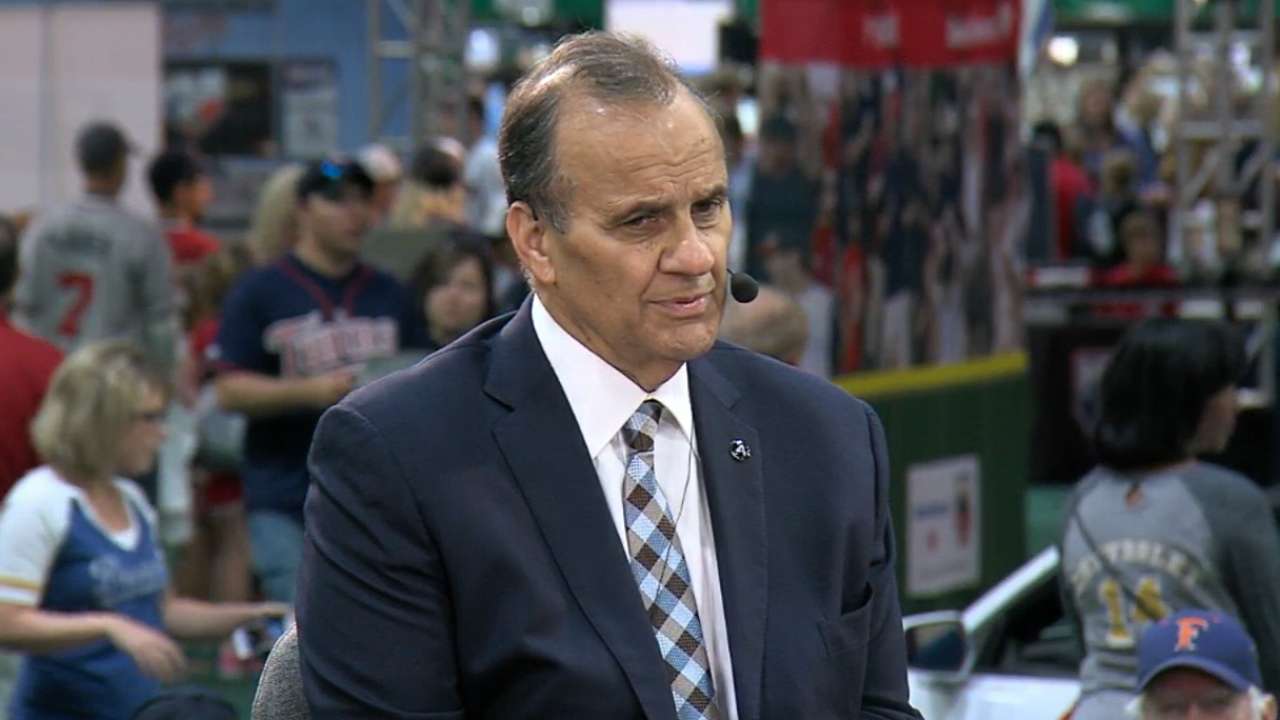 MINNEAPOLIS -- One year ago, Major League Baseball set in place a new policy designed to prevent players from harassing and discriminating against other players based on their sexual orientation.
The policy, announced during the 2013 All-Star festivities, was distributed in the form of a memo to every Major and Minor League player. Posters were also made that now hang in all clubhouses.
This year, MLB has taken the initiative a step further. The league recently made public its partnership with Athlete Ally, a non-profit organization on a mission to educate and activate athletic communities to eliminate homophobia and transphobia in sports and to champion LGBT (lesbian, gay, bisexual, transgender) equality.
Yogi Berra, behind the support of his museum and learning center, is an ambassador of Athlete Ally, and now another famous Yankee, former manager Joe Torre, has also offered his public endorsement.
Torre, who serves as MLB's executive vice president of baseball operations, stopped by Athlete Ally's booth at the T-Mobile All-Star FanFest on Monday to sign the Athlete Ally Pledge, which states:
"I pledge to lead my athletic community to respect and welcome all persons, regardless of their perceived or actual sexual orientation, gender identity or gender expression.
"Beginning right now, I will do my part to promote the best of athletics by making all players feel respected on and off the field."
For Torre, signing the pledge was a simple, but necessary, step in moving the cause forward to ensure all athletes -- regardless of sexual orientation -- are treated equally.
"What you are is a human being," Torre said. "Respect is important. In order to get it, you have to give it."
Athlete Ally has received support from representatives of all sports leagues, with ambassadors coming from everywhere -- MLB, the NFL, the WNBA, tennis, the Olympics and soccer.
An Athlete Ally can be any person, regardless of sexual orientation or gender identity, who takes a stand against homophobia and transphobia in sports and brings the message of respect, inclusion and equality to an athletic community.
"What it stands for is the most important thing," Torre said, as a crowd of admiring fans began to form around him at the Athlete Ally booth. "It's life. We have to certainly understand it."
The Athlete Ally pledge can be signed on the organization's website, AthleteAlly.org. With each signature, and each celebrity endorsement, the organization's mission and message gain a little more steam.
There is also a growing list of athletes who have recently made public their homosexuality -- NBA player Jason Collins, recently drafted NFL defensive end Michael Sam and Australian Olympic swimmer Ian Thorpe -- that show how much progress has been made in just a little over a year.
Athlete Ally celebrated Sam's coming out as a giant step forward in the visibility and acceptance of LGBT athletes. Ahead of the 2014 NFL Draft, the organization launched its #StandWithSam campaign, with the support of the National Black Justice Coalition. Athlete Ally collected more than 2,000 signatures from supporters agreeing that talent, not sexual orientation, is what matters on the field.
As support from the mainstream sports world increases, it's likely Athlete Ally will be able to add to the more than 80 colleges and 100 professional athletes that have become ambassadors.
Count MLB on that list of willing participants.
Alyson Footer is a national correspondent for MLB.com. Follow her on Twitter @alysonfooter. This story was not subject to the approval of Major League Baseball or its clubs.