Arizona Fall League shares several All-Star Game ties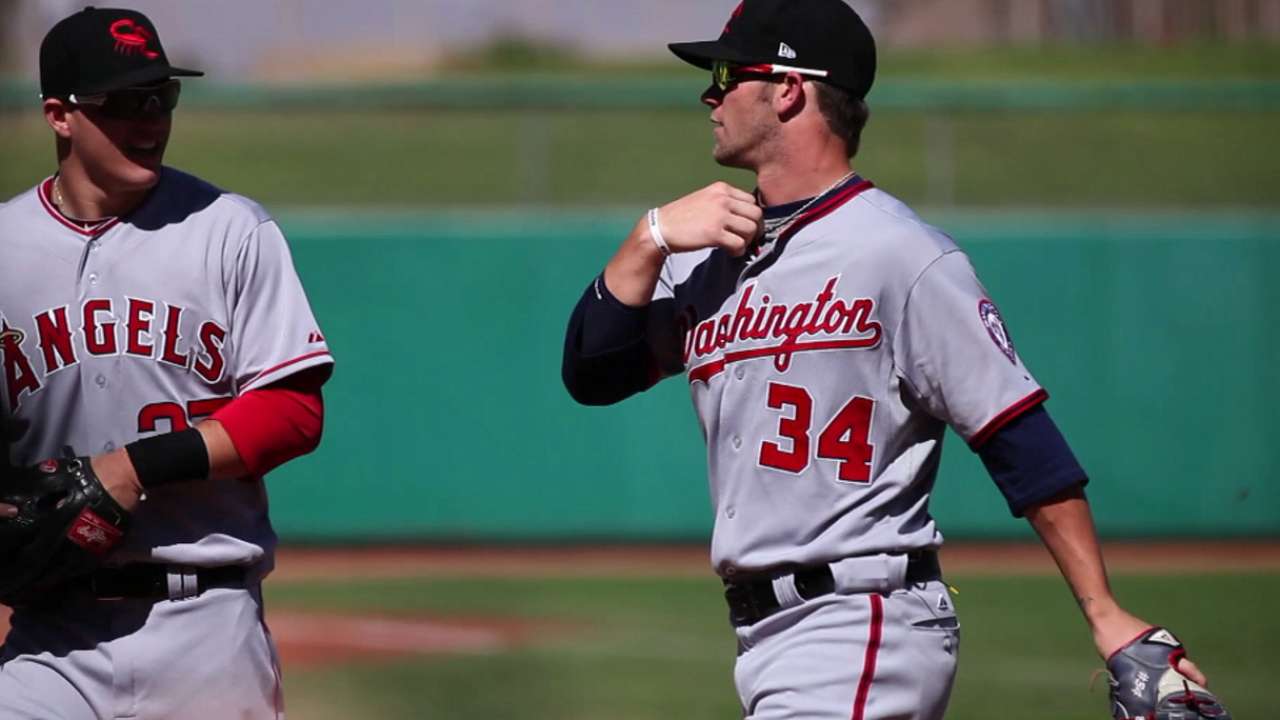 It's another star-filled season for the Arizona Fall League.
The AFL, which has long been a proving ground for baseball's best prospects, will see 36 players and umpires with ties to the league in Tuesday night's All-Star Game at Target Field. With that impressive haul, the AFL can now boast 212 players with All-Star ties to the league since its inception in 1992.
Four former Arizona Fall League umpires -- Scott Barry, Vic Carapazza, Jeff Nelson and Todd Tichenor -- will be working the All-Star Game on Tuesday night. Carapazza will be working in right field and Tichenor will be in left field, while Barry works third base and Nelson calls plays at first base.
But the lion's share of AFL alumni will be on the field in a playing capacity. Fifteen former Arizona Fall League players were named to the American League team, and 21 more players are on the National League's team. Fourteen of the players are in the All-Star Game for the very first time.
Five of the American League's starters -- Josh Donaldson, Derek Jeter, Adam Jones, Mike Trout and Salvador Perez -- were first noticed in the Arizona Fall League. Another one of the league's projected starters -- Matt Wieters -- is an AFL alumni but will be forced to miss the game due to injury.
The National League, meanwhile, will have three former AFL players in the starting lineup. Chase Utley, Troy Tulowitzki and Andrew McCutchen have all starred in the fall league in seasons past.
Dellin Betances, a first-time All-Star who played for the Scottsdale Scorpions in 2012, is the most recent AFL alumni to make it to the Midsummer Classic. There are four players -- Trout, Derek Norris, Aroldis Champan and Tyson Ross -- who played in the Arizona Fall League as recently as 2011.
Jeter (1994) is the only one of the All-Stars who played in the AFL before 2000. Francisco Rodriguez (2001), Pat Neshek (2003) and Utley (2004) are the other long-ago AFL veterans in the mix. An incredible 10 members of the National League bench will have an AFL pedigree on Tuesday night.
American League (15)
Starters
Josh Donaldson, 3B ('08 Phoenix Desert Dogs)
Derek Jeter, SS ('94 Chandler Diamonbacks)
Adam Jones, OF ('05 Peoria Javelinas)
Mike Trout, OF ('11 Scottsdale Scorpions)
Matt Wieters, C ('08 Surprise Rafters)
Pitchers
Dellin Betances, RHP ('12 Scottsdale Scorpions)
Sean Doolittle, LHP ('08 Phoenix Desert Dogs)
Ian Kinsler, 2B ('04 Peoria Saguaros)
Glen Perkins, LHP ('05 Grand Canyon Rafters)
Max Scherzer, RHP ('07 Scottsdale Scorpions) ('08 Phoenix Desert Dogs)
Reserves
Alex Gordon, OF ('05 Scottsdale Scorpions)
Brandon Moss, 1B ('05 Peoria Saguaros)
Derek Norris, C ('10-11 Scottsdale Scorpions)
Salvador Perez, C ('10 Surprise Rafters)
Kurt Suzuki, C ('05 Phoenix Desert Dogs)
National League (21)
Starters
Andrew McCutchen ('07 Phoenix Desert Dogs)
Troy Tulowitzki, SS ('06 Grand Canyon Rafters)
Chase Utley, 2B ('02 Grand Canyon Rafters)
Pitchers
Aroldis Chapman, LHP ('11 Phoenix Desert Dogs)
Craig Kimbrel, RHP ('09 Peoria Saguaros)
Pat Neshek, RHP ('03 Grand Canyon Rafters)
Francisco Rodriguez, RHP ('01 Peoria Javelinas/ Scottsdale Scorpions)
Tyson Ross, RHP ('11 Phoenix Desert Dogs)
Huston Street, RHP ('04 Phoenix Desert Dogs)
Adam Wainwright, RHP ('04 Mesa Solar Sox)
Tony Watson, LHP ('09 Scottsdale Scorpions)
Reserves
Charlie Blackmon, OF ('10 Scottsdale Scorpions)
Starlin Castro, SS ('09 Mesa Solar Sox)
Freddie Freeman, 1B ('09 Peoria Saguaros) ('10 Phoenix Desert Dogs)
Josh Harrison, IF ('10 Mesa Solar Sox)
Jonathan Lucroy, C ('09 Peoria Javelinas)
Devin Mesoraco, C ('10 Peoria Saguaros)
Miguel Montero, C ('05 Phoenix Desert Dogs)
Daniel Murphy, IF ('08 Peoria Saguaros)
Hunter Pence, OF ('06 Mesa Solar Sox)
Giancarlo Stanton, OF ('09 Mesa Solar Sox)
Spencer Fordin is a reporter for MLB.com This story was not subject to the approval of Major League Baseball or its clubs.