Twins ride five-run first, Dozier's jacks to big win
Minnesota heads into All-Star break with best record at half since 2010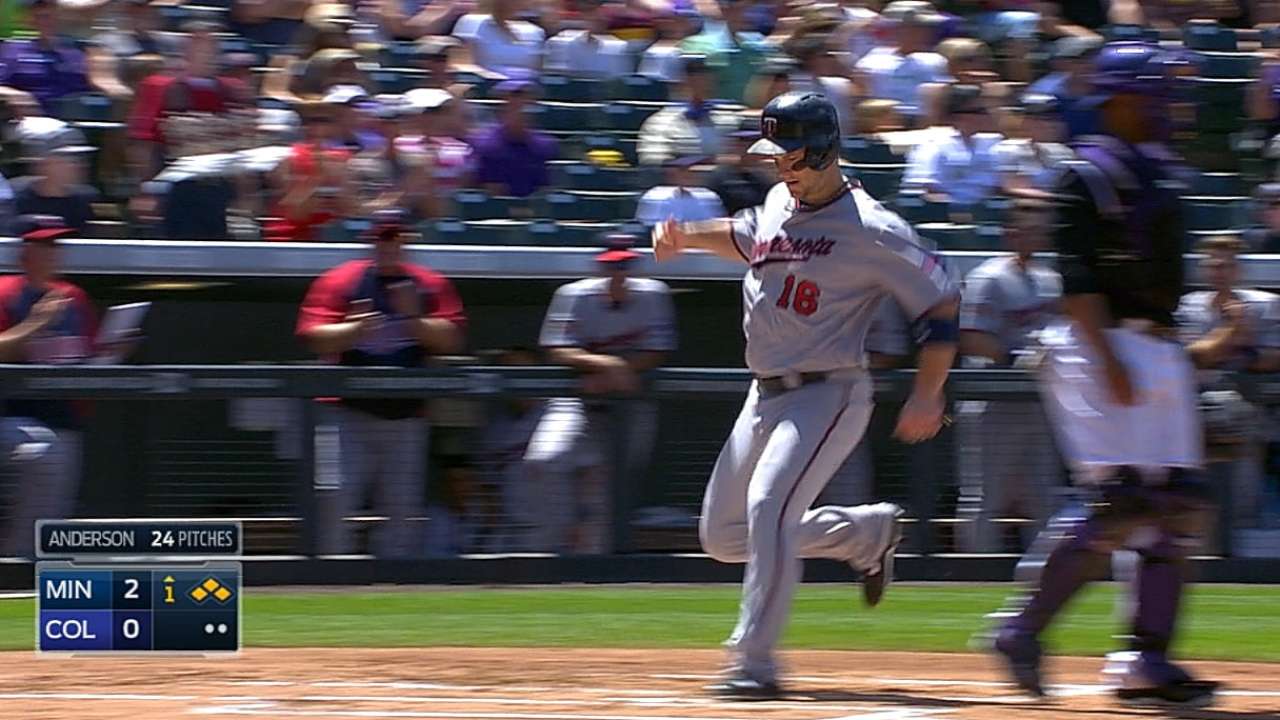 DENVER -- If he's lucky, Twins starter Phil Hughes will avoid Coors Field. He made his debut there Sunday, an outing that was eventful, even harrowing, but ultimately successful.
Staked to a five-run lead in the first, Hughes quickly surrendered most of it in his first two innings. But he held on to get through the fifth, and a flurry of late runs gave the Twins breathing room as they romped over the Rockies, 13-5, in the rubber game of their series. The win gave the Twins a 5-2 road trip heading into the All-Star break.
"You really feel for the guys that have to pitch here all the time," said Hughes (10-5), the first Twins pitcher with 10 wins at the break since Carl Pavano had that many in 2010. "It wasn't an easy thing to do. The offense gave me a bunch of run support, especially early, and I was able to hold on. I definitely didn't have my best stuff or command or anything really going today. But fortunately [I] was able to at least maintain a one-run lead and then guys added on late."
The Twins pounded out a season-high 18 hits, seven for extra bases. Brian Dozier, who will participate in the Gillette Home Run Derby on Monday at Target Field, hit a solo homer in the eighth and a three-run shot in the ninth, giving him 18 homers and tying his career high set last season.
"That's a little momentum I guess going into it. All the Twins fans will probably be more excited about 'Mornie' coming back," Dozier said, referring to Rockies first baseman and former Twin Justin Morneau, who will also participate in the Derby. "I just want to have fun."
While Hughes was making his Coors Field debut, Rockies starter Brett Anderson, a left-hander, took the mound there for just the second time in his career. He had not pitched since April 12, when he broke his left hand making contact on a swing. As bad as Hughes found the early going, it was much worse for Anderson. He gave up 10 hits and six runs in five innings, with seven of the hits coming in the first when the Rockies scored five runs.
"I felt all right," Anderson said. "My stuff wasn't very good. I was one pitch away from getting out of it unscathed and I just couldn't execute a pitch before seven hits, which should never happen. But after the first inning, I battled and tried to give us a chance to win or at least stay in the game."
After giving up a double and single to start the game, Anderson was the beneficiary of a 5-4-2 double play that ended with Dozier, running from third, thrown out at the plate. But Anderson (0-3) then gave up five straight hits to Trevor Plouffe (double), Chris Parmelee (two-run single), Josh Willingham (single), Eduardo Escobar (two-run double) and Sam Fuld (run-scoring single) in the 29-pitch inning.
Hughes gave up two two-out runs in a 30-pitch first on Morneau's single and Nolan Arenado's double. After Wilin Rosario's single and DJ LeMahieu's double to start the second, the Rockies scored on Anderson's sacrifice and Charlie Blackmon's sacrifice fly.
"I like to work pretty fast," Hughes said. "It just seemed it was kind of taking its toll on me more here, which everybody talks about. But having never pitched here before, I didn't know exactly how I was going to react to that. It's certainly different, but I was able to battle as best I could. I take a lot of pride in protecting a lead, especially when the guys give me so many runs early."
The teams traded runs in the fifth, leaving the Twins with a 6-5 lead before they blew the game open in the final innings. They scored twice in the seventh to make it 8-5. The first of those runs scored on Fuld's sacrifice fly against Rex Brothers, who had loaded the bases with one out on two singles and a walk. Adam Ottavino relieved Brothers, and his first pitch glanced off the glove of catcher Rosario, allowing a run to score. It was Rosario's 10th passed ball of the season, one more than his 2013 total.
At 44-50, the Twins have their best record at the All-Star break since 2010 (46-42). Shortstop Danny Santana (left knee deep bone bruise) is expected to be back Friday, and the Twins are hopeful first baseman Joe Mauer (strained right oblique) and pitcher Ricky Nolasco (right elbow soreness) will be able to help them soon. And after the break, the Twins have a 10-game homestand.
"This week was a big week for us," Dozier said, "and coming back from the All-Star break with 10 games at home, everything plays in our favor. We've just got to go out and win."
Jack Etkin is a contributor to MLB.com. This story was not subject to the approval of Major League Baseball or its clubs.