Rockies unable to slow Twins bats in first-half finale
Anderson tagged with five-run first in return from disabled list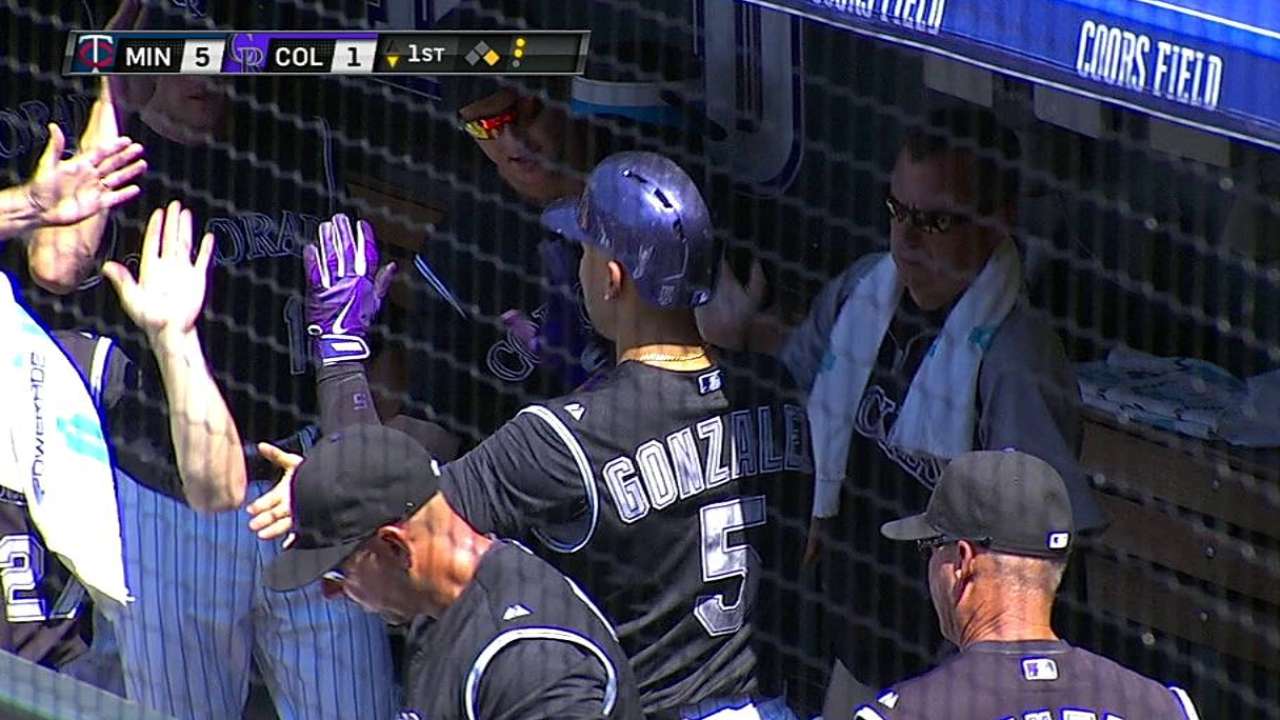 DENVER -- The Rockies' offense showed enough resiliency to end the first half on the right note Sunday. But offensive resilience can only get a team so far when a starter spots the opposition five runs in the first and the bullpen offers no favors.
The Rockies' pitching helped the Twins secure a new season-high of 18 hits in Colorado's 13-5 loss Sunday at Coors Field. The defeat puts the Rockies just a half-game above the National League West cellar and cements their seventh series loss in the last eight.
Making his first start since breaking his left index finger on April 12, left-hander Brett Anderson was shelled for five runs and seven hits in the first inning. That's one fewer hit than he allowed in his entire two-game, 9 2/3-inning rehab assignment and things would have been even worse if the Rockies didn't turn a superb 5-4-2 double play three batters in.
"My stuff wasn't very good," Anderson said. "I was one pitch away from getting out of it unscathed and I just couldn't execute a pitch before seven hits -- which that should never happen."
Anderson buckled down big time after that, though, limiting the Twins to just three hits and three walks while compiling all four of his strikeouts over his final four innings. The Twins added another run off Anderson in the fifth, but it was unearned after DJ LeMahieu's relay throw ricocheted off Trevor Plouffe's hand and into the visiting dugout on Plouffe's leadoff triple.
"I think it was a combination of rust and I think he was amped up," manager Walt Weiss said of Anderson. "He left some balls out over and got hit hard in the first inning but I thought he did a heck of a job battling after that. … I thought he did a nice job all things considered. He left the game and we were still in position to win that game."
Down 5-0 before they took their first at-bat, the Rockies didn't go easy. Justin Morneau put the Rockies on the board in the first by lofting an RBI single in front of a diving Josh Willingham following a 10-pitch at-bat. Nolan Arenado then returned the favor by plating Morneau on a double off the left-field fence.
The Rockies got two more back in the second, starting with a beautifully laid bunt by Anderson that scored Wilin Rosario with runners on second and third.
"If you'd have told me the best thing I would have brought to the team today would be a bunt at the plate, I would have called you a liar," Anderson said.
After Plouffe scored on LeMahieu's error, the Rockies struck back yet again with Morneau crossing home plate on a Corey Dickerson groundout.
"The guys have done [battled back] a lot," Weiss said. "Unfortunately a lot of times we've still been coming up on the short end."
With the deficit still at one, that's as close as the Rockies would get as left-hander Rex Brothers couldn't carry over the momentum from right-hander Tommy Kahnle's 1-2-3 sixth inning.
Brothers began the seventh by serving up back-to-back singles before walking Eduardo Escobar with one out to load the bases. Sam Fuld then ended Brothers' outing with a sacrifice fly to center.
"At times, it looks like he's found it and he's struggled at other times," Weiss said of Brothers. "But we'll keep holding out hope. He's been one of the best in the game. … I think he'll get on a roll again."
Right-hander Adam Ottavino retired the first batter he faced in taking over but not before Chris Parmelee scored on a passed ball to put the Twins up 8-5. Rosario's turnaround toss looked to be in time on the play at the plate but instead, it pegged Parmelee in the back.
The Twins got another off Ottavino in the eighth when Brian Dozier deposited a solo shot just inside the left-field foul pole. An inning later, Dozier did it again with a three-run homer off right-hander Brooks Brown.
"They raked today," Arenado said. "Thirteen runs ain't easy to come back from. It's good to see that we can [fight back]. But we can always do that. We've always been known for coming back. … That won't ever be a concern but we've just got to find a way to win games and hopefully in the second half we can do that."
Cody Ulm is an associate reporter for MLB.com. This story was not subject to the approval of Major League Baseball or its clubs.