Battery's history-making slams boost Giants
Posey, Bumgarner first starting pitcher, catcher with feat in same game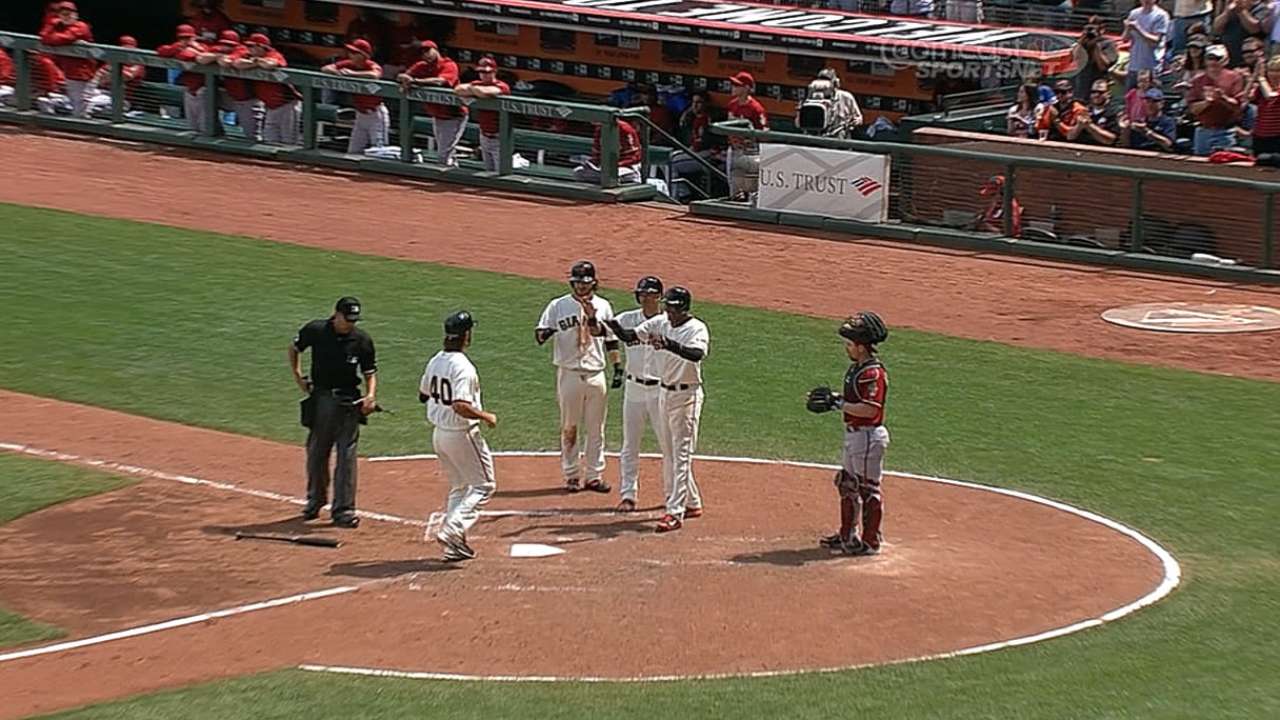 SAN FRANCISCO -- All Buster Posey could do was shake his head, marveling after learning of the feat he'd just helped achieve.
Never before Sunday afternoon had a starting pitcher-catcher tandem each hit a grand slam in the same game, but that's precisely the history Madison Bumgarner and Posey made with their twin slams in the Giants' 8-4, end-of-the-first-half blasting of the D-backs at AT&T Park. It's hard to blame him; quite a few Major League baseball games have been played through the years.
"Our battery had quite a day," manager Bruce Bochy said coyly after the game. "Buster's grand slam was the one that gave us a sense of relief throughout the dugout. We've been missing that hit; that's what you're hoping for from those guys in the heart of the order. With two outs, to get a hit like that, that's huge."
Two-out hits helped catapult the Giants to a Majors-best 42-21 record June 9. The disappearance of such timely hitting plagued the team throughout its month-long tumble from grace to second place in the National League West. With the team's bats halfway to being dispatched quietly yet again Sunday, the clutch hitting returned just in time to send the team into the All-Star break on a positive note.
"We've been needing a big hit. You're just trying to get on the board at that point, but to get four across, that was great," said Posey, who was encouraged by the way the team found ways to reach base Sunday. "When we've had success here is when we're scrappy -- we're able to get guys on and we come up with big hits. That's what we did in '10 and '12 and hopefully that's something we can do the rest of this year."
Added Bumgarner: "It's what big-time players do and he's one of the best."
No pitchers have been better at the plate than Bumgarner in 2014. When he turned a 98 mph Matt Stites fastball into four runs in the sixth, he became the first pitcher to hit two grand slams in the same season since the Braves' Tony Cloninger, who hit two in the same game against the Giants at Candlestick Park in 1966. Bumgarner leads all qualifying pitchers in average, home runs, RBIs and runs scored.
Trailing, 1-0, one day after the Giants didn't score a run of support for Ryan Vogelsong for a fourth consecutive outing, Bumgarner began the offensive outburst with a one-out double down the left-field line in the fifth. Hunter Pence was hit by a pitch and Gregor Blanco singled, loading the bases for Posey, who turned a 90 mph fastball into four runs in a hurry by sending a no-doubter into the left-field bleachers. One inning later, Posey's batterymate followed suit.
Joaquin Arias led off the sixth with a single. Ehire Adrianza reached on an error, and Brandon Crawford walked. Then Bumgarner scored each of them. Sunday marked just the third time that the Giants hit two grand slams in one game in the San Francisco era and the first time they'd scored eight or more runs since defeating the Cardinals, 8-0, on June 1.
"I'm really just trying to hit it hard and hoping something good happens," said Bumgarner, who allowed four earned runs on 10 hits in 6 1/3 innings. "Something good happened today."
The hope is more good things are to come after winning what Bochy saw as a "critical" game to close the first half Sunday. If that comes to fruition and Sunday indeed proves to be when the Giants finally turned the page on their struggles, this game will be looked back on as more than a statistic in a baseball almanac.
The Giants lost 22 of their last 32 games to close the first half, but enter the break on a high note and just one game behind the Dodgers in the NL West. Thanks to a torrid start to the season, they're among a pack of eight NL teams separated by just four games atop the league standings -- a fact Bochy said before Sunday's game would've had him "cartwheeling around the park" at the beginning of the season if he'd been told of the team's turbulent stretch.
Sunday's victory was a big first step toward a future Bochy cartwheel.
"It's going to be a battle in the second half, but somehow, we've hung in there," Bochy said. "It's going to be important that we pick up our play, but this game here was important for the guys to go into the [break] having a good feeling."
Ryan Hood is an associate reporter for MLB.com. Follow him on Twitter @ryanhood19. This story was not subject to the approval of Major League Baseball or its clubs.