Gausman gets rain-shortened CG win over Yanks
Rookie uses 78 pitches over five innings; Davis hits 15th home run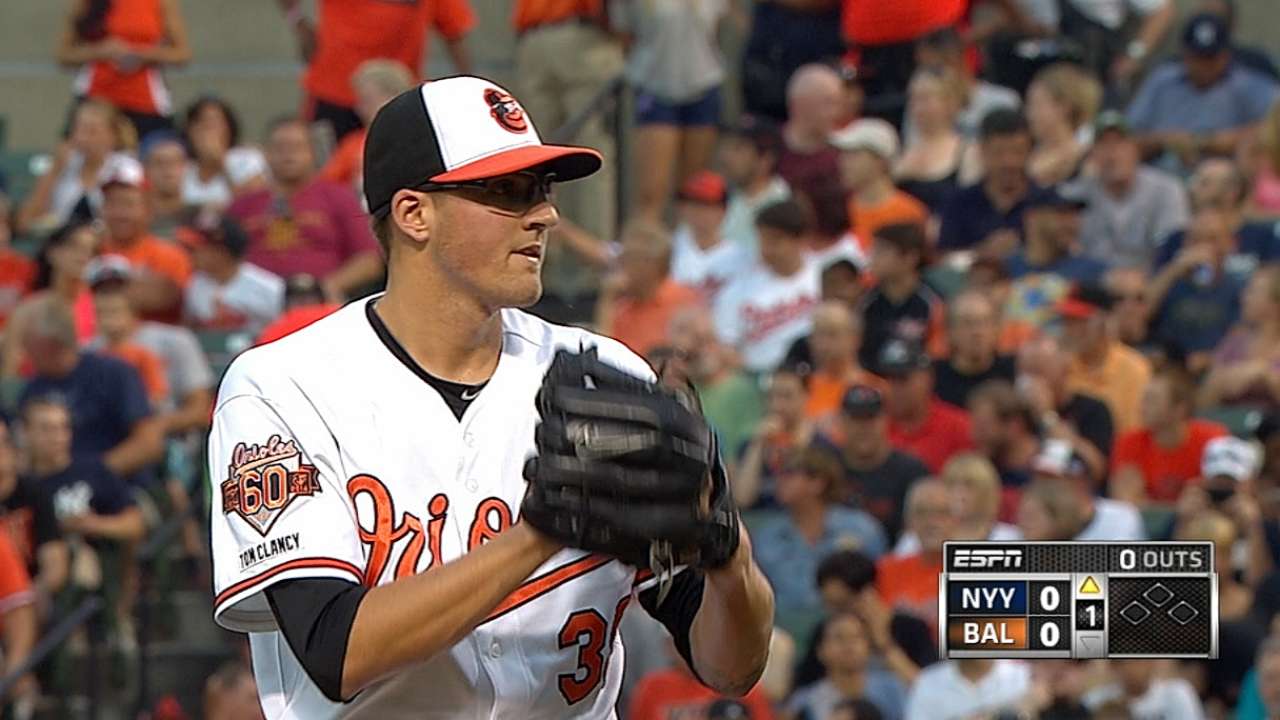 BALTIMORE -- The Orioles headed into the All-Star break with a series win against the Yankees, albeit an unconventional one.
After waiting out rain for two hours and 22 minutes, Sunday night's game was called in the bottom of the fifth inning, giving the first-place Orioles an official 3-1 victory to extend their American League East lead to four games.
The O's used a sorely needed two-run homer from first baseman Chris Davis, who went yard off Yankees starter Chase Whitley in the fourth inning, and a solid five-inning outing from Kevin Gausman -- who was credited with a complete-game victory -- to pull out the win.
"We knew we were trying to dodge a bullet there," Davis said of the two clubs, who seemed committed to getting in the game despite the ominous radar readings. "Obviously glad we started it, got to where it was official. That's one of the few games we've played lately that we scored early, too. Which is huge. We've been talking about that for a while, getting a little bit of a cushion early, so our starters don't feel like they have to go out there and grind every inning. Give them a little breathing room, and we were able to do that."
Gausman, who threw 78 pitches (47 strikes), put the Orioles (52-42) in a deficit four pitches in after Brett Gardner's leadoff homer. But the 23-year-old held New York in check after that, scattering three more hits and not issuing a walk.
"It's great, complete game in 78 pitches," Gausman said with grin in assessing his outing, "I think that's got to be a record."
Recalled in a whirlwind first half in which he's been shuttled back and forth to the Minors several times, Gausman ended the first half 4-2 with a 3.29 ERA and has allowed one earned run or fewer in five of his last six Major League starts.
"I hope it's an indication of him understanding that he pitched pretty well after that," Orioles manager Buck Showalter said of Gausman not letting things snowball after Gardner's homer. "That's part of the plan up here. You can't let one thing snowball into another. He didn't try to start throwing harder."
Whitley, starting due to injury to Masahiro Tanaka, allowed all three of Baltimore's runs, with Davis putting the O's on the board. After Nelson Cruz drew a leadoff walk, Davis sent an 89-mph fastball into the left-field seats for his 15th homer of the season. Davis, who entered the day batting .197, snapped an 0-for-13 funk in the process.
"I kind of told myself before the game started tonight, even though the second half starts in a few days, this would be a good time to try to start something up and turn it around a little bit," said Davis, who has struggled following his historic 53-homer season in 2013. "Swing felt good, the pitch was inside, and I was able to finally do what I've been trying to do. So, that's a positive."
Shortstop J.J. Hardy followed Davis' homer with a double and, two outs later, Jonathan Schoop sent a ball into right field for an RBI single to push the Orioles' lead to two. That was all that was needed as the game was delayed at 9:48 p.m. ET, with strong winds and heavy rain forcing the tarp down at Camden Yards immediately.
"They're talking about at least another two hours of rain, and that's all closing, so it doesn't seem like there's any chance of finishing the game," Yankees manager Joe Girardi said of the reasoning behind the long delay and final decision. "My preference would be you come back and finish it. I know when you go to a city one time and it happens then you have to live with it. It would be changing what they've done in the past, but I think it's something to look at. If we're coming back, why don't we finish it?"
Obviously, there was none of that talk in the home clubhouse as the Orioles -- who face a tough three-city West Coast trip coming out of the break -- were more than willing to take whatever break they can get.
Brittany Ghiroli is a reporter for MLB.com. Read her blog, Britt's Bird Watch, and follow her on Facebook and Twitter @britt_ghiroli. This story was not subject to the approval of Major League Baseball or its clubs.