Whitley, Yanks suffer rain-shortened loss to O's
Righty chased in fourth; game halted in fifth, called after lengthy delay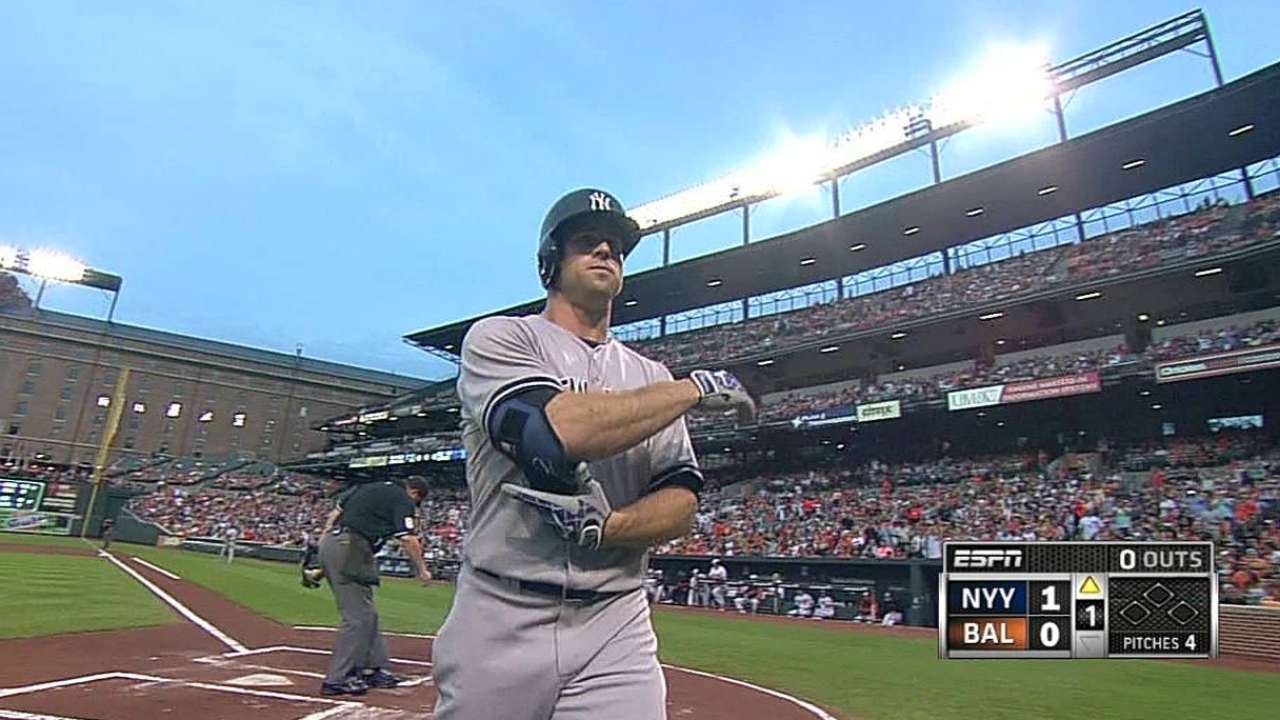 BALTIMORE -- When Chris Davis punched an opposite-field home run out of Oriole Park at Camden Yards to put the O's ahead of the Yankees in the fourth inning on Sunday, it just seemed like a blow.
The Yankees, in need of a win to take two of three from the Orioles and cut their division lead to three games, still had five innings to make a comeback. After 4 1/2 innings, the wind picked up and the rain started falling in Baltimore. A delay began.
An hour passed. Then two. With 4 1/2 more innings separating baseball from the All-Star break, there was an urgency for the two teams' five All-Stars to make their way to Minneapolis for the festivities. Midnight came and went, most of the 34,483 in attendance left and eventually, the umpires called it. The Orioles won, 3-1, and the two teams hadn't even played five innings.
"My preference would be you come back and finish it," New York manager Joe Girardi said. "I know when you go to a city one time and it happens then you have to live with it. It would be changing what they've done in the past, but I think it's something to look at. If we're coming back, why don't we finish it?"
Davis' home run off Chase Whitley served as the decisive blow, and Kevin Gausman technically picked up the first complete game of his career. The Yankees got through their lineup just two times before the umpires opted to get the All-Star break started.
"We didn't have a chance to come back," Whitley, starting in place of Masahiro Tanaka said. "That's a tough one."
Making his 11th start of the season -- and first since July 4 -- Whitley lasted just 3 2/3 innings and allowed three runs on five hits.
For the first few innings, Whitley gave an admirable follow-up to fellow rookie Shane Greene's performance on Saturday. Greene shut out the Orioles for 7 1/3 innings in a winning effort. Whitley kept Baltimore off the board for the first three innings Sunday despite a pair of hits and a walk before things came undone in the fourth.
He walked Nelson Cruz to lead off the inning, and surrendered a go-ahead home run to Davis. Four batters and two hits later, Whitley's night was done and New York couldn't dig out of a two-run hole in the following half-inning.
"We knew we were trying to dodge a bullet there," Davis said. "Obviously glad we started it, got to where it was official. That's one of the few games we've played lately that we scored early, too. Which is huge."
Whitley's start was the 45th by a Yankee rookie this season, except 18 of those were by the 25-year-old Tanaka.
Of course, this was supposed to be Tanaka's stage. Two days before the All-Star Game, which he arguably had pitched well enough to start in, his Yankees would play in the final game of the first half.
On Thursday, New York placed Tanaka on the disabled list with a partially torn UCL. At best, he'll return in six weeks. At worst, he may not pitch again until 2016. Instead, it was Whitley's turn, and across the diamond another rookie outdueled him.
Making his seventh start of the season, Gausman (4-2) needed 78 pitches to get the win, with a leadoff home run by Brett Gardner as the only blemish on a four-hit outing.
"Runs in these series, they're pretty big," Gausman said. "You give up one in the first, I think it was the fourth pitch of the game, it's frustrating. Honestly, I think it kind of woke me up a little bit."
The Yankees finished the first half with a sour ending to a 6-5 road trip.
"You lose a game in your division, an important game," Girardi said. "Whenever you have a winning trip on the road, you consider that a pretty decent trip, but it could've been a really good trip."
David Wilson is an associate reporter for MLB.com. This story was not subject to the approval of Major League Baseball or its clubs.