Sweep bid of division leaders comes up short
Young drops finale to A's; Mariners enter break with 51 wins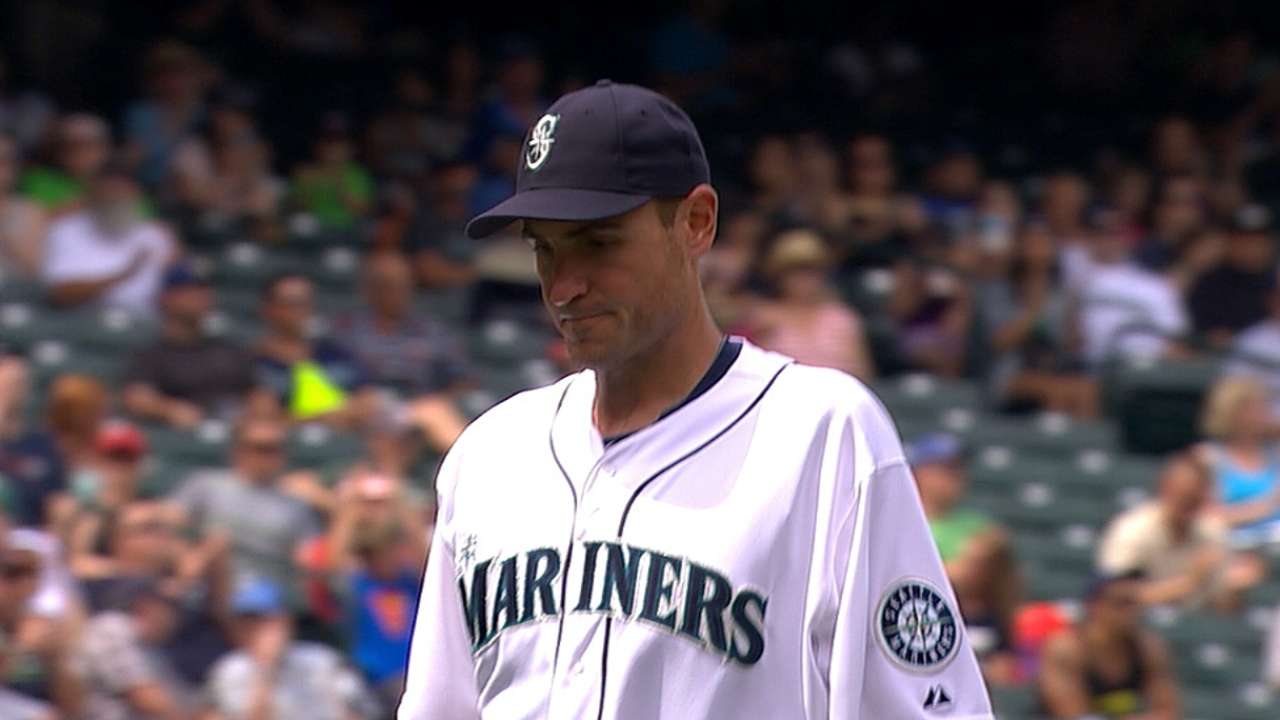 SEATTLE -- Sonny Gray and the A's prevented a series sweep by the Mariners heading into the All-Star break, but not even a 4-1 loss on Sunday could take the luster off a strong first half for Seattle.
Chris Young, one of the Mariners' first-half success stories, allowed three runs on five hits over six frames and took the loss as he fell to 8-6 with a 3.15 ERA, but the Mariners reached the All-Star break with their most wins since 2003 and their best winning percentage since 2007.
"We've played good baseball, but I still think our best baseball is ahead of us," said Young, one of the veteran leaders on a young club that has grown together under new manager Lloyd McClendon. "There's room for improvement and I think we can all get a little better. And if we do, I feel like we'll be where we want to be at the end of the season.
"We're pleased with where we are, but we're not satisfied," Young said. "We'll keep working and hopefully the second half will be even better than the first."
At 51-44, the Mariners have nearly flipped their record from last year, when they hit the break at 43-52 and were in fourth place, 13 games back of the A's.
Seattle still sits in third place in the rugged American League West, but the 2-1 series win cut the A's lead to eight games as Oakland maintains the best record in the Majors at 59-36. The Mariners hold the second AL Wild Card playoff spot, 2 1/2 games ahead of the Royals and Blue Jays.
The Mariners tied for their fourth-most wins ever at the All-Star break, while their winning percentage of .537 is the seventh best in franchise history at the midpoint. This year's All-Star Game is a little later than normal, with 95 games tying Seattle's most first-half games in club history.
Robinson Cano went 1-for-3 with Seattle's lone RBI on Sunday and enters the break third in the AL in batting average at .334 behind the Rangers' Adrian Beltre (.337) and Astros' Jose Altuve (.335). Cano, one of four Mariners headed to Tuesday's All-Star Game in Minneapolis, said the first half lived up to his hopes after signing with Seattle this offseason.
"It means a lot. I'm so proud of this group," Cano said. "We're out there fighting, competing, and our one goal is to try to win every game. That's what makes me go out there and keep fighting and playing hard every single day. I love this group of guys here. The whole team has done a pretty good job in the first half."
After getting shut down by outstanding pitching from Felix Hernandez and Hisashi Iwakuma in the first two games, the A's rallied in the series finale behind their own standout right-hander, as Gray allowed just an unearned run over 7 2/3 innings of six-hit ball in improving his record to 10-3 with a 2.79 ERA.
The Mariners had a chance in the fourth when Cano and Kyle Seager singled to put runners on first and third with no outs, but Gray escaped with no damage to take the wind out Seattle's sails.
Seager also singled in the sixth, moments after fouling a ball hard off his right knee, but then was out when he was hit by Logan Morrison's sharp single as he was running to second, ending the inning.
"I've had a better couple minutes," Seager said. "[The foul ball] right on the inside of the knee, that was not fun. Then with the LoMo ball, it wasn't my finest moment. I was just running on a pitch, 3-2, two outs, and he hit a bullet just right at me. I tried to avoid it, but it just followed me."
Seager, who will be making his first All-Star appearance, was 2-for-4 and is hitting .279, including a .353 mark at Safeco Field. His first half ended on a popout against All-Star closer Sean Doolittle after Gray had intentionally walked Cano to put two on with two out in the eighth.
But Seager, like all the Mariners, will feel better taking the big-picture view of how the first half played out.
"We've been playing good baseball," said Seager, who leads the club with 15 home runs and 63 RBIs. "We put ourselves in position to have a strong second half. We not only could get into the playoffs, but we're within striking distance of Oakland. So all in all, it was a good first half."
Young allowed just one baserunner in the first four frames, then gave up a pair of runs in the fifth on back-to-back, two-out singles by Craig Gentry and John Jaso. Brandon Moss made it 3-1 in the sixth with a one-out home run, his 21st of the season.
The three runs were the most the 6-foot-10 right-hander has allowed in his last six outings, during which he's gone 3-2 with a 2.13 ERA.
"Wen you first face him, he's such a different arm angle and he's throwing 85-86 up on the board, but it doesn't feel like that," Moss said. "He's so tall and throws so funky that it takes a little bit to get your timing on him."
Nick Punto added a run in the ninth with a solo shot off reliever Joe Beimel, snapping Beimel's scoreless streak at 19 innings, ending the longest active stretch in the AL.
"It was a good series for us, no question about that," McClendon said. "We picked up a game in the standings. My guys finished the first half pretty strong, so I was very pleased with that. But it's over with now. We'll rest for four days and get ready for Anaheim."
Greg Johns is a reporter for MLB.com. Follow him on Twitter @GregJohnsMLB as well as his Mariners Musings blog. This story was not subject to the approval of Major League Baseball or its clubs.