Alcantara, Coghlan stay hot, but Wood stumbles
Lefty gives up seven runs in six innings; rookie hits first Majors HR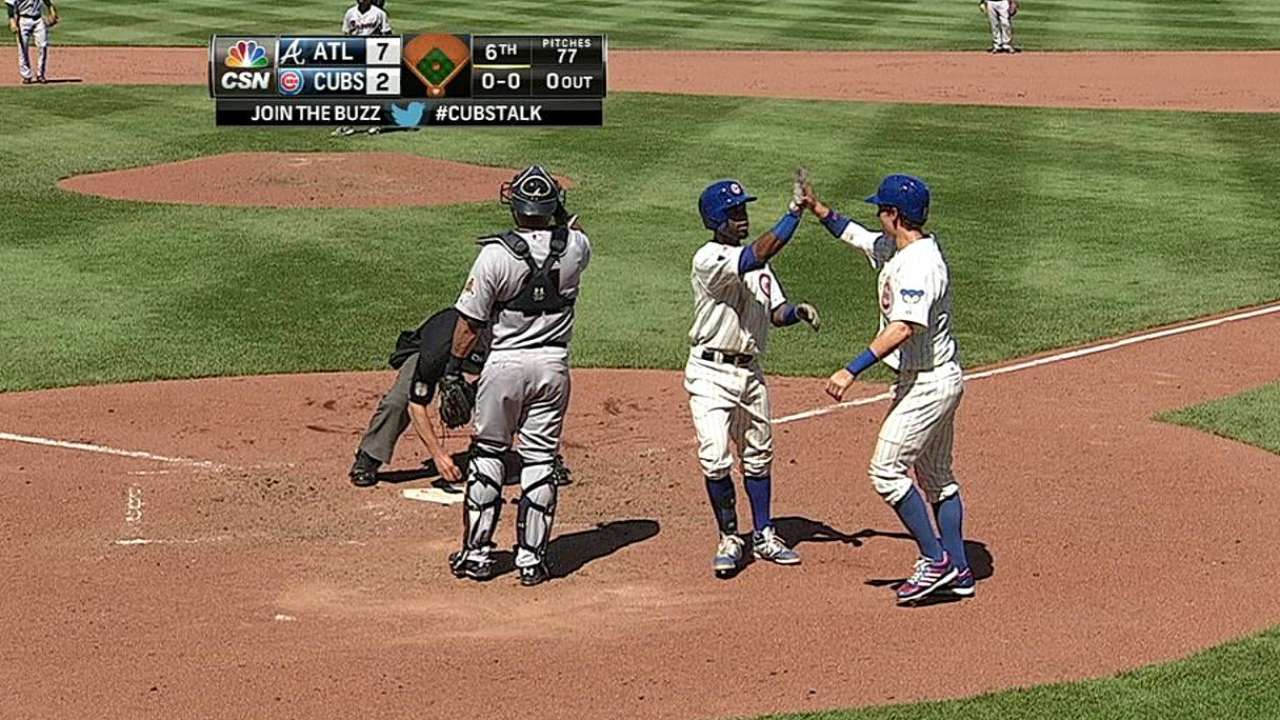 CHICAGO -- The Cubs truly embodied the resilience they've shown throughout the first half during Sunday's 10-7 loss to the Braves at Wrigley Field. But, in what seems to be the script of late, it was too little, too late.
For the second straight day, the Braves rode to victory on the back of a wide lead built in the early innings -- this time a 7-0 margin through three off starter Travis Wood (7-8, 4.96 ERA).
But the Cubs outhit (8-5) and outscored (7-3) the Braves over the final six frames, thanks to hot hitters Arismendy Alcantara and Chris Coghlan, who sent two-run homers into the right-field bleachers during the sixth and seventh innings, respectively. Alcantara's blast was the first of his Major League career.
"We fell behind a little bit and kept chipping away," manager Rick Renteria said. "I thought the guys kept battling. We put ourselves in the position to potentially inch closer. We just fell a little short."
The Cubs added three in the eighth on a bases-loaded walk and John Baker's two-out, two-run double.
Anthony Rizzo led off the inning with a single, his first hit of the day, then Starlin Castro and Luis Valbuena both walked. After Mike Olt struck out, Ryan Sweeney took a free pass, sending Rizzo home.
Castro was tagged out at home trying to score on a wild pitch from Jordan Walden during Baker's at-bat. Renteria challenged the call, but it was confirmed after a replay review.
"[Catcher Gerald Laird] made a hell of a play on that ball that got away," Braves manager Fredi Gonzalez said. "That was a big play, believe it or not."
Laird and All-Star pitcher Julio Teheran brought home the Braves' first three runs on consecutive at-bats in the second. In the third, Jason Heyward added a run with a single to right, then Chris Johnson, who went 3-for-4, followed with a three-run homer to center -- his third of the series and sixth this season.
The Braves piled on three more in the seventh on a two-out, three-run double from Tommy La Stella, which prompted Renteria to call on Justin Grimm to replace Zac Rosscup. The Cubs manager went to the bullpen twice more for Wesley Wright and Neil Ramirez.
Wood, who at this time last year was headed to the All-Star Game, left after 104 pitches (66 strikes) over six innings, giving up seven earned runs on seven hits and three walks. It was the second straight game a Cubs starter struggled, after Edwin Jackson lasted just 3 2/3 innings and surrendered nine earned runs in Saturday's 11-6 loss.
"For myself, I'm not happy with it at all," Wood said. "A lot of stuff to improve on. A lot of stuff to do better in the second half. ... Every year is different. It's kind of what I've taken into spring -- that you're never going to be the same as you were last year. Nothing is ever going to go the same way it did. It's just a new year, different challenges, and you've got to overcome them."
Alcantara continued his push for a permanent spot on the big league roster, going 2-for-5 with a double and the homer -- his fourth and fifth extra-base hits through his first five big league games, in which he's hit .391 and posted a .400 on-base percentage.
Renteria wouldn't say whether Alcantara will remain with the Cubs after the All-Star break.
"I'm having fun," Alcantara said. "I just try to do my job. If they want me to stay here, I will. It's not my decision."
Daniel Kramer is an associate reporter for MLB.com. This story was not subject to the approval of Major League Baseball or its clubs.