Johnson helps Braves surge into All-Star break
Third baseman goes 3-for-4 with homer, three runs, three RBIs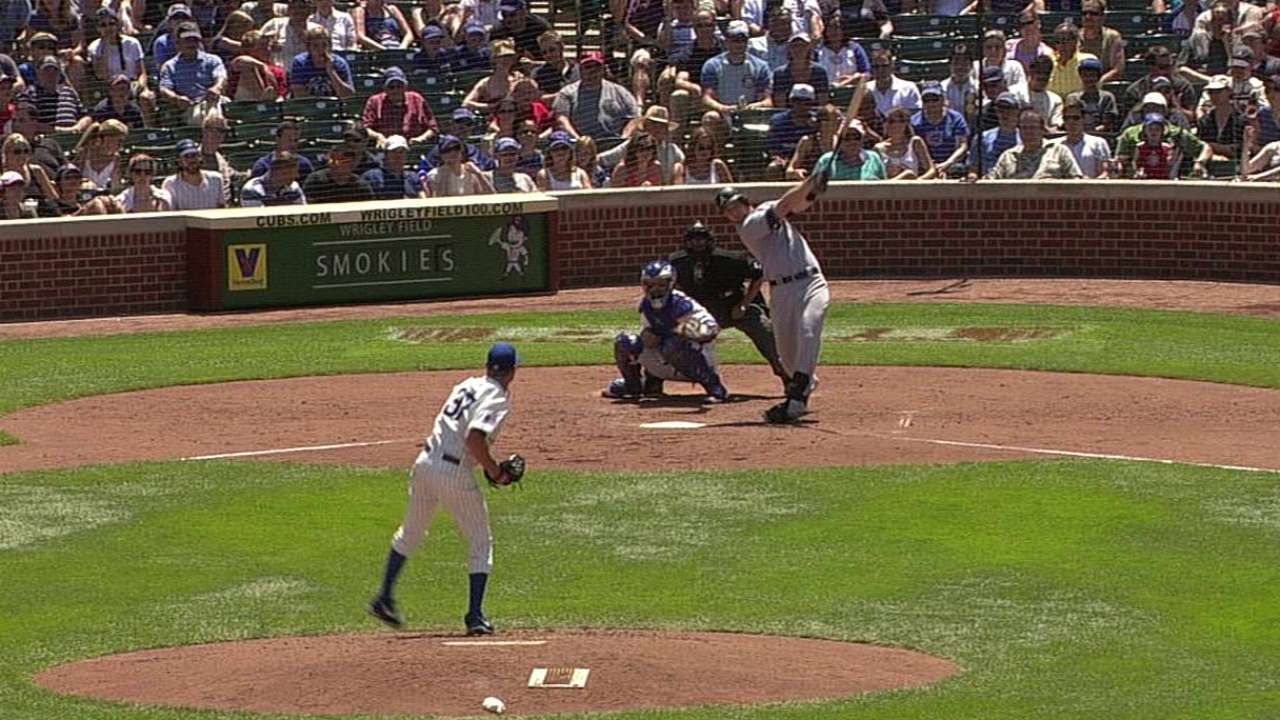 CHICAGO -- Most players can't wait for the All-Star break, but Chris Johnson probably isn't in that group right now.
Johnson continued his recent power surge with a three-run home run, and the Braves registered double-digit runs for a second straight day in a 10-7 victory and a series win over the Cubs on Sunday at Wrigley Field.
Johnson went 3-for-4 with an intentional walk, three RBIs and three runs scored. He now has three homers in the last two games after managing just three in the first 90 games.
"He's swinging it well right now," manager Fredi Gonzalez said. "I'm sure he's going to find a place to play during the All-Star break. You never want to stop playing when you're going like this."
Well, not quite. The strong finish will help Johnson enjoy the time off even more.
"Yeah, I'll take the break," he said. "I think we've had a good first half, we're in first place and, hopefully, we can do the same thing in the second half.
"We're right where we need to be."
The Braves head into the break tied with the Washington Nationals for first place in the National League East.
"Everybody has a chance to catch a breather," Gonzalez said. "Hopefully, nobody goes white-water rafting and everybody comes back in one piece.
"But we had a pretty good first half, better than pretty good. Now we have to enjoy this break and keep firing."
All-Star starter Julio Teheran (9-6) bounced back from a poor outing in his last start in New York -- when he surrendered five runs in 3 1/3 innings -- and was in control throughout, giving up four runs on seven hits and striking out six over seven innings. The runs came on a pair of two-run homers from Arismendy Alcantara and Chris Coghlan after the Braves had opened a big lead.
"My command was better and my two-seamer was working," Teheran said.
Cubs starter Travis Wood (7-8) was roughed up for seven runs on seven hits in six innings.
"His fastball command is one of the things he'd been working on," Cubs manager Rick Renteria said of Wood. "We're obviously still very hopeful that he's going to work through that and he'll be fine the second half. Looking for a better second half out of him."
The Braves busted out of a recent offensive funk on Saturday and kept the hit parade going on Sunday, breaking the game open early with a three-run second inning and a four-run third.
Catcher Gerald Laird's two-run double was the highlight of the second and Johnson's homer was the big blast in the third. He's 5-for-9 with seven RBIs in the last two games.
"The biggest thing for me is that I'm swinging at strikes," Johnson said. "When I swing at strikes, I can do some good things. When I don't, then that's when I struggle. I'm glad the past couple of days I was able to zone it up a little bit, get balls over the plate and make solid contact."
After the Cubs pulled within 7-2 in the sixth inning on Alcantara's homer -- the first of his Major League career -- Braves second baseman Tommy La Stella made it 10-2 with a bases-clearing double off left-hander Zac Rosscup in the seventh.
Coghlan's homer in the seventh made it 10-4, and then the Cubs added three more in the eighth inning, aided by three walks as it took three Braves relievers -- Luis Avilan, Shae Simmons and Jordan Walden -- to get three outs.
Actually, they really only got two. The inning might have been even worse, but the Cubs' Starlin Castro was nailed at the plate trying to score from third base with the bases loaded on a pitch from Walden that bounced to the third-base side of the plate.
Laird pounced on the ball and threw to Walden, who tagged Castro for the second out of the inning. Catcher John Baker then followed with a two-run double. Walden retired Junior Lake to end the inning.
"[Laird] made a [heck] of a play on that ball that got away," Gonzalez said. "That was a big play, believe it or not. That was a big out at the plate."
There was no drama in the ninth as Craig Kimbrel pitched a perfect inning for his 29th save.
John Jackson is a contributor to MLB.com. This story was not subject to the approval of Major League Baseball or its clubs.