Robinson shares memories of her dad at FanFest
Jackie's daughter signs copies of new book, takes part in Q&A session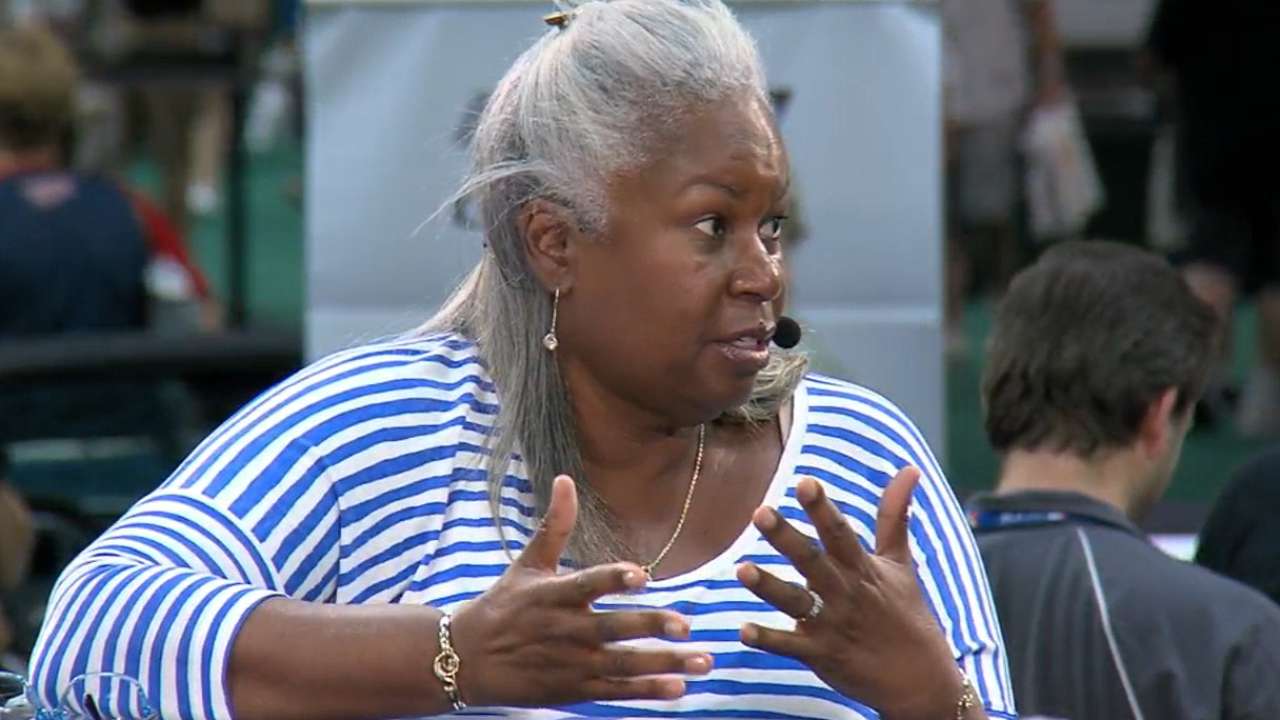 Sharon Robinson is best known as the daughter of Hall of Famer Jackie Robinson, but over the last several decades, she has distinguished herself through her own contributions to the game.
Robinson has traveled throughout the country promoting educational programs for kids since joining forces with Major League Baseball as its educational consultant 17 years ago. She is also a regular presence at many of baseball's jewel events, including All-Star Week, making appearances at the T-Mobile All-Star FanFest and interacting with people of all ages. Her stories about her life and her dad help to ensure Jackie Robinson's legacy continues to have an impact on today's young baseball fans.
Sharon Robinson has written another children's book, adding to her extensive collection of kid-centric books she has authored. This one is called "Under the Same Sun," and it's written for her mother, Rachel. Sharon signed the books free of charge at FanFest on Sunday.
The book is somewhat true to life, as it's about two people who travel to Tanzania to visit family. Sharon's brother, David, has lived in Tanzania since 1984, and her mother travels regularly to visit him. The book is about those visits.
It also teaches important lessons about equality, stressing that everyone, regardless of where they hail from, has more similarities than differences.
"We may be separated by land and sea," the back cover reads. "But we are always under the same sun."
During a question-and-answer session at FanFest, Robinson offered fond memories of her father, with whom she had a special relationship as Jackie's only daughter.
She recalled going to work with him -- not when he was playing, but rather, after he retired from baseball and worked as an executive for Chock Full O'Nuts.
Sharon remembers fondly the rides to and from their home in Connecticut to his office in New York City. It was during one of those lengthy rides that she needled her dad to step up his game when it came to the car he drove.
"I said, 'Dad, can't we get a different car?'" Robinson recalled. "Finally he said, 'Yes, yes!' The new car was the exact same one as the old one. It was just no longer silver -- it was a dusty blue."
She also told a story that the moderator encouraged all dads in the audience to feel free to steal.
"My dad couldn't have sugar in his tea," Robinson said. "He was diabetic and couldn't have sugar. This was before artificial sweetener. He'd say, 'Sharon, just put your finger in my iced tea and it'll be sweet enough.'"
Twins memories: What Hall of Fame pitcher Bert Blyleven remembers best about the 1987 World Series -- besides winning it, of course -- had little to do with the nail-biting nature of most of that seven-game series with the Cardinals.
Rather, the most vivid memory he has is from just before the series began, upon the club's return home from Detroit after winning the American League pennant.
"We were on the airplane and they told us they'd like to bus us to the Metrodome," Blyleven recalled during a Q&A session at FanFest. "They wanted to open it up to season-ticket holders to wish us good luck in the World Series."
The Twins, awaiting word on the outcome of the NLCS between the Cardinals and Giants, were so happy to be headed to the World Series, it didn't really matter what was asked of them. Let's just say this was a euphoric, agreeable bunch.
They were envisioning a small group of loyal season-ticket holders waiting to give their hometown nine a hero's welcome. What they were greeted with was something entirely different.
"By the time we got to the Metrodome, there were 55,000 people there at 11 o'clock at night," Blyleven said. "Just to wish us good luck. My hair still stands up thinking about it.
"What that meant was that we had the 10th player on our side -- the fans in the tri-state area. We carried that right into the World Series."
And they won it, too. The Twins won all of the games played in Minneapolis, and the Cardinals won all of the games in St. Louis. The Twins, with home-field advantage, took the series in seven games.
Finish what you start: In today's world of lefty specialists, million-dollar arms and a recent rash of elbow injuries, it's hard to imagine that a generation ago, starting pitchers were also their own closers. The mantra back then: finish what you started.
Hall of Famer Gaylord Perry, for example, started 690 games and completed 303 of them. Those are staggering percentages, given today's starting pitchers may be given five or six opportunities all season to finish their own starts.
Pitching staffs consist of 11 or 12 pitchers these days, but in the old days, staffs might have been as small as nine or 10.
"You had to pitch more back then," Perry said.
He recalled one extra-inning game in particular. He was still pitching after 15 innings, and the score was tied at 2. His manager came to the mound to lift him.
"I said, 'Why are you taking me out?'" Perry recalled. "'What am I doing wrong?' He took me out, and the next pitch, the guy hit a home run."
Alyson Footer is a national correspondent for MLB.com. Follow her on Twitter @alysonfooter. This story was not subject to the approval of Major League Baseball or its clubs.