With win streak over, Phils enter break quietly
Three-run first costs Kendrick as Phils drop second straight to Nats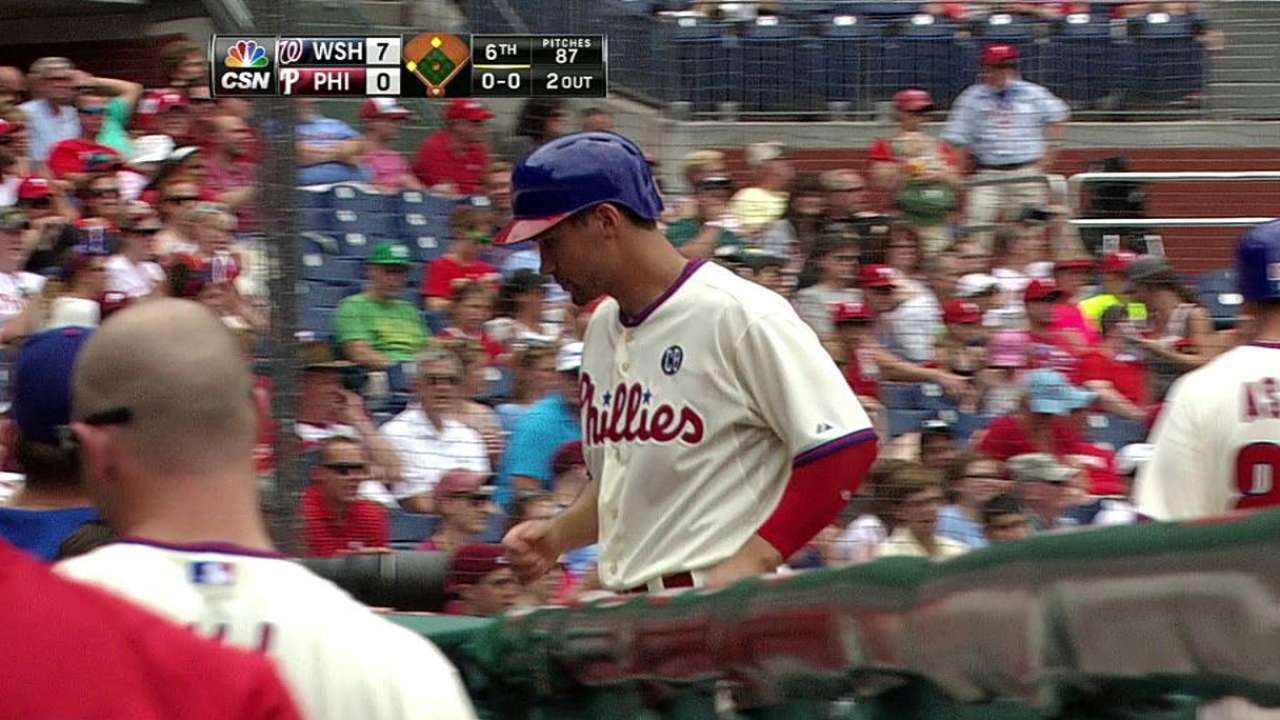 PHILADELPHIA -- The Phillies were on the verge of getting back in the conversation, a turnaround of unlikely proportions. At least that was the feeling that saturated the clubhouse following Friday night's victory. Winning streaks tend to instill that kind of hope in struggling ballclubs.
What a difference 48 hours can make. Saturday night's extra-innings loss was the reality check, and Sunday's 10-3 loss to the Nationals at Citizens Bank Park was the affirmation.
With the Phillies' Opening Day payroll the highest it had ever been at about $180 million, 11 games under .500 (42-53) and 10 games back in the NL East at the All-Star break was not what the club had envisioned.
"Not pleased," Phillies manager Ryne Sandberg said. "Not pleased with the record."
"I don't think that's what you set out for during Spring Training," Chase Utley said. "I think we can play better than we have. We've shown some glimpses of it here and there."
After spending much of the season in last place in the division, this aging Phillies squad has been poised to act at the July 31 non-waiver Trade Deadline. A few wins were not going to change that, so long as they remained in the bottom of the division. But the players were at least making things difficult for the string-pullers upstairs, with all facets of the team clicking earlier this week.
Perhaps that was their first clue of how the weekend would go. As it has many times this season, good play was followed by a setback.
Sunday's loss marked the second time in just the past month that the Phillies had followed five-game win streaks with consecutive losses. The winning spurts have proved to be aberrations in a season otherwise marked by a lack of timely hitting, failure to grasp the fundamentals and inability to sustain momentum.
After outscoring opponents by 31-13 during its latest five-game win streak, Philadelphia was outscored by 15-6 in its past two losses. In a tumultuous first half, the Phillies have struggled to build on positive performances and prolong win streaks, and they now have four days to scratch their heads and try to figure out why.
On Sunday, Utley could not.
"I don't have an answer for that."
Cody Asche offered a cliché.
"I would say that's more or less baseball."
Sandberg pointed to the offense.
"When we've had our good series and played our good games, we had offensive punch in there, but it would turn overnight and turn cold."
The pitching, for its part, has been run-of-the-mill, ranking 16th in the Majors with a 3.83 ERA and 13th in opponent's batting average (.249) entering Sunday, but it has not been enough to compensate for Philadelphia's anemic output offensively.
The decisive number has been four. When the Phillies have scored more than four runs this season, they are 31-5. But when scoring four runs or fewer, which they have done in nearly two-thirds of their games, they have a .186 winning percentage (11-48). Additionally, the offense ranks 29th in baseball with a .664 OPS, and 25th with 364 runs, as the club continues to deal with a season-long offensive funk.
"That part's been surprising. It has, as long as it's lasted," Sandberg said.
Sunday was more of the same. Kyle Kendrick surrendered three more first-inning runs, raising his ERA to 11.37 in the opening frame. Jayson Werth's home run, a three-run shot, was also the seventh Kendrick had allowed in the first.
"It's hard to pinpoint," Sandberg said of Kendrick's first-inning woes. "It's been addressed and talked about. He's experimented with things. He gets away from his fastball and gets into the secondary pitches. ... It's a tough start right off the bat when the first time up, they get three."
The Nationals plated four more runs in the sixth to help ensure a Phillies loss, dropping them to 19-29 at home heading into the break. Philadelphia hit 1-for-12 with runners in scoring position,
"I've had a glimmer of hope with our stretches as of late," Sandberg said. "Cliff Lee coming back and [Carlos Ruiz] coming back and getting everyone together and seeing what we could do full strength. That's where my head is at going into the second part of the season."
Erik Bacharach is an associate reporter for MLB.com. This story was not subject to the approval of Major League Baseball or its clubs.