Marlins can't end tough road trip on high note
Offense remains in slump, while hobbled Hand, 'pen can't stop Mets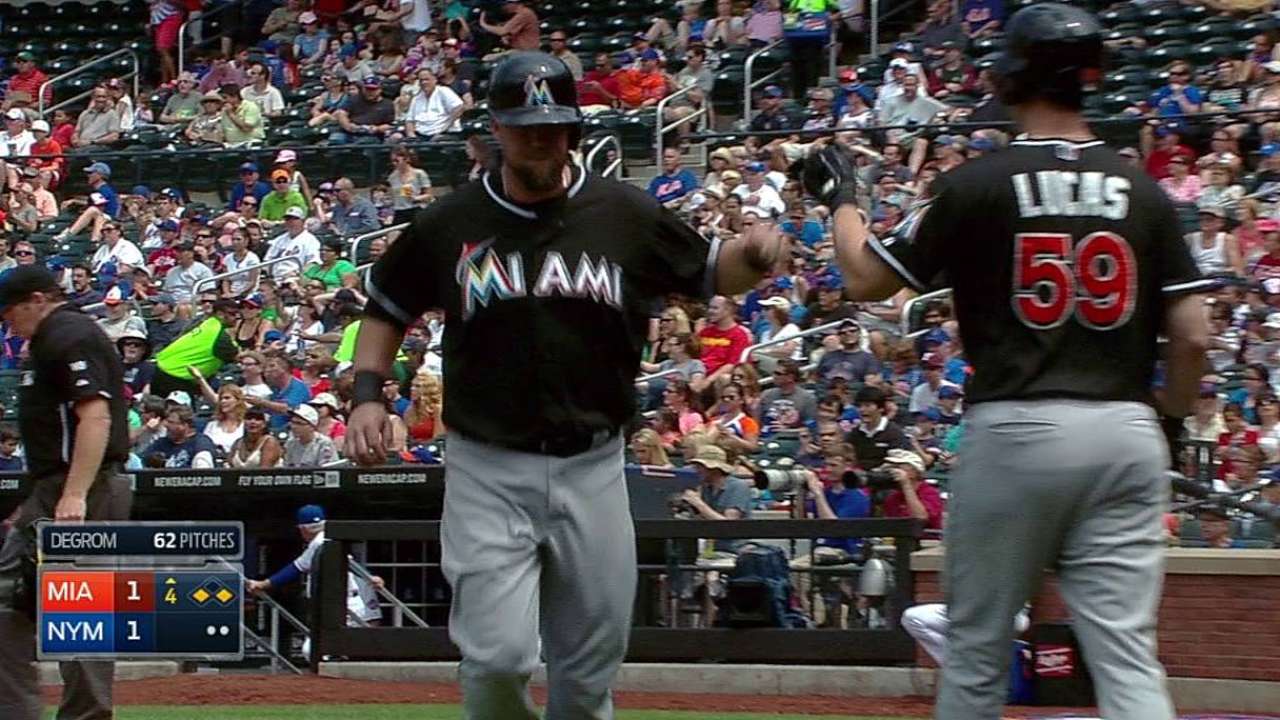 NEW YORK -- After a frustrating road trip, the Marlins certainly are in need of a breather. They're getting one heading into the All-Star break.
But rather than reach the midpoint on a high, Miami is laboring.
Jacob deGrom added to the Marlins' rough stretch on Sunday, giving up one run in seven innings while collecting a key RBI single in the Mets' 9-1 victory at Citi Field.
deGrom scattered five hits and struck out eight, while New York completed a three-game sweep. The Marlins lost their four straight, falling a season-worst six games under .500 (44-50).
"That got ugly there at the end," Marlins manager Mike Redmond said. "Yeah we were sloppy. Once again our bats were quiet. Just not a good series at all. We'll definitely utilize these four days off. I know we got some guys pressing. We got some guys on tilt. We got some guys frustrated. Obviously, when you lose games, that's what happens. We need to relax a little bit for a few days, come back, get to work next week."
The Mets also hopped over the Marlins into third place in the National League East. Miami is 1-5 at Citi Field this year. The Marlins finished up their road trip at 3-6, and they head into the break 17-28 on the road.
The offense sputtered yet again, marking the fifth time in the nine-game trip that they scored two runs or fewer. Giancarlo Stanton, headed to the All-Star Game, was 4-for-33 on the trip.
"We're not getting enough hits," Redmond said. "We went from having probably four or five guys going really good to nobody getting any hits and getting some sporadic hits here or there."
In all phases, the Marlins were outplayed by the Mets over the weekend.
Even with the game in hand at 5-1, the Mets tacked on four more runs in the eighth inning. Kevin Gregg faced three batters in the inning, and they all reached and scored.
"It definitely got out of control pretty quick," Gregg said. "You try to limit the damage, and we weren't able to limit it today."
Brad Hand, vying to secure a rotation spot, gave up three runs on six hits in four innings. He was lifted after 72 pitches due to a right shin contusion. The left-hander was struck on the lower leg on a comebacker off the bat of Anthony Recker in the fourth inning.
Hand was able to retrieve the ball and throw Recker out at first, and he remained in the game for the rest of the inning.
New York did its damage after that, scoring two runs with two outs to claim a 3-1 advantage. Chris Young, who drew a one-out walk, moved to second on Recker's grounder. Ruben Tejada was intentionally walked to get to deGrom.
But Hand was unable to end the threat. deGrom slapped a single up the middle and recorded his first RBI of the season. Curtis Granderson's double to left pushed across the second run in the inning.
The Marlins were never able to recover from deGrom's single.
"That sort of sums up how things have been the last four or five days for us," Redmond said. "Get behind the pitcher and lay one in there and he gets a hit."
Hand said the shin became increasingly sore between innings, but he was fine to continue.
"I walked a guy to get to the pitcher," Hand said. "Thought I could get that guy. Just didn't work out. He got a base hit and then the blooper to left that Grandy hit. Other than that, I felt pretty good."
Since June 8, when the Marlins were tied for first in the NL East, they are 11-20.
Miami had tied the game at 1 in the top of the fourth on Marcell Ozuna's RBI infield single. The Marlins got a break in the inning when Garrett Jones' fly ball to right was lost in the sun by second baseman Eric Campbell, putting runners on second and third with two outs.
New York opened the scoring in the second on Young's sacrifice fly, which scored Lucas Duda, who doubled.
"We went on this long road trip hoping [for a good run]," Redmond said. "But a couple bad breaks and here we are. We've got to be able to move on and get back to work next week, fresh and ready to go."
Joe Frisaro is a reporter for MLB.com. He writes a blog, called The Fish Pond. Follow him on Twitter @JoeFrisaro. This story was not subject to the approval of Major League Baseball or its clubs.