deGrom, Mets stay hot, sweep Fish to rise in East
Club finishes 8-2 on homestand as rookie cruises, adds RBI to rout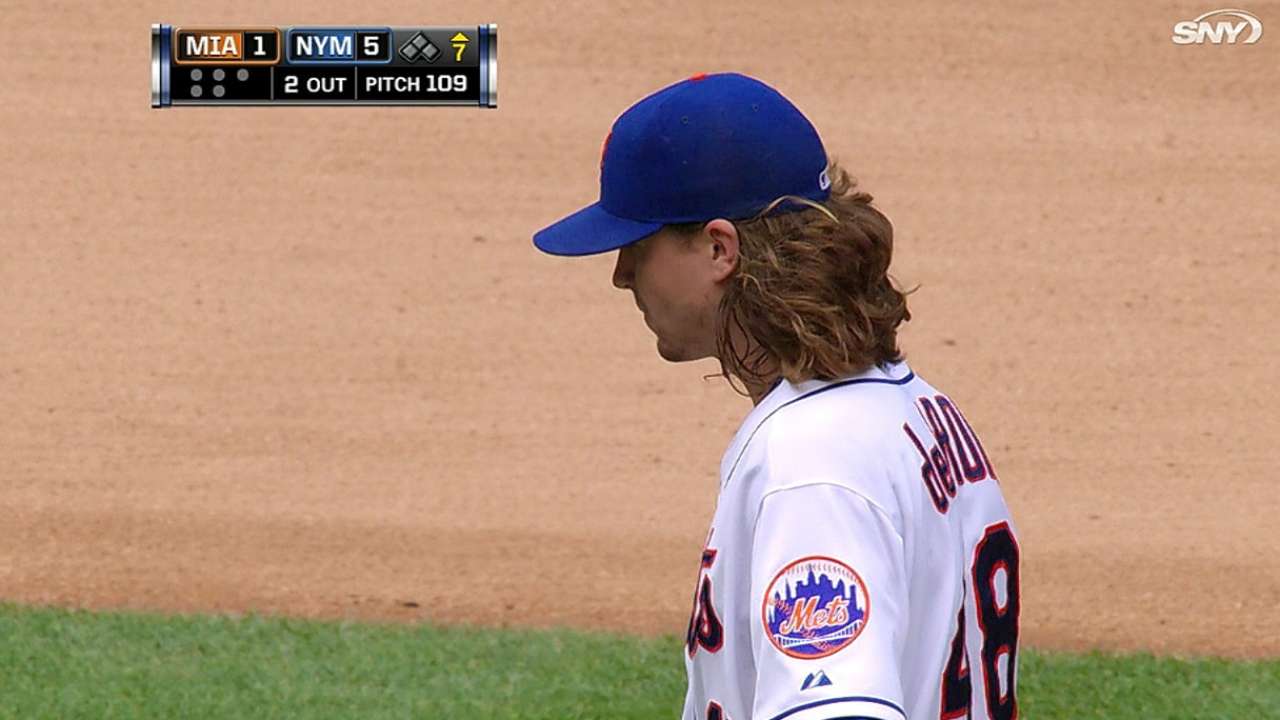 NEW YORK -- To understand how well things have gone for the Mets during this homestand -- which wrapped up Sunday with a 9-1 win over the Marlins to complete the series sweep and give the club its eighth win in 10 games -- all you needed to do was watch the home half of the second inning at Citi Field.
Lucas Duda led off with a double to left-center, just the third of the season to that part of the field for the left-handed batter who only recently re-started hitting to all fields. Juan Lagares followed by not only laying down a bunt to move Duda to third, but beating it out for a single. Then Chris Young -- he of the .199 average entering the day -- lofted the first pitch he saw to center field for a sacrifice fly and a 1-0 lead.
Just like that, during a blink-and-you-miss-it three-pitch sequence, the Mets manufactured a run to open the scoring in yet another win. The Mets went on to score in five innings, including putting up a four-spot to break it open in the eighth, in what was arguably their most well-rounded effort of the 10-game homestand.
"We're playing complete games," said David Wright, who was 2-for-4 with two doubles and two RBIs. "The offense hasn't had to pick up the pitching, the pitching hasn't had to pick up the offense. It's all come together these last 10 days or so. It's been fun to be a part of."
Winning has been the case more often than not for New York of late. The Mets came back to Queens a week and a half ago 11 games under .500 and 10 games back in the National League East, with a very real chance that with a poor showing leading up to the All-Star break, they would be clear sellers before the non-waiver Trade Deadline.
Now, though, they're only five games under and have snuck into third place in the division, seven games behind the Braves and Nationals. To be sure, the Mets have a considerable task in front of them to show that this is more than just a fluky hot streak. But right now, they're winning enough to keep things interesting, and they're feeling real good about themselves as a result.
"I was talking to the coaches the first day, and I said if we go 7-3, that's going to be a tremendous homestand for us," manager Terry Collins said. "We've got 36, 35 games left in our division. That's a lot of games to play. Now what we have to do is go out and play like we did this homestand. You're not going to do it every night, I understand that. But for the most part -- play consistent, play smart, play fundamental baseball and we'll get back in the hunt."
Rookie right-hander Jacob deGrom pitched well for the second time during this stretch, tossing seven innings of one-run ball. He scattered five hits and two walks and struck out eight. With a sharp single up the middle in the fourth, deGrom collected his first Major League RBI, too.
The most significant of his 113 pitches came with two on and none out in the top of the sixth. Casey McGehee bit on deGrom's changeup and grounded into a double play.
"That's what [pitching coach] Dan [Warthen] came out and said. He wanted a changeup there and hopefully get a ground ball and that's what happened," deGrom said. "My changeup and curveball were really good today. I used that a lot. My fastball didn't have as much on it as it has had recently, but I located pretty well."
deGrom's strong outing punctuated an impressive first half that saw him transform from a depth option with Triple-A Las Vegas to a big league rotation mainstay. He has posted a 3.18 ERA and .255 opponents' batting average while turning in quality starts in eight of his 12 outings since a mid-May promotion. In his last five starts, deGrom owns a 1.65 ERA, 1.16 WHIP and 3.8 strikeout-to-walk rate.
"He didn't even have his best stuff today and did a great job," Collins said.
The other Mets runs underscored the notion that, yes, things are going really well. Ruben Tejada scored when Curtis Granderson's looper fell fair, then bounced into the stands for a ground-rule double in the fourth. Wright had a similar play down the right-field line an inning later, then came home on Lagares' double. Granderson scored in the sixth when, after originally being called out, umpires ruled he was interfered with near second base on Wright's double.
When the Mets started to tack on in the eighth -- those all important add-on runs -- they collected three hits with the bases loaded. Entering the day, the club was 13-for-79 in those situations.
So now everyone besides All-Star Daniel Murphy gets four days off before heading to San Diego for Friday's second-half opener. They'll enjoy the rest for sure, but the recent success has seemingly breathed new life into the team. Wright said the Mets could catch Atlanta and Washington before it's all over, even acknowledging that that is more believable now than it was two weeks ago.
"What we've shown this last 10 days is, yes, we can compete," Collins said. "Now, we have 67 more games, and we have to go out and do it. We can't just talk about it. We have to go do it. But I think if we continue to play like this, September is going to be a fun month."
Tim Healey is an associate reporter for MLB.com. This story was not subject to the approval of Major League Baseball or its clubs.