Stymied lineup saddles Ross with hard-luck loss
Righty fans nine, but Padres end first half on sour note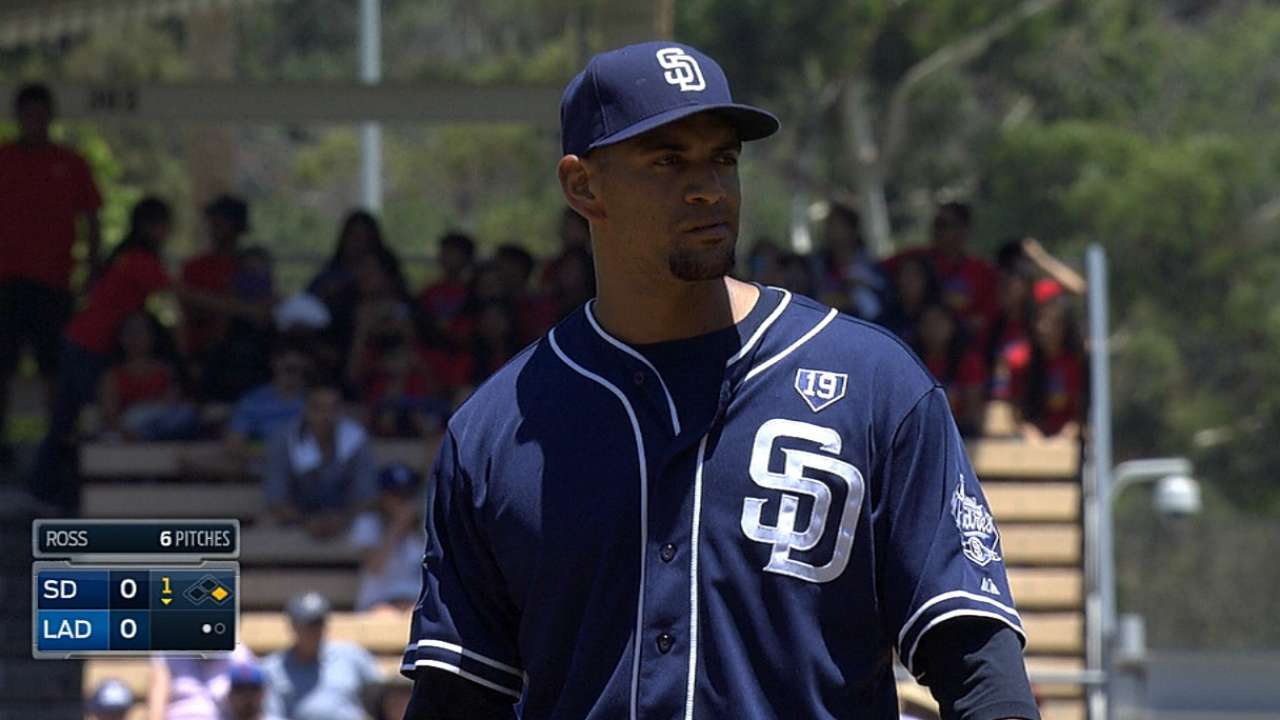 LOS ANGELES -- The confluence of two familiar storylines met on a sun-soaked Sunday at Dodger Stadium, reducing the Padres to repeat many of the same lines they have used over and over in the first three-plus months of the regular season.
Love that pitching, but about that offense …
It happened again Sunday, as the Padres finished the first half of the season with a resounding thud, as they were shut out 1-0 by the Dodgers for the second time in as many days, this time before a crowd of 47,131, who reveled with each passing out.
Pitcher Tyson Ross, who is headed to the All-Star Game, though he won't pitch because he got the start Sunday, limited the Dodgers (54-43) to one run on six hits over seven innings. He walked one and struck out nine. His ERA is 2.85 and the Padres have scored one or fewer runs for him this season nine times.
"He's an All-Star and he pitched like an All-Star all year," said Padres manager Bud Black. "… We're very proud of the way he's pitched. It takes time. Pitchers don't develop overnight. We're proud of him and what he's done."
The consecutive shutout losses to the first-place Dodgers were Nos. 13 and 14 for the Padres, who lead the Major Leagues in that dubious category. They head to baseball's four-day break with a streak of 21 consecutive innings without scoring a run.
The Padres (41-54) nearly broke that streak at the most opportune time; in the ninth inning and with Dodgers' closer Kenley Jansen on the mound.
With one out, Carlos Quentin walked and was replaced by Jace Peterson. Yasmani Grandal pounded a single to right field with Peterson alertly going to third base. Jansen recovered to strike out rookie Jake Goebbert before Black went to his bench for Seth Smith.
Smith, the team's best hitter in the first half, went down on strikes to end the game.
"We had an opportunity," Black said. "That's a tough one. We had an opportunity but couldn't get that big hit."
The Padres have been playing without several regular position players who are on the disabled list -- first baseman Yonder Alonso, second baseman Jedd Gyorko and shortstop Everth Cabrera. Black is hoping to get some of, if not all of those, players back in the second half to help the anemic offense.
Not that even a healthy lineup would have had much luck against Dodgers pitcher Hyun-Jin Ryu (10-5), who allowed two hits with 10 strikeouts over six scoreless innings.
"Obviously, very good today, again," said Dodgers manager Don Mattingly. "Today he was very sharp. I felt location-wise, his breaking ball was good. His curveball was good today. His slider that he's been working on was really good today."
Pitching, to be sure, ruled the day.
"I think these guys are tough," Mattingly said of the Padres. "The guy today, I thought he was filthy. And [Ian] Kennedy yesterday [eight scoreless] was really good. The guys were talking about [Ross'] slider. If you don't get it in the right spot, it's unhittable."
Ross surrendered his lone run in the sixth inning when he allowed a one-out single to Dee Gordon, who then swiped second base. After a walk to Carl Crawford, Yasiel Puig got enough of a slider, lining it into center field for the only run of the game.
"I got a little tired in the sixth and they capitalized on a couple of mistakes. The pitch to Puig was a slider that kind of backed up on me. He's a good hitter," Ross said.
Corey Brock is a reporter for MLB.com. Keep track of @FollowThePadres on Twitter. This story was not subject to the approval of Major League Baseball or its clubs.