Gomes' go-ahead shot powers Tribe over White Sox
Bauer's career-high 10 K's set stage for club to pull into break at .500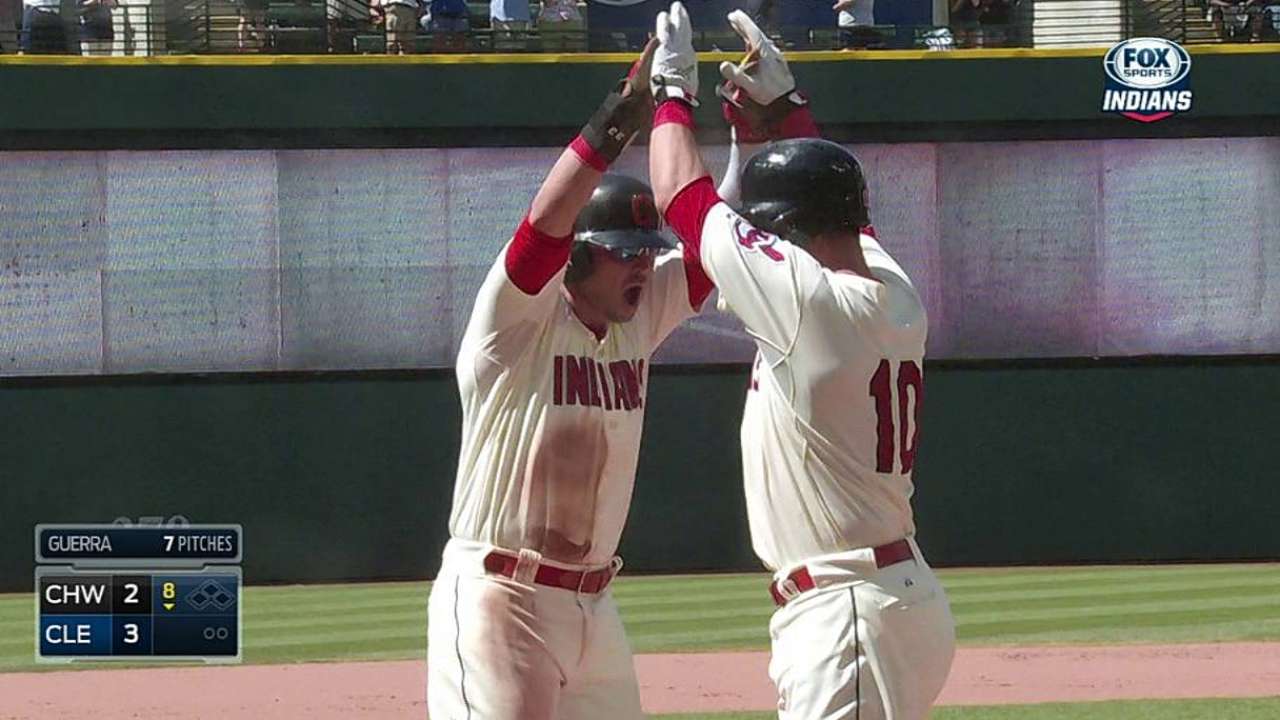 CLEVELAND -- Amid a first half that has seen shoddy defense, shaky starting pitching and a lack of timely hitting from the Tribe, the club showcased just the opposite as it strode into the All-Star break on Sunday.
Trevor Bauer was dominant, Mike Aviles made a jaw-dropping defensive play and Yan Gomes skied a go-ahead two-run homer to fuel the Indians' 3-2 victory over the White Sox at Progressive Field, which sent Cleveland (47-47) into the second half riding a .500 record.
Bauer logged 6 2/3 scoreless innings and struck out a career-high 10 batters in the series rubber match, showing flashes of the same brilliance that had so many scouts drooling as the former top prospect ascended through the Minors. In a year full of solid outings marred by one or two key mistakes, Sunday's start saw the 23-year-old right-hander overcome middling command to pitch around eight hits and three walks while stranding 10 White Sox runners.
"When he got himself into a little bit of a bind, he pitched out of it," Tribe manager Terry Francona said. "I thought he was very good. Early in the game, he'd get a couple outs and then there was a walk or the inning would get extended with a hit, and that probably cost him a bunch of pitches. But he didn't let them score. As the game progressed, like he does, he got stronger."
Bauer would record eight strikeouts over his final four frames and retire five of the last six hitters he faced.
"I think I had eight [strikeouts] on curveballs, one on a slider, one on a fastball," Bauer said. "Curveball felt pretty good today."
As the Tribe struggled to find offense, Gomes proved to be the go-to source as he finished 2-for-4 with all three of the team's RBIs. After Nick Swisher hit a leadoff single in the eighth inning, Gomes saw a 1-1 slider from reliever Javy Guerra and lifted it just over the right-field wall for his 12th home run of the year.
"I was really trying to do the same thing Swisher did," Gomes said. "They're giving you a big hole the other way, I was just trying to get a pitch to stay up top and drive it that way. Didn't think I was going to [hit a homer]."
The performance marked Gomes' fourth game with three RBIs this season, and his first since June 24 in Arizona.
Bauer ran into trouble early, allowing a two-out single to Jose Abreu in the first and walking Adam Dunn in the next at-bat, but Dayan Viciedo would ground out to end the threat.
The White Sox pressured Bauer again in the following frame when Conor Gillaspie hit a leadoff single. Fortunately for the Indians, they were bailed out by an excellent throw from left fielder Aviles, who fielded a popup and then doubled off Gillaspie at first -- a rare 7-3 double play -- to keep the game scoreless.
"Hey, scoot over [Yoenis] Cespedes. Now we got Mike Aviles throwing balls like that," Gomes said. "That was pretty impressive. It's a pretty crazy play, because he makes a throw like that and throws it away, everybody's like, 'Why is he throwing it?'"
The Tribe scratched across a run in the second when Gomes pushed Ryan Raburn home on a one-out single. Lonnie Chisenhall reached on an error one at-bat later to load the bases, but White Sox starter John Danks struck out the next two batters he faced to escape the jam.
That sequence would mark the end of scoring for either team until the eighth, when the South Siders scored a pair of runs on three base hits against reliever Bryan Shaw to take a 2-1 advantage.
"There was a wild pitch and a base hit up the middle," Francona said. "Sometimes the outcome isn't exactly the way he pitched. Bryan is pretty consistent with what he takes out there."
The White Sox lead was short-lived, however, once Gomes put the Tribe back out front with his decisive two-run homer. Cody Allen came in to strike out two in a perfect ninth for his 12th save of the year, giving him 11 straight converted saves dating back to May 30.
Given the injuries and the number of changes Cleveland was forced to weather during the first half of 2014, many on the team are content to enter the break with an even record. And with the Indians still sitting 7 1/2 games back of the division-leading Tigers -- whom they will play in a four-game set beginning Friday -- the players believe the American League Central is still up for grabs.
"I think we're in a good place. I think we're slowly but surely coming along," Aviles said. "If you think about it, last year it was the same kind of deal, and we just got better as the season got on. I think this is the same kind of thing. Nobody is running away with it. I know Detroit's not running away with it in the Central, so we're still there."
Alec Shirkey is an associate reporter for MLB.com. This story was not subject to the approval of Major League Baseball or its clubs.