Color Run All-Star 5K benefits great causes
MLB makes contribution to three charities supporting cancer research, education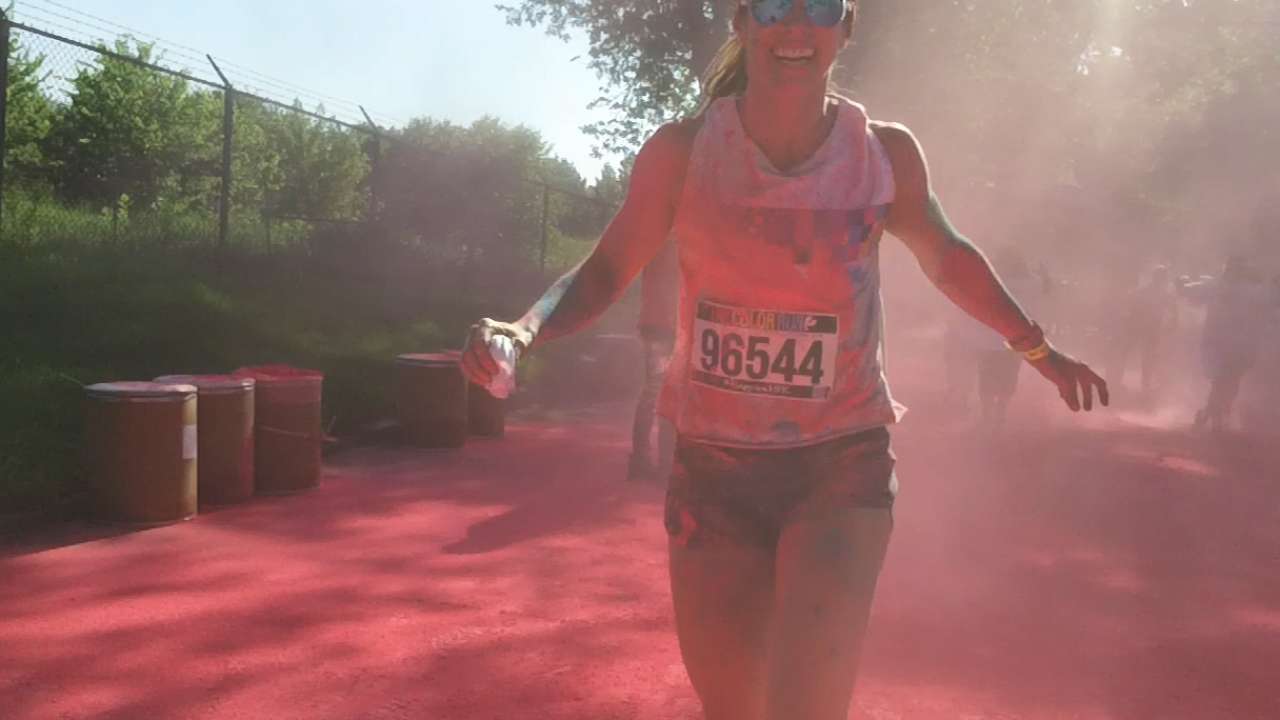 FALCON HEIGHTS, Minn. -- Among the estimated 28,000 participants in The Color Run MLB All-Star 5K presented by Nike on Sunday at the Minnesota State Fairgrounds was Terry Ryan, the Twins' executive vice president and general manager, and he was soon covered in seemingly every color in the rainbow. It was the color of love.
All around him were Terry's Trotters, a group of friends organized for this event by Steve Cobb, director of the Arizona Fall League. They rallied to raise funds and support, running alongside the longtime Twins leader, who had surgery in February to remove a cancerous lump from his neck.
"Well, it's been a little bit of a tough haul for me, but this is something that a lot of people truly believe in," Ryan said at the start of the run. Then, referring to this event, he said, "And I'm going to try to get through this thing. I think I can make it. I've been running a little bit. I'm flattered that Steve has organized this thing for Terry's Trotters and it's very humbling.
"I have a lot of friends here, family and certainly co-workers. Most of them are runners who run together some time or another, so this is a good opportunity to kick off All-Star Week. I'm gonna come out of here with some extra color, which isn't gonna hurt my skin any."
This was the first time MLB aligned with The Color Run after four previous All-Star Week 5K races, and this one was an un-timed run that was all about fun and being blasted with five different colors of powder throughout the course. It also was about making a difference and supporting people like Ryan in the fight against a disease that touches most every family in some way.
MLB is making a contribution to three charities supporting cancer research and education -- Stand Up To Cancer, Prostate Cancer Foundation and Susan G. Komen for the Cure. In addition, The Color Run -- which celebrates healthiness, happiness and individuality -- is making a contribution to its charitable partner, Camp Kesem.
On hand to get runners started were Hall of Famers Juan Marichal and Dave Winfield; former Twins Scott Erickson and Doug Mientkiewicz; MLB executive vice president of business Tim Brosnan; The Color Run founder Travis Snyder; actor/comedian Rob Riggle of the upcoming August movie "Let's Be Cops"; and T.C. plus eight of his fellow MLB mascots, along with Runicorn, mascot for The Color Run. Kat Perkins, the Minneapolis-based singer and top-five contestant on "The Voice," performed a stunning "Star-Spangled Banner" before the race.
"On behalf of the Pohlad family and the Twins, I want to say thanks to all of you for coming out," Twins president Dave St. Peter told runners. Then he added: "I want to thank Steve [Cobb] and everybody else for their support of Terry and the Twins."
"I know Terry has gone through a little bit of a tough battle lately, and it's great to see him out here and healthy and able to compete in this little competition," Erickson said. "I'm very happy for him, and hopefully it's a sign of good things to come for everybody who has to go through this -- that there is a bright side on the other end and they are ready to return to a normal life. It's great to be here supporting The Color Run, it's for a lot of great causes . . . and I'm very happy to be here to help support it."
Erickson pitched the first five of his 15 big league seasons for the Twins, leading them to a World Series championship in 1991 as an All-Star and 20-game winner.
"I'll never forget that 1991 season," Erickson said. "It was a highlight of my life, basically. It's one of the greatest things that, as a little child watching baseball your whole life, I grew up and [was] lucky [to have a year] like that. I'm very fortunate."
Brosnan said this All-Star Week is shaping up as a huge success in Minnesota, not only for its great community impact, but also for the young demographic that it is involving. You could see it up-close if you were at the raucous Finish Line Festival, with live music and more colored powder flying with bubbles everywhere.
"It's going to be the most fun run, and in keeping with our whole theme here in Minnesota, it's going to be our youngest run," Brosnan said before the event. "If you were at the stadium last night, we had 30,000 young people screaming about a concert that had baseball running through it. Here we have [28,000] people of all ages having a fun run, raising money for some great charities. But the key for us is, it's going to have baseball running through it. There's a real good vibe about All-Star Week and this just adds to it."
Riggle, training for a Malibu Triathlon in September, was eager to run this event just to get some exercise in amid a movie publicity tour. He is from Kansas City and said he missed that 2012 All-Star 5K due to involvement with the ESPYs.
"This is a great weekend," Riggle said. "We're going to get splashed in colors and raise some awareness and hopefully raise some money for a great cause. You can go out and run a 5K, or you can go out and get splashed in colors and run 5K -- I think that's the better way to go."
The 85th All-Star Game will be televised nationally by FOX, in Canada by Rogers Sportsnet and RDS, and worldwide by partners in more than 200 countries via MLB International's independent feed. ESPN Radio and ESPN Radio Deportes will provide national radio coverage of the All-Star Game. MLB Network and SiriusXM will also provide comprehensive All-Star Week coverage. For more information, please visit allstargame.com.
Mark Newman is enterprise editor of MLB.com. Read and join other baseball fans on his MLB.com community blog. This story was not subject to the approval of Major League Baseball or its clubs.