Astros unable to contain Red Sox, solve Buchholz
Peacock records one out before removal as Boston tallies 16 hits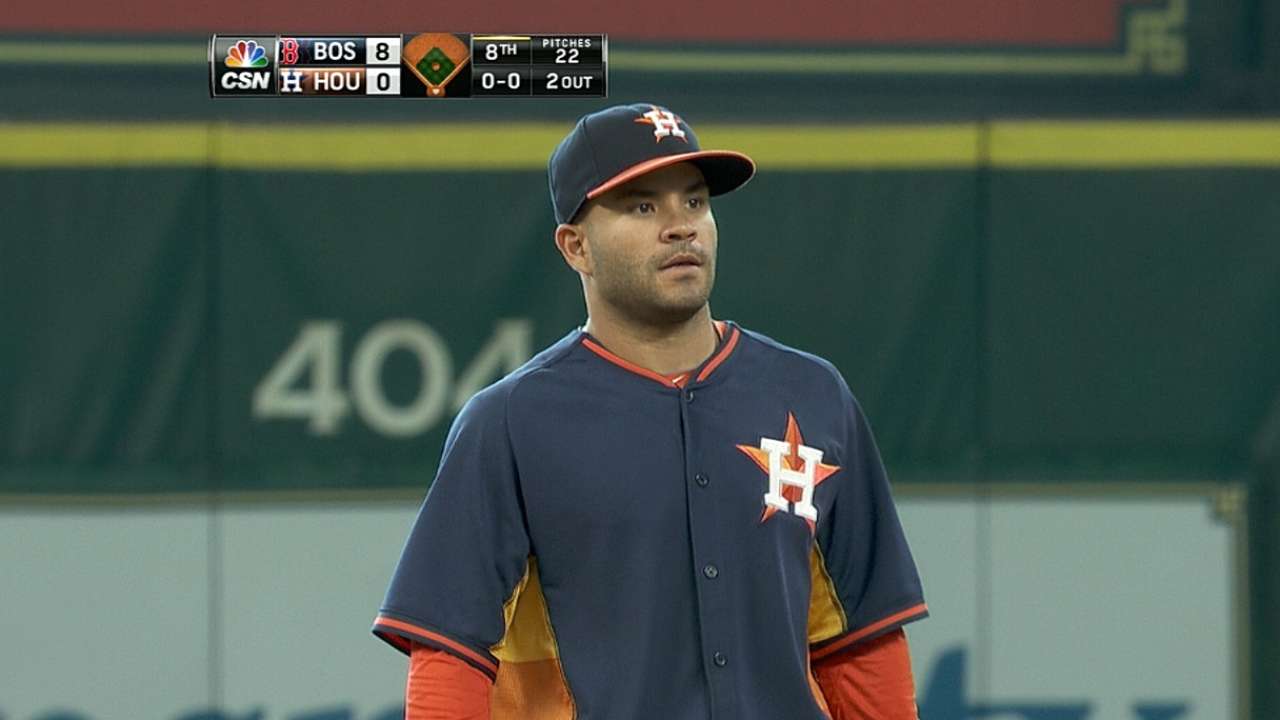 HOUSTON -- Astros starter Brad Peacock showed his disdain for getting pulled in the first inning Sunday when manager Bo Porter came to the mound to get him after he had given up a leadoff homer and allowed the Red Sox to load the bases.
Peacock was only 27 pitches into his start and contends he had been in similar situations before and felt he deserved a chance to work out of the mess he created. Porter had other ideas, yanking his starter after he had recorded just one out.
Anthony Bass rescued Peacock's ERA by getting an inning-ending double play, but the Red Sox were just getting started. Boston scored often against a slew of relievers and rode a dominating performance from Clay Buchholz to an 11-0 win in the rubber game of the series at Minute Maid Park.
"I definitely was not very happy," Peacock said. "I feel like I can get out of that jam right there. I had only given up one run at the time. It kind of [stinks]. I really don't know why I came out. I felt fine. I was having some control issues there."
Regardless, Porter had seen enough.
"You look at the way that inning was going and it just did not look like we were going to be able to get out of it at that point with him," he said.
It was one of those days for the Astros, who committed as many errors -- three -- as they had hits in losing two of three to the defending World Series champs.
"This one game is not going to leave a taste in our mouth about the first half of the season," Porter said. "It's one baseball game; we did not play well, we didn't pitch well, we didn't hit well and we ran into a guy that was on the top of his game today."
Considering it was the final game before the All-Star break, Porter opted to tap into his bullpen early and try to piece together the rest of the game rather than stick with Peacock, but five relievers combined to give up 14 hits, 10 runs (six earned) and seven walks in 8 2/3 innings.
"When you give the starter the ball, your thought process is obviously that they're going to be able to get you deep into the game," he said. "That was not the case today. It just did not look like he was going to be able to get out of that situation. You don't want to put yourself that far behind the eight ball."
It might not have mattered, though, which pitcher the Astros brought in after the first inning because Buchholz was downright dominant. He needed 109 pitches to carve through Houston's lineup, striking out a career-high 12 for his fifth career shutout. He sent down the final 17 batters he faced.
"Every pitch that I threw I had working at some point in the game," said Buchholz, who sent the Astros to their 11th shutout loss. "Changeup was the best it has been all year. Was able to throw it behind the count, ahead in the count."
The only three hits Houston managed were singles by Jason Castro, Chris Carter and Robbie Grossman. All-Star second baseman Jose Altuve went 0-for-4 and hitched a ride on a charter flight with the Red Sox coaches to Minneapolis after the game.
"He had it all working," Porter said of Buchholz. "You look at pinpoint command of his fastball, he threw his curveball any time he wanted for strikes, mixed in his changeup. He did a tremendous job."
Despite the loss, the Astros hit the All-Star break with 40 wins, which is their most at the break since they had 44 in 2009. After starting the season 11-26, they went 29-30 in their final 59 games in the first half.
"We've played good in spurts and it's been up and down, but that's what you're going to get with a young ballclub," Porter said. "At the same time, we have the second half of the season to go and we're at the 40-win mark and I feel like we can continue to make more improvements. I'm looking forward to the second half."
Castro was pleased with the improvement the Astros showed in the first half.
"You see kind of where we're at right now compared to where we were last year, I think we made some pretty good strides all across the board," he said. "Guys have really stepped up. The pitching's been great, the starting pitching's done a great job carrying us deep into games and the bullpen's done their share as well. Guys are kind of getting their experiences in. It's nice to see, and there's definitely positive things ahead for the Astros."
Brian McTaggart is a reporter for MLB.com and writes an MLBlog, Tag's Lines. Follow @brianmctaggart on Twitter. This story was not subject to the approval of Major League Baseball or its clubs.