Buchholz shuts out Astros on Holt's five-hit day
Righty fans career-high 12; fellow Texan opens game with long HR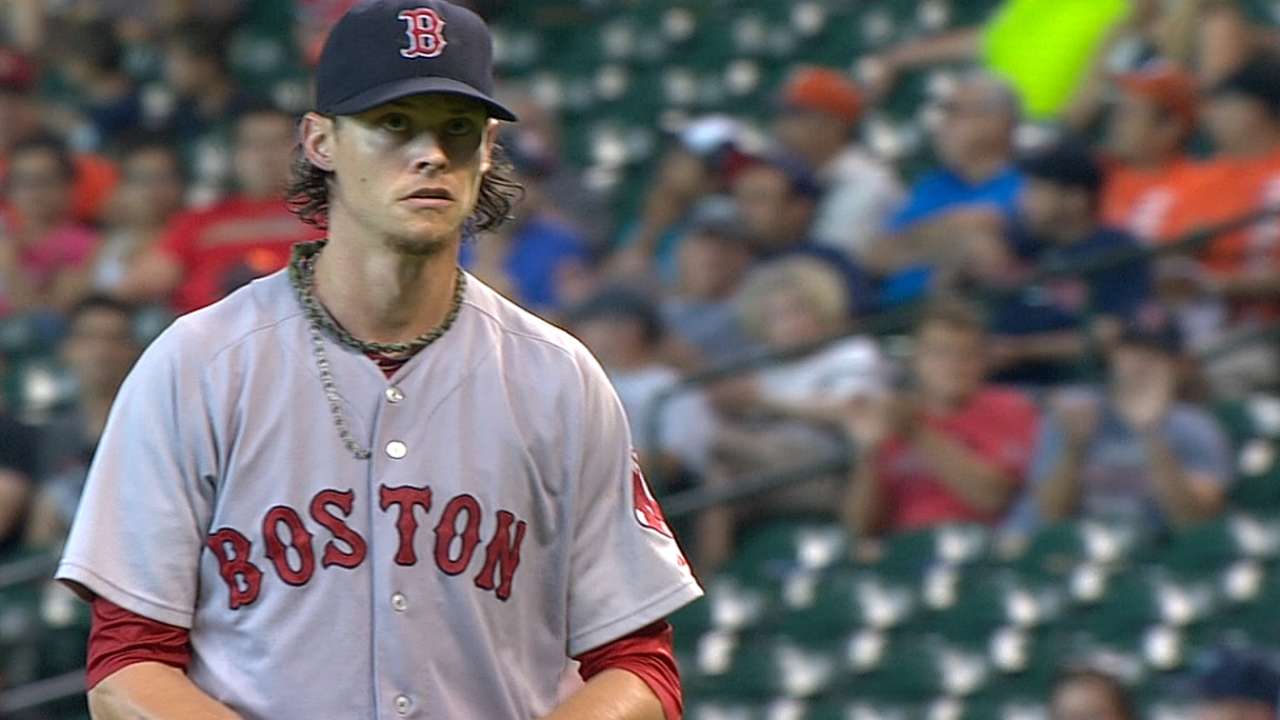 HOUSTON -- Clay Buchholz made his way through those waiting for him outside the Red Sox's clubhouse, a neverending collection of friends and family waiting for high-fives and hugs.
Sure, this was special for Buchholz, to throw a shutout and strike out a career-high 12 in front of more than 20 friends and family members. To him, that's what was most meaningful from Sunday.
For the Red Sox, the statement that Buchholz could be back to his pre-injury 2013 form is a significant sign headed into the season's second half. To end their tough first half with a scorching Brock Holt leading an awakening offense in their 11-0 win against the Astros, while winning two of three in the series and four of their last five overall, is certainly the trend they wanted heading into the All-Star break.
"We recognize the struggles of the first half, but to go into the break with some momentum is something that we are hopeful we'll continue to build on," manager John Farrell said. "We haven't conceded anything."
So Buchholz walked out of the clubhouse and turned right to see those who knew him from his days in Lumberton, Texas, just an hour and a half away from Minute Maid Park. This was Buchholz's first time pitching at Minute Maid Park, though he played shortstop in a game there once in high school.
He looked again like the Buchholz of last season, when he took a 1.71 ERA to the disabled list after 12 starts. This year, he brought a 6.11 ERA to Houston and left with a 5.42 mark. He finished the Astros off with just 109 pitches.
"Today was reminiscent of the first half of last year before he went on the disabled list," Farrell said. "Very much in control and could go to any one of four pitches at any time in the count."
Buchholz credited his ability to throw all four of his pitches -- fastball, changeup, curveball and splitter -- effectively at, at least, one point. When he went to the disabled list again in May, his ERA was 7.02. He had shown signs of returning to form since returning from the hyperextended left knee, but never anything like this.
This time, he was dominant.
"It's night and day," Buchholz said. "It's tough going out in a big league baseball game and having two pitches. I've done a lot of work to get command of those pitches and it's finally paying off a little bit."
While his family congratulated him with hugs and pictures, out walked Holt, who also made his way through the Buchholz clan, wearing a suit. Toward the back of the crowd was a group of Holt's friends and family, and they also had quite a few things to hug about.
Holt, who is from Stephenville, Texas, and played for Rice, went 10-for-16 against the Astros, capped off by his career-high five hits working against six Astros pitchers.
"You don't expect to have weekends like this," Holt said. "For all the family and friends to be in to see it was special."
Still, the Red Sox head into the All-Star break with their worst record since 2007. Even with a few positive signs, there is no celebrating when you're 43-52.
"We know there's a little bit of a hole to climb out of," Farrell said, "but this is a confident group that's playing well right now."
Mike Vernon is an associate reporter for MLB.com. This story was not subject to the approval of Major League Baseball or its clubs.