MLB.com Columnist
Lyle Spencer
Angels roar into break with Texas-sized sweep
Halos win fourth straight over Rangers as Trout drives in four runs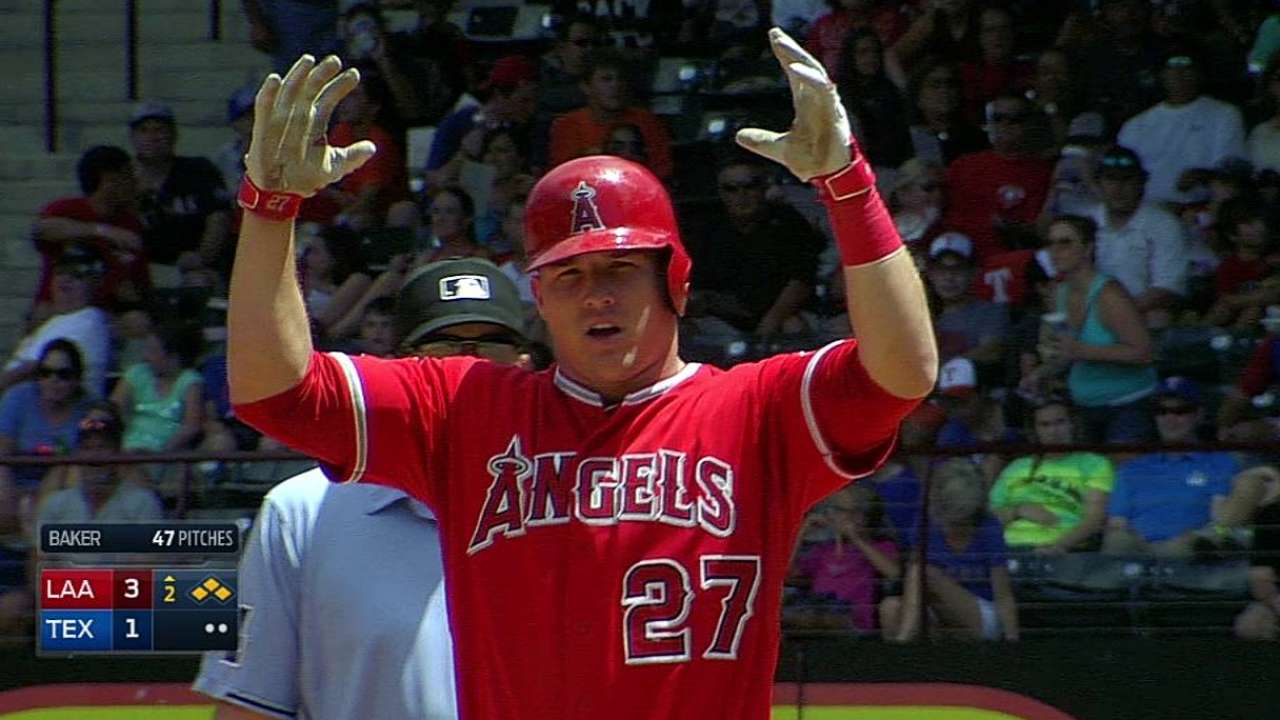 ARLINGTON -- A 21st Century version of the Big Red Machine appears to be taking shape about 2,000 miles from Cincinnati, in Southern California.
The red-clad, red-hot Angels continued to mash away on a sweltering Sunday afternoon in the Lone Star State, finishing off a four-game sweep of the reeling Rangers with a 10-7 decision at Globe Life Park.
The All-Star break will achieve what 10 teams have been unable to do over the past five weeks: put the brakes on the Angels' runaway machine.
The Angels come to the break having won 26 of their past 35 games, closing to within 1 1/2 games of the A's in the American League West. Oakland is the only team in the Major Leagues with a better record than the 57-37 Angels, who lead the Majors with 478 runs scored.
"It's right there," said cleanup man Josh Hamilton, who muzzled the boo-birds in his old nest all weekend by going 7-for-17 with five runs scored and three RBIs. "It's something where you feed off each other. If you don't get it done, another guy will pick you up.
"It's a good feeling. The clubhouse all year has been fun, picking on each other. We have each other's back. That's what you have to have. Guys are getting on base, knocking each other in. It's fun."
Hitting behind Mike Trout and Albert Pujols, two of the game's most dangerous hitters, takes Hamilton back to the days when Texas' lethal lineup featured the likes of Nelson Cruz and Adrian Beltre in his midst.
"It's that same kind of feeling," Hamilton said.
Trout, whose two doubles accounted for four RBIs in the finale, was 8-for-18 with two homers and nine RBIs in the series. Pujols, with three hits and a big RBI double in the eighth Sunday, was 8-for-17 with four RBIs.
The Angels' first-ever four-game sweep of the Rangers left Texas with an eight-game losing streak and defeats in 22 of their past 25 games.
While the Big Three drove the offense, Tyler Skaggs -- celebrating his 23rd birthday -- endured the stifling, upper 90s heat to get the 15 outs required to claim the win, moving to 5-5.
"Miserable all around," Skaggs said of the stifling conditions, not needing to be told this wasn't his hometown Santa Monica, by the beach. "I was trying to hydrate all day. Imagine you're playing in an oven. If you've ever had a blow dryer in your face, that's what it's like. My cleats almost melted.
"We persevered. It wasn't the greatest outing for me -- I made some bad pitches in 0-2 counts -- and that's frustrating. But we persevered and won the game, and that's what counts."
Singles by Alex Rios and Beltre resulting in sixth-inning runs left Skaggs with an unimpressive line: six earned runs, seven hits, one walk, three strikeouts. Given the daunting conditions in a hitter-friendly park, the lefty's labors were not without merit.
"I think he had better stuff than the linescore shows," Angels manager Mike Scioscia said. "He let some counts get away from him and didn't put hitters away."
Rangers manager Ron Washington sounded as if he'd been steamrolled, the Angels having scored 33 runs with 51 hits and a .395 average with runners in scoring position in the four games.
"That's a very relentless ballclub over there," Washington said. "Every time you make a mistake, they make you pay."
The Angels' manager is enjoying all the noise.
"The last 20 games have been a tremendous run," Scioscia said. "Hopefully, they're poised well for holding up in a pennant race."
Trout got the Angels rolling with a two-out, three-run double against Scott Baker in the second inning that found open space in left-center. The Rangers had jumped ahead in the first with infield hits by Daniel Robertson and Elvis Andrus and Rios' sacrifice fly.
After Hamilton's double and Erick Aybar's RBI single pushed the lead to 4-1 in the third, the Rangers tied it when Rios sent a two-run double to right on an 0-2 hanging hook, scoring on Beltre's grounder.
The Angels reclaimed the lead when Trout followed Kole Calhoun's double with one of his own, a line drive to the left-center gap. On his way to the All-Star Game, the center fielder has 73 RBIs, 71 coming in the No. 2 spot of the order in 88 starts. The club record for RBIs by a No. 2 hitter is 79 by Jim Edmonds in 1995.
Aybar, whose 50 RBIs are within nine of his career high in 2011, walked to open the fifth, took third on Howie Kendrick's single and scored on David Freese's sacrifice fly. A double by Efren Navarro, handling the roster spot vacated by injured Collin Cowgill, brought home Kendrick. Navarro was 2-for-4 with some slick work at first with the glove.
Trout's walk, Pujols' single and Hamilton's sacrifice fly gave the Angels an 8-4 lead in the sixth. The Rangers sliced the deficit in half on Jake Smolinski's RBI single and Chris Gimenez's double-play grounder as Mike Morin relieved Skaggs.
Rougned Odor's one-out triple and Leonys Martin's groundout made it 8-7 in the seventh, but Pujols' two-out double in the eighth brought home Iannetta, who walked leading off.
Kevin Jepsen handled the eighth, and Joe Smith rolled to his 15th save after Iannetti's RBI single cashed in Kendrick with an insurance run in the ninth.
Since July 1, Smith, the new closer, has been untouchable, putting away 26 of 27 hitters he has faced with one walk. He has not allowed a hit in 10 consecutive appearances.
"Joe makes pitches," Scioscia said.
And this new-model Big Red Machine from the West Coast bangs them.
Lyle Spencer is a reporter for MLB.com. This story was not subject to the approval of Major League Baseball or its clubs.