Rangers fall to Angels, drop eighth straight
Rios notches three RBIs as bats do their part in 22nd loss in 25 games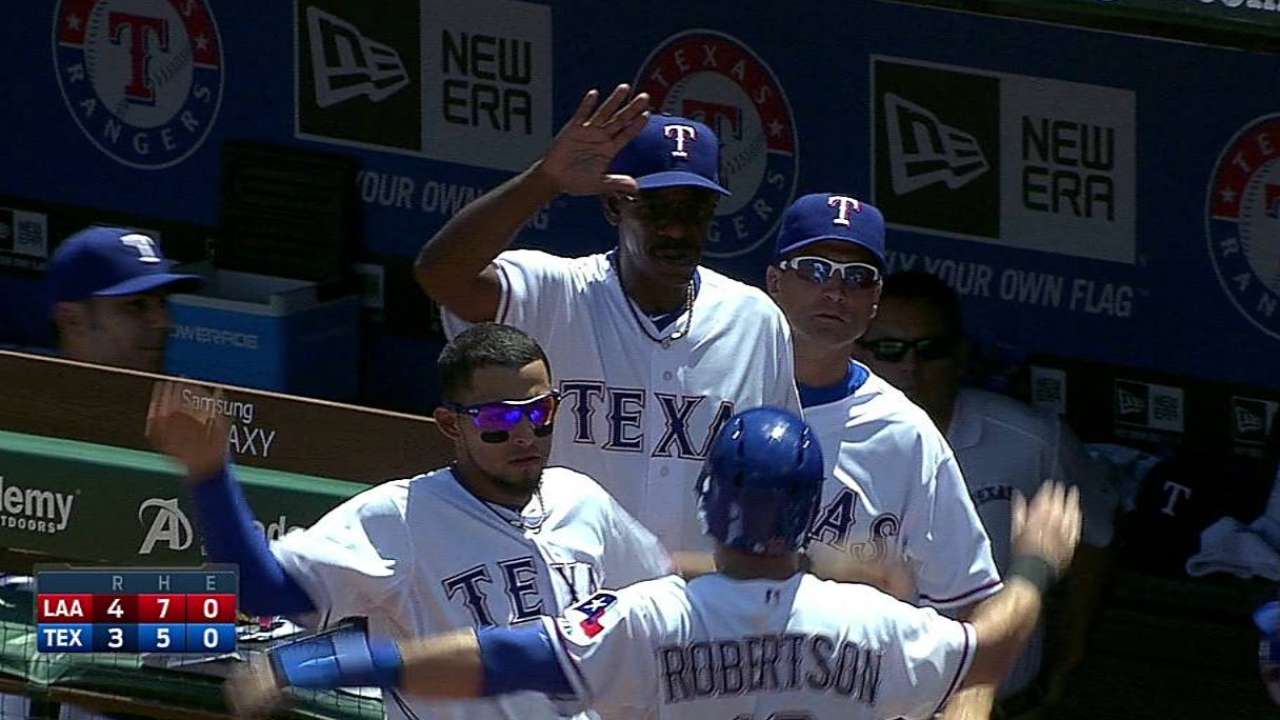 ARLINGTON -- Ten hits, seven runs.
The offense showed up Sunday in the Rangers' 10-7 loss to the Angels. That wasn't manager Ron Washington's concern.
After their eighth loss in a row and 22nd in 25 games, Washington's message was the same that it has been for a matter of time now.
"We have to figure out a way to start getting our starting pitchers deeper into ballgames," Washington said. "We have to pitch."
That task proved to be a difficult one again on Sunday.
Scott Baker started the game, giving up five runs, all earned, and nine hits in four innings of work. Baker has been used mostly as a long reliever this season, but was used in a spot start on a scorching hot afternoon on Sunday.
After Baker, Shawn Tolleson came in for an inning of relief, followed by Neftali Feliz, Ryan Feierabend, and Neal Cotts. All four gave up a run, with Tolleson giving up two.
"You've got to get ahead, you've got to make pitches. That's what it's about, especially in the American League. There's a lot of hitters in the American League," Washington said. "That's a very relentless ball club over there. Every time you make a mistake, they make you pay. ... We've got to stop that stuff."
The Rangers took a 1-0 lead in their first at-bat when Alex Rios sent a sacrifice fly to center field and Daniel Robertson scored. Robertson had led off with a single to first.
The Angels responded, tied it, and went up 3-1 in the second inning. Mike Trout doubled to center, scoring David Freese, Efren Navarro and Chris Iannetta to clear the bases.
The Angels tacked on one more in the third before the Rangers had a three-run inning of their own in the bottom half of the frame. Rios struck again, this time doubling to right field to score Adam Rosales and Robertson. Adrian Beltre's RBI groundout brought in Elvis Andrus and just like that, the game was tied at 4.
"I made some bad pitches, especially 0-2 to Rios and Beltre," Angels starter Tyler Skaggs said. "It's frustrating. I threw some really good [curves] and some bad ones. Imagine playing in an oven. That's what it was like."
But Skaggs' offense was there to back him, and the Texas pitchers couldn't quiet it.
The Angels scored one in the fourth, two in the fifth and one in the sixth to extend their lead to 8-4. The Rangers cut the deficit to just one run by the end of the seventh, but the Angels scored one in the eighth and one in the ninth for the eventual 10-7 victory.
"You certainly need pitching, and we definitely have to get them on track," Washington said. "The bullpen you could see was dead. We just ended the first half and they were dead."
Andrus said that the All-Star break comes at a much-needed time for the struggling Rangers, who wrapped up the seven-game homestand winless Sunday.
Andrus said he hopes his teammates spend lots of time with their families, take a break from the game and come back refueled for a more successful second half.
"I believe in myself, I know my teammates," Andrus said. "We're going to play better baseball. Everything's going to turn around."
Grace Raynor is an associate reporter for MLB.com. This story was not subject to the approval of Major League Baseball or its clubs.