Brewers rout Cards to close first half atop Central
Peralta thrives, allowing just one unearned run in seven innings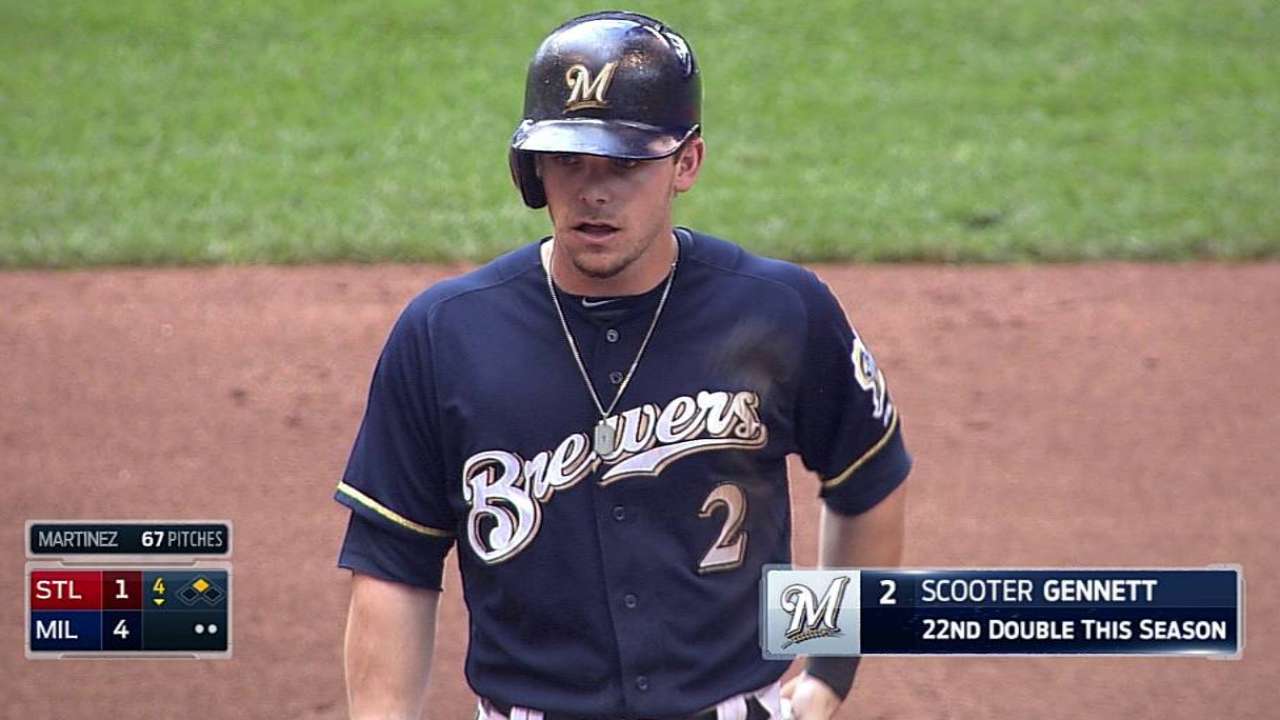 MILWAUKEE -- One much-needed victory put the Brewers back atop the NL Central, but it might have much more significance than a single game in the standings.
Wily Peralta allowed just three singles over seven innings and benefited from a 19-hit attack as the Brewers snapped a seven-game losing streak with an 11-2 victory over St. Louis on Sunday for a one-game lead over the Cardinals heading into the All-Star break.
"It makes the break a lot funner," Brewers manager Ron Roenicke said. "It does. You wouldn't think that one game does, but it does. You're on a losing streak, if you lose today, you're not sure when the streak is going to end. So you go into the break not feeling good, you come out of the break not feeling good. And, now we go into it feeling good and coming out of it good. It does a lot."
The Brewers, who watched a 6 1/2-game lead disappear while losing 11 of their previous 12 games, moved into first place at the break for just the fourth time in franchise history and first since 2011 when they won the NL Central.
Milwaukee's slide created a logjam at the top of the division. The Brewers enter the break at 53-43, with St. Louis a game back at 52-44. The Reds won seven of 10 and are just 1 1/2 games out and the Pirates are 3 1/2 games back.
Peralta, who had given up a career-high nine runs in 4 1/3 innings in his last start, allowed just one unearned run, striking out five without walking a batter for his team-leading 10th victory.
"It feels great. We needed it today," Peralta said. "Somebody had to step up the way we were playing. It was my turn today to do it and I was able to do it.
"Everything was working pretty much today. I was locating the fastball pretty good, mixed in some sliders. I didn't throw much off-speed today. I was locating the fastball on both sides of the plate."
Peralta only threw 80 pitches, but his legs were starting to cramp up and that's why he was removed, Roenicke said.
Elian Herrera, called up Saturday when Jean Segura was placed on bereavement leave and pressed into duty at shortstop with usual backup Jeff Bianchi bothered by a sore elbow, had a career-high five hits and scored three runs.
"I was trying to be 100 percent into the game," Herrera said. "This game was really important for us. Every at-bat, I was just trying to do the best that I can. Try and be focused."
The Brewers bunched four consecutive singles to open the first for a 2-0 lead. After Carlos Gomez and Scooter Gennett each singled, Ryan Braun lofted a blooper behind first base. Gomez continued around to score from second ahead of the throw from first baseman Matt Adams. Catcher Tony Cruz threw out Braun trying to take second, which enabled Gennett to score.
"Everything did go right. Starting in the first inning, we got a couple breaks there to score a couple runs," Roenicke said. "And then we did a great job offensively and Wily, a big game for us. We needed it. He was down in the zone, off-speed pitchers were good. That was really nice to see."
Kolten Wong generated a run for the Cardinals in the fourth. He struck out swinging, but reached on a passed ball, stole second and came around on successive groundouts to third.
Gennett doubled in two runs in the fourth to make it 4-1. Herrera singled with one out and was sacrificed to second. Gomez was then hit by a pitch for the third consecutive game. Gennett then sliced an opposite-field double that bounced off the angled wall in foul territory and caromed back past left fielder Matt Holiday, allowing Gomez to score with a head-first slide.
Davis extended the lead to 5-1 with his team-leading 15th home run and first since June 25.
Herrera initiated a three-run sixth with a leadoff double as the Brewers pushed the lead to 8-1.
The Cardinals' other run came in the ninth inning off All-Star reliever Francisco Rodriguez.
St. Louis starter Carlos Martinez was pinch-hit for after just four innings, allowing four runs on seven hits with three walks and a hit batter.
"He was having a tough time finding anything," Cardinals manager Mike Matheny said. "It was one of those days that you are going to see from a young pitcher every once in a while. He's trying to harness his emotions a little bit, which will harness his control. It all goes hand in hand. It was a rough day for him. It's one of those learning points."
Davis, who also made a superb over-the-shoulder catch of John Jay's slicing liner with a runner aboard in the fifth inning, said first place was nice at the break, but that there's a long way to go.
"It's not comfortable, because they're a great ballclub and they're going to be there until the end," Davis said. "Just take it day by day and glad to be in the spot we are."
Jim Hoehm is a contributor to MLB.com. This story was not subject to the approval of Major League Baseball or its clubs.