Masterson's return to health, form key for Tribe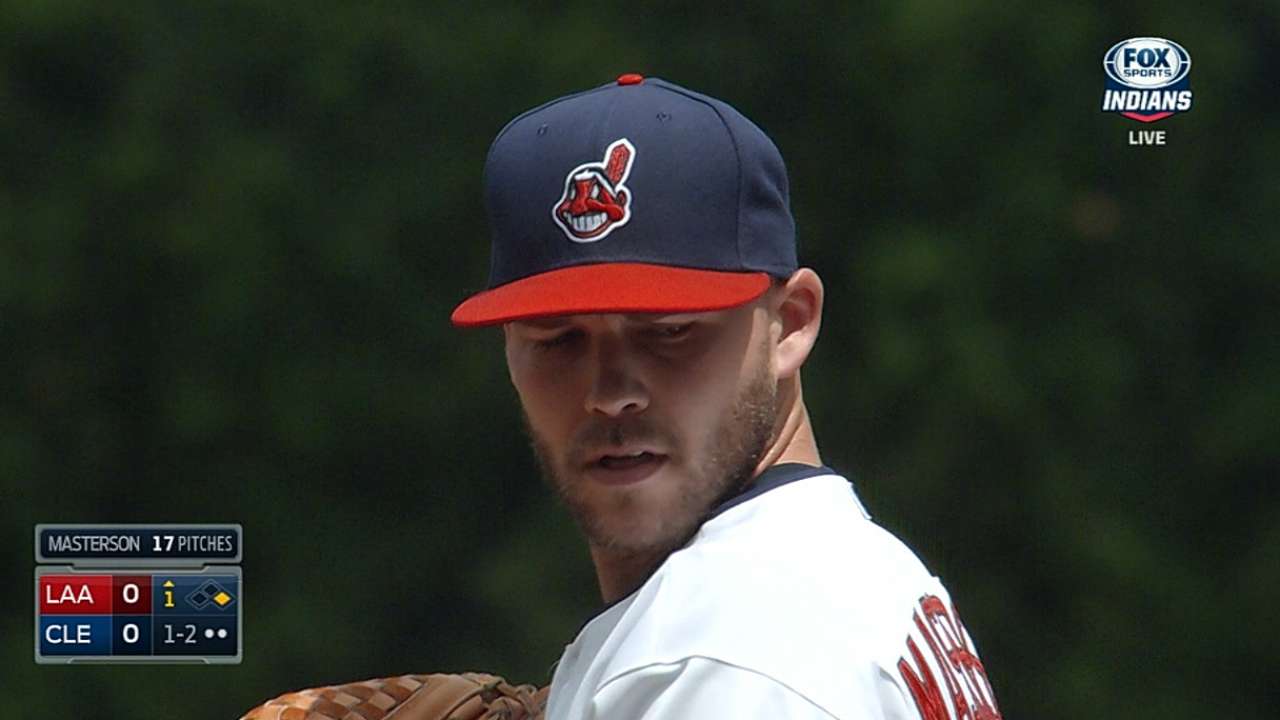 CLEVELAND -- For the Tribe, the first half of 2014 has been in part defined by its ever-changing rotation. Having a healthy and effective Justin Masterson back after the All-Star break would certainly be a step in the stabilizing direction.
Masterson, who was placed on the 15-day disabled list on Tuesday with right knee inflammation, threw another bullpen session off the mound on Sunday. The right-hander has struggled mightily with his command this season, posting a 5.51 ERA while issuing 56 walks in 98 innings, and his location issues have possibly been tied into his health.
"We would expect Justin to be back sooner," general manager Chris Antonetti said. "It could be within a week after the break. A lot of it will depend on how his throwing goes as he ramps up.
"What we'd like to do is get Justin to a point where he feels 100 percent healthy so he can get back to executing his delivery the way he was last year and not have anything lingering that could negatively affect that. He's made progress on that with [pitching coach Mickey Callaway] already. He's feeling good physically, he's thrown a couple of bullpens and the early results have been really encouraging."
Masterson is not eligible to come off the DL until July 23, and Antonetti noted that he could potentially make one rehab start before rejoining the big league club. Trevor Bauer has already been announced as Friday's starter to open the second half, and Corey Kluber will start Game 1 of Cleveland's doubleheader with the Tigers on Saturday.
The team has not yet revealed its Game 2 starter, though a logical option would be Danny Salazar, who has compiled a 4.50 ERA in nine games with Triple-A Columbus since being demoted in May.
"He's in a much better spot now than he was earlier in the year," Antonetti said. "His delivery's much more consistent and in line with where it was in the second half [last year]. Now what we're trying to do is have him repeat those mechanics -- not only from outing to outing, but inning to inning and pitch to pitch.
"He's made a lot of progress and we're expecting him to contribute in the second half."
But even amid the injury to Masterson and the first-half inconsistencies out of Salazar and Zach McAllister, the Indians have been able to mostly weather the storm. Bauer and rookie T.J. House have both stepped in from the Minor Leagues and provided the team with quality starts, Josh Tomlin has proven solid in his first full season back from Tommy John surgery and Kluber (9-6, 3.01 ERA) has become a true ace.
"I think that's a testament to the organization as a whole, as to the depth they have at starting pitching," Tomlin said. "It's tough to go a whole season without having any setbacks, injuries, things like that."
With McAllister pitching like his old self in Saturday's three-run, seven-inning outing, the only piece left to put back into place is Masterson.
"Trevor's made strides. T.J. House came up and contributed. Yesterday was an encouraging start for Zach," Antonetti said. "We really need to get Masty back on track."
Alec Shirkey is an associate reporter for MLB.com. This story was not subject to the approval of Major League Baseball or its clubs.