Reds ride power to series victory over Bucs
Negron, Frazier homer to fuel Cueto's 10th win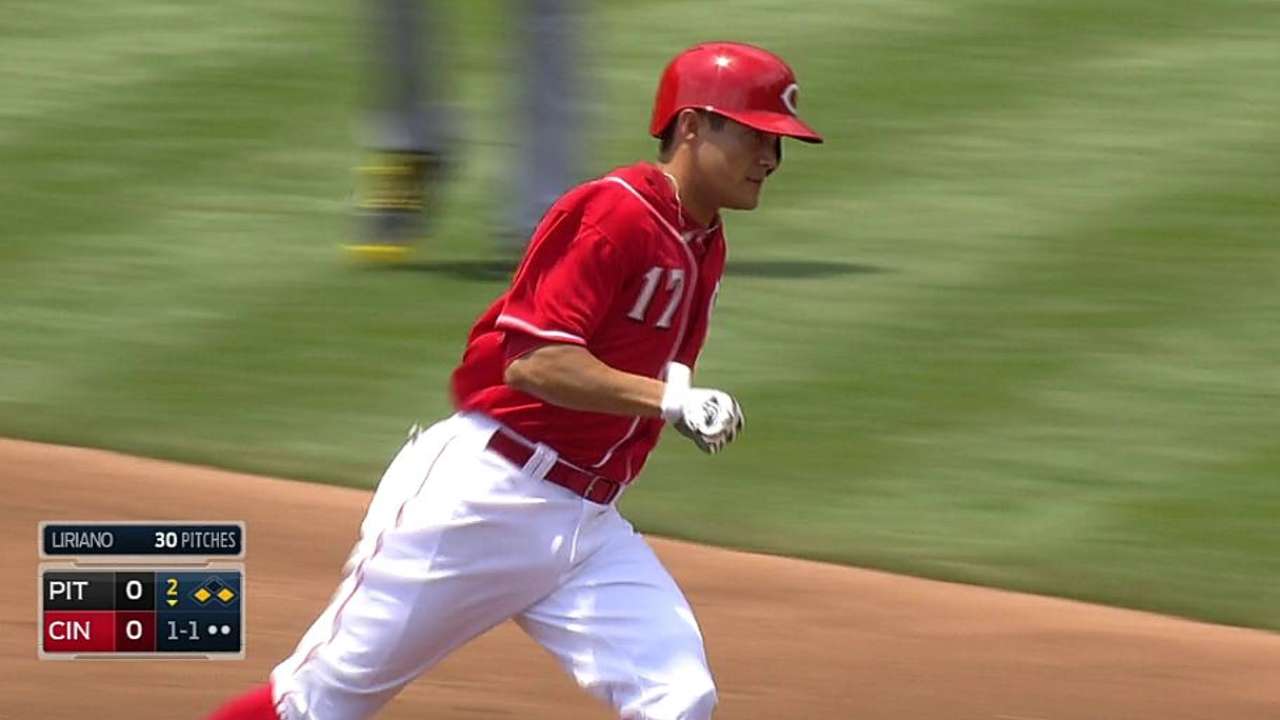 CINCINNATI -- With injuries mounting for the Reds this season, sound bench play carried Cincinnati in the first half. So it was fitting that in the final game before the All-Star break, a new name was added to the list of contributions by Reds reserves.
Rookie Kristopher Negron delivered his first Major League home run and All-Star Todd Frazier hit his 19th of the season to help Cincinnati to a 6-3 win over the Pirates at Great American Ball Park on Sunday, keeping them 1 1/2 games off the pace in the National League Central.
With two on and two outs in the second, Negron -- who was called up from Triple-A Louisville on Thursday and started at second for Ramon Santiago (sore left shoulder) -- drove a changeup from Pittsburgh starter Francisco Liriano over the wall in right-center field to put Cincinnati ahead, 3-0.
"[Liriano] sinks the ball away, changeup away, so anything up in the zone on the outer half of the plate, I was looking to drive that way," Negron said.
"[I was] told to throw him a change down and away, it stayed up the middle, a mistake pitch, and he got it pretty good," said Liriano.
Even though Santiago was able to play in spite of the sore shoulder, Reds manager Bryan Price penciled Negron into the starting lineup at a position that is wearing very thin for Cincinnati with everyday starter Brandon Phillips recovering from surgery to repair a torn ligament in his left thumb.
"Another great move, huh?" Price joked after the game. "Just like all the other guys that have gotten an opportunity here lately, [Negron] stepped up and, I mean, that's a three-run homer off an outstanding pitcher to give us an opportunity to take an early lead."
The homer gave Reds starter Johnny Cueto an early cushion to work with, and he was grateful."
"I felt great that he did that, hitting that home run," Cueto said through translator Tomas Vera. "He not only lifted me up, but he lifted up the rest of the team."
Cueto needed some run support on a sweltering Sunday in Cincinnati, with temperatures reaching the low 90s and high humidity before a thunderstorm moved in, causing a 56-minute rain delay in the middle of the fifth.
Pittsburgh got to the All-Star right-hander in the fourth, when Andrew McCutchen tripled and scored on a Neil Walker groundout.
In the fifth, Cueto walked Pedro Alvarez and one out later, issued a free pass to pinch-hitter Travis Snider. Following the rain delay, Cueto struck out Gregory Polanco, but then gave up an RBI single to Josh Harrison that made it 4-2.
Walker led off the sixth with a solo homer to right for Pittsburgh's third run.
Overall, Cueto allowed three runs on five hits, two walks and a hit batsman, while striking out seven over six innings.
"It was hot, and with the humidity, I couldn't even see the strike zone sometimes," Cueto said. "It was not easy [during the rain delay]; I don't recommend that to anybody. I hope nobody has to go through that. When you're up in your tempo and then you've got to come back and wait and wait and wait, you've got to create so many things. And I thank Bryan that he let me continue in the game."
The Reds added a run in the fifth on All-Star Devin Mesoraco's RBI double.
With Cincinnati clinging to a 4-3 advantage in the sixth, Frazier hit a two-run shot off Pittsburgh reliever Vance Worley just inside the foul pole down the right-field line to make it 6-3.
After Jumbo Diaz and Jonathan Broxton combined for two scoreless innings of relief, Aroldis Chapman closed the game out for his 21st save on the season. In the process, he extended his Major League-record streak for consecutive relief appearances with a strikeout to 41, striking out the side in the ninth.
The Reds head into the All-Star break bruised but alive and well in the NL Central. Despite losing Phillips and first baseman Joey Votto (strained left quad) while weathering other injuries along the way, Cincinnati has won 16 of its last 23 and finds itself right in the thick of the division race.
"The All-Star break couldn't have come at a better time," Price said. "I don't think there's a team that's more deserving of a four-day break than these guys after going through what they've gone through to this point -- and really battling and having a nice stretch here of six or seven weeks of really, really good baseball."
Manny Randhawa is an associate reporter for MLB.com. This story was not subject to the approval of Major League Baseball or its clubs.