Royals best Verlander with big five-run seventh
Infante delivers go-ahead two-run single in finale before All-Star break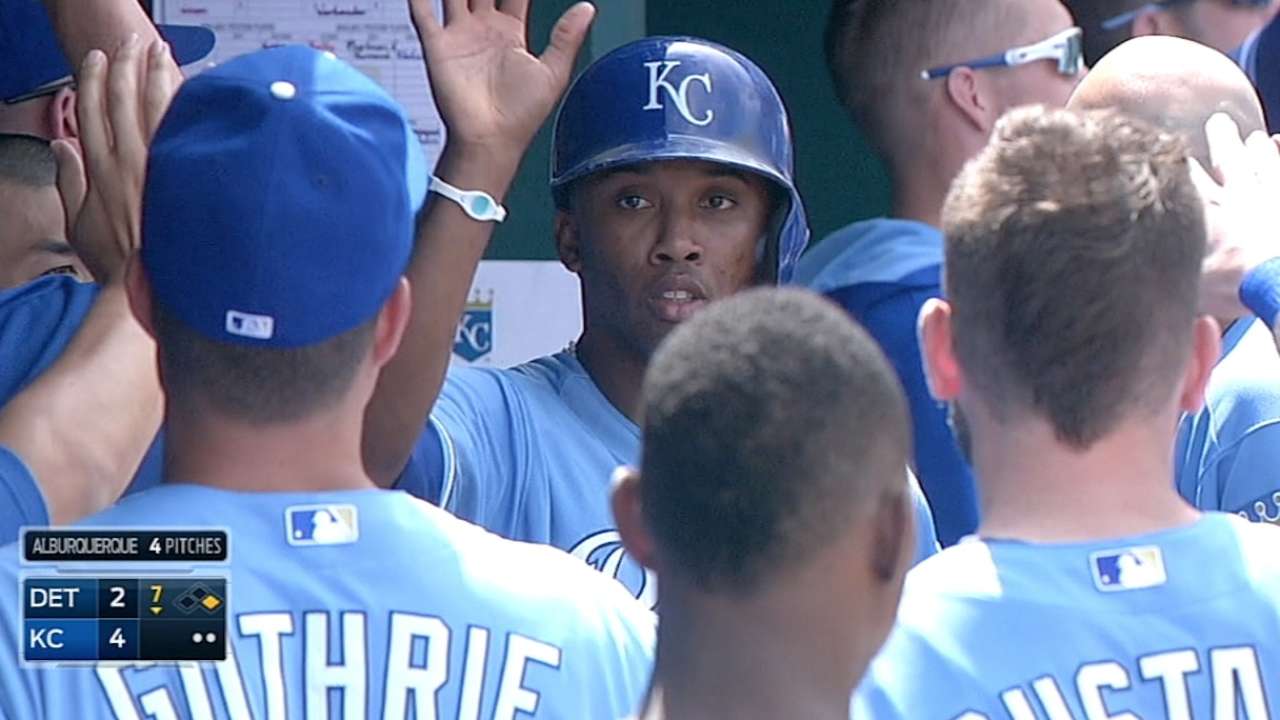 KANSAS CITY -- Nice to have an alarm clock when Justin Verlander has put your bats to sleep.
"The slumbering offense came awake in the seventh inning," Royals manager Ned Yost said.
Did it ever. The Royals interrupted their zzzzz's for a five-run inning to beat Verlander and the Detroit Tigers, 5-2, salvaging the finale of a four-game series on Sunday at Kauffman Stadium.
The victory got Kansas City (48-46) back to 6 1/2 games behind front-running Detroit in the American League Central going into the All-Star break. Last year at the break, the Royals were 43-49 and eight games out.
"Even though it's one win, you feel like you could've taken three out of four with a couple of well-placed hits," Yost said.
"But we're eight games better than we were at this time last year. It's a difference of being at .500 coming back from the break and two games over. And it's the difference of being 6 1/2 games out or 8 1/2 games out, so it was a big game for us."
On this sunny 83-degree afternoon with 23,424 fans in the stands, Verlander breezed through six shutout innings. He was looking like the Verlander of old, the one who stymied the Royals regularly for many years.
And he had a 2-0 lead after the Tigers scored two runs in the third inning against left-hander Bruce Chen, the Royals' rotation stand-in for Jason Vargas. Chen went 5 1/3 innings.
"He only really gave up one run, the second run was a fluky run," Yost said.
Indeed, it appeared that Chen had the third out on J.D. Martinez's pop fly into short left field. Raul Ibanez charged in from deep left and Alcides Escobar drifted out from shortstop. But the ball dropped between them and a run scored.
"I never called for it, I couldn't get there," Ibanez said.
Escobar had another problem -- he couldn't see the ball.
"I was going to catch that ball, but I lost it in the sun," he said.
So Verlander had a 2-0 lead and was cruising.
"Verlander's a great pitcher, he's really tough and especially when he sniffs the end of the game and has a lead like that, he really turns it on and comes out with his best stuff," said the Royals' Eric Hosmer.
Except then the alarm went off. Billy Butler, Mike Moustakas and Ibanez (ending his 0-for-25 spin) all hit singles to load the bases with no outs.
Escobar hit a little tap toward the mound that neither Verlander nor shortstop Eugenio Suarez could handle. To hear Tigers manager Brad Ausmus, it was a ball of mysterious movements.
"The hit by Escobar is probably the one that stung the most, because I don't know if it hit something, the way it came off his bat," Ausmus said. "It took a left turn and it looked like it was going to Justin's left, and it took a turn to his right and just kind of bounced by him, Sometimes that happens. What are you going to do?"
So Escobar's little tap was an RBI single, scoring Butler. Jarrod Dyson rolled into an out as Moustakas crossed the plate for a 2-2 tie. Now, Yost sent out his resting catcher, Salvador Perez, to pinch-hit for Brett Hayes with runners at second and third.
"That changed the whole complexion of the game," Yost said. "If I leave Hayes in there, they pitch to Hayes and bring the infield in. I put Sal in that position and he has great numbers against Verlander (14-for-30, .467). You saw what happened. They wound up intentionally walking him and a big inning resulted."
Yep, Ausmus called in left-handed reliever Ian Krol and he intentionally walked Perez to again load the bases. After the second out, Al Alburquerque came in to face Omar Infante in a right-on-right matchup. It didn't work, Infante smacked a two-run single to left.
"I know he throws a lot of sliders and I waited for that pitch, and I made good contact," Infante said.
So Ausmus switched to left-hander Phil Coke against Hosmer. That didn't work either. Hosmer ripped a line drive that bounced over the wall in right-center for a ground-rule double that scored the inning's fifth run.
That made a winner of Yordano Ventura, making his first relief appearance with 1 2/3 scoreless innings behind Chen.
"When he came in, I told him, 'Kiddo, hold 'em right here. We're going to score some runs, you've got a chance to get a win,' " Yost said. "And, at the end of the game, he had a big smile on his face, so it worked out."
Wade Davis pitched a perfect eighth and Greg Holland a perfect ninth, getting his 25th save.
"These guys have an extremely talented ballclub," Verlander said. "We came in and won three out of four, and if you had said we had done that at the beginning of the series, I think we'd take it every time."
Dick Kaegel is a reporter for MLB.com. This story was not subject to the approval of Major League Baseball or its clubs.