Tigers miss chance for sweep of rival Royals
Verlander exits in key five-run 7th that snaps club's five-game streak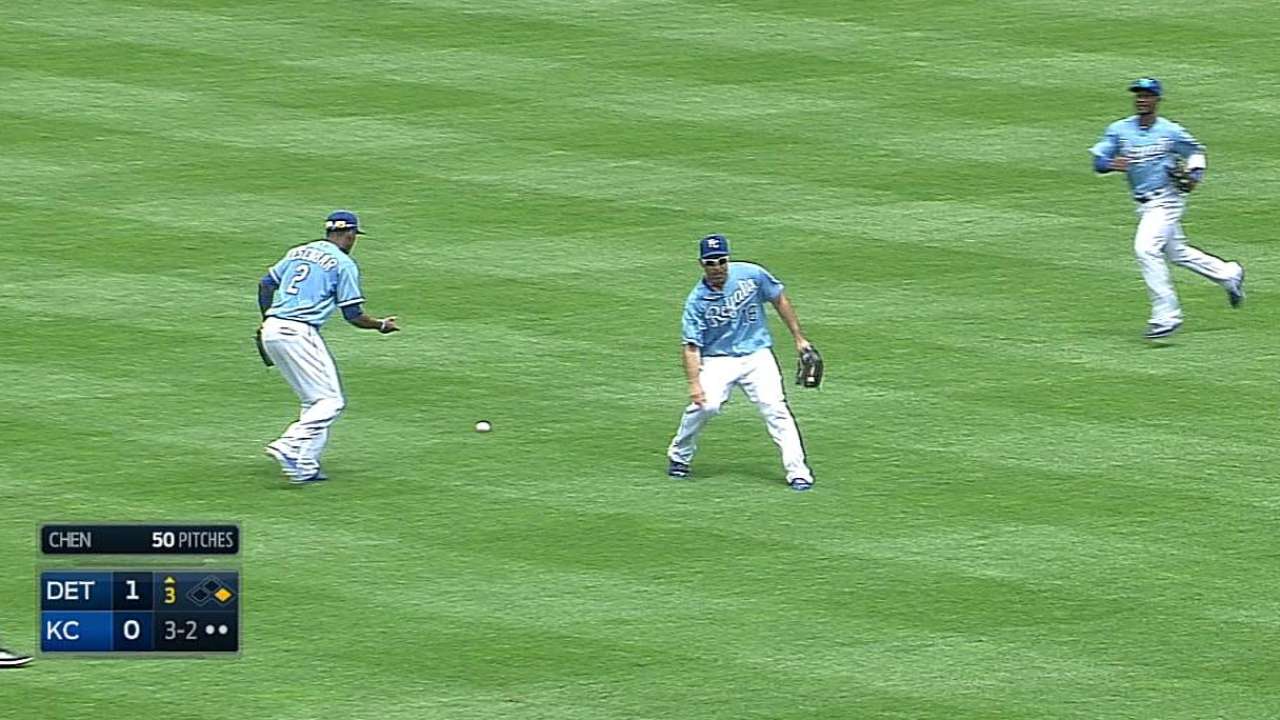 KANSAS CITY -- Tigers starter Justin Verlander was seemingly on his way to the best start of his up-and-down season when it all came apart in one decisive inning.
Down two runs in the seventh, the Royals reeled off five runs en route to a 5-2 win in the series finale at Kauffman Stadium.
"He was cruising along, and then the seventh inning, it kind of hit the brakes a little bit," Tigers manager Brad Ausmus said. "I want him to obviously have a good outing before the [All-Star] break. I want him to have a good outing every time … it didn't work out quite the way we wanted."
Detroit, which won the first three games in the series, leads second-place Kansas City by 6 1/2 games in the American League Central.
"I think the big picture is we took three out of four in Kansas City and we can go into our little mini-vacation with that in mind," Ausmus said.
Verlander, who has allowed at least two runs in all 20 of his first-half starts, cruised into the seventh inning looking as sharp as he has all season. Only three Royals had reached base to that point.
But four straight singles to start the seventh put KC's first run on the board. A particularly tough hit to swallow was Alcides Escobar's dribbler past Verlander that scored the first run.
"The hit by Escobar is probably the one that stung the most, because I don't know if it hit something, the way it came off his bat, it took a left turn and it looked like it was going to Justin's left, and it took a turn to his right and just kind of bounced by him," Ausmus said. "Sometimes that happens. What are you going to do?"
Jarrod Dyson tied the game with an RBI groundout that marked the end of Verlander's day. He went 6 1/3 innings, allowing four runs, six hits and one walk.
"Things were rolling fine, and a couple balls find the right spots, and the next thing you know, I'm out of the ballgame," Verlander said. "It [stinks] to be able to throw the ball pretty well, and walk away with a sour taste in your mouth."
Ausmus ordered lefty reliever Ian Krol to walk pinch-hitter Salvador Perez to load the bases for the lefty-swinging Nori Aoki with one out. Aoki popped up for the second out, and Al Alburquerque entered to attempt to secure the final out.
But former Detroit second baseman Omar Infante found the gap between third and short for a two-run single to put the Royals up 4-2. Both runs were charged to Verlander. Eric Hosmer tacked on the final run with an RBI ground-rule double off lefty Phil Coke.
"The slumbering offense came awake in the seventh inning," Royals manager Ned Yost said. "It was great to finally get a lead. Verlander was throwing very well to that point. We just couldn't get anything going."
Detroit started the scoring with two runs in the third off Bruce Chen. Miguel Cabrera brought home Austin Jackson with a sacrifice fly, while J.D. Martinez drove in a run with a single for a 2-0 lead.
Jackson finished the series 8-for-18 with five runs scored.
Martinez collected his second straight three-hit game, and batted .533 (8-for-15) in the four games.
"It seems like every team that does well has someone they don't expect to do well; someone that steps up and plays well, [or] hits well, [or] pitches well, and this last month and a half it's been J.D. Martinez for us," Ausmus said.
Detroit's 6 1/2-game lead still lead trumps all MLB division leaders.
"It's still a terrific series, these guys have an extremely talented ballclub," Verlander said. "We came in and won three out of four, and if you had said that we had done that at the beginning of the series, I think we'd take it every time."
Jackson Alexander is an associate reporter for MLB.com. This story was not subject to the approval of Major League Baseball or its clubs.