Price spins All-Star-worthy gem in Rays' shutout
Ace dominates as Forsythe, Molina chip in RBI singles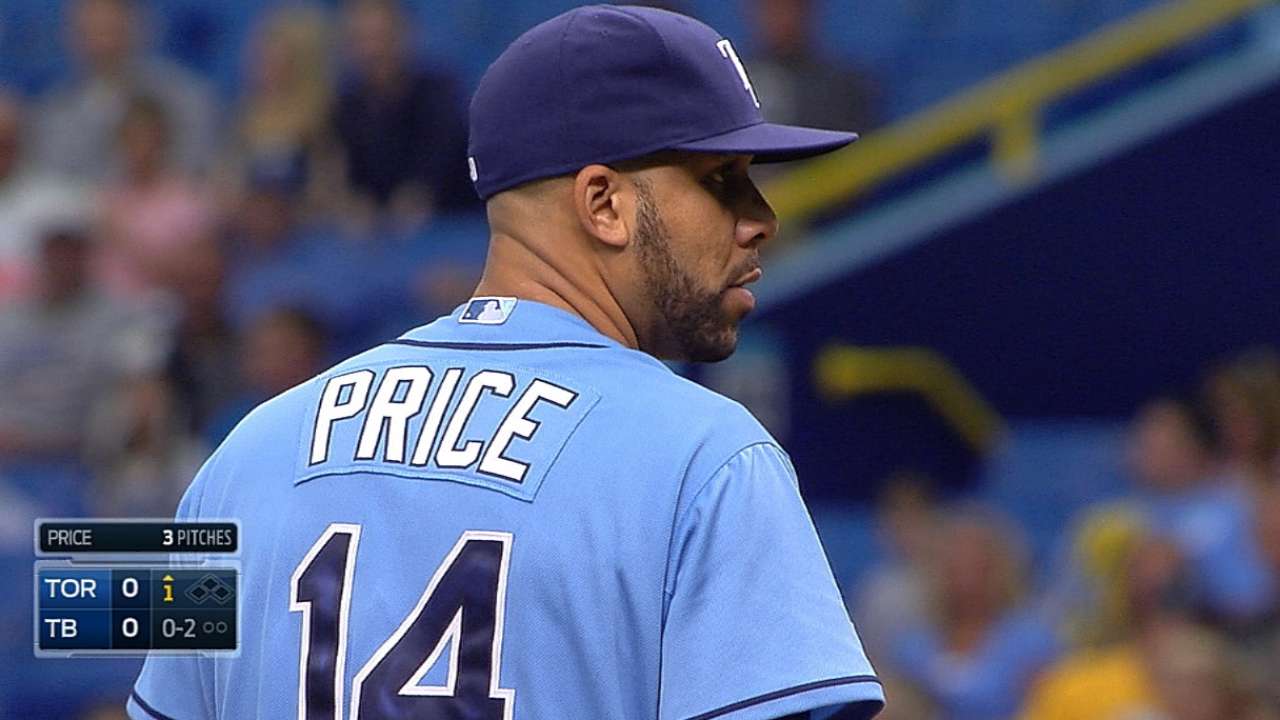 ST. PETERSBURG -- A day after being scratched from making his start, David Price threw eight-plus scoreless innings to pace the Rays' 3-0 win over the Blue Jays on Sunday afternoon at Tropicana Field.
The Rays took the series to end the first half on a roll, claiming four of their final five series while winning 11 of their last 15 games. They are 20-11 since June 11. Prior to that date, the Rays lost 14 of 15.
"I've permitted myself to look at our record; we're less than 10 under," Rays manager Joe Maddon said. "We're still trending in the right direction. It's still a tough hill to climb, but I think our guys are up for the challenge.
"There was no letup the day before the All-Star break. We didn't mail anything in. We weren't eager to get out of here. We wanted to come out and play another great game. We played a great series and short-term goal met, we won another series."
Price said he realized he could make his 20th start of the season on Sunday while watching the Rays' win Saturday afternoon, teasing that he was mad he didn't make his Saturday start after the Rays scored 10 runs. The ace continued his streak of excellence, posting his ninth consecutive quality start to mint his ninth win.
Price seemed to struggle a little in the first when he threw 23 pitches before cruising for the remainder of his outing, which he attributed to being able to slow himself down.
"It's been a week since I've been out there, so I wanted to throw good," Price said. "But I was able to slow myself down after that first inning, and that's been the case for a while. Maybe a little bit too pumped up, too amped up in the first. We were able to slow it down after that."
Credit the Rays offense for finding a way to get it done against tough Blue Jays starter R.A. Dickey, whose knuckleball was dancing in a fashion that let everyone know runs would be hard to come by.
"In the beginning of the game, we got the [leadoff] walk to [Kevin] Kiermaier, then once he struck out [Ben] Zobrist, I knew he was going to start finding the groove and he did," Maddon said. "We scratched out a couple of runs, fortunately for us."
Despite that troubling prospect Dickey presented, Tampa Bay got busy with two outs in the second.
Yunel Escobar dropped in a single to right and Dickey hit Jose Molina to set the table for Logan Forsythe, who singled to right to score Escobar for a 1-0 Rays lead.
Dickey and Price continued to lock horns, and the idea wasn't far-fetched that the one-run lead might hold, particularly after Dickey retired the Rays on six pitches in the fifth.
But Escobar's good karma continued when he hustled on a grounder he hit with a runner on base and one out in the sixth, and he wasn't doubled up on the play. Escobar then stole second before Molina lined a single to right. Blue Jays right fielder Jose Bautista fielded Molina's hit and made a strong and accurate throw to the plate. Catcher Josh Thole caught the throw and made the tag to the sliding Escobar, who leaped up and gave the safe sign while home-plate umpire Sean Barber signaled out.
Maddon challenged the ruling and the call was overturned, giving the Rays a 2-0 lead.
Dickey did not return to pitch the seventh, and Kiermaier greeted Brett Cecil with a single and Zobrist followed with a walk. After Sean Rodriguez struck out, Todd Redmond came in to pitch to Evan Longoria. That's when the Rays pulled off a double-steal, with Kiermaier flying head-first safely into third base. Longoria followed with a sacrifice fly to push the lead to 3-0.
Price was given the opportunity to go for the complete game, but Maddon lifted him after Melky Cabrera singled to start the ninth. Maddon explained that Price was at 112 pitches at that point and he did not want to risk another runner getting on board before bringing in Jake McGee.
The call turned out to be the right one.
McGee, who just returned from the paternity list, retired each of the three hitters he faced -- two by strikeouts -- to preserve the win and record his seventh save.
"That's a perennial All-Star over there and he did a great job today," Dickey said. "What can you say? He shut us down. Almost threw a complete-game shutout. You know when you're pitching against a guy like that you don't have a lot of margin for error anyway. ... He pitched a heck of a game really."
While the Rays will enter the second half of the season in a hole, there's a strong belief in their clubhouse they can get back into the race.
"We just focus in on the task at hand that day," Price said. "And that's what we've been doing, and we've been playing a lot better. Hopefully the All-Star break doesn't put us into a lull."
Bill Chastain is a reporter for MLB.com. This story was not subject to the approval of Major League Baseball or its clubs.