Blue Jays provide no help for Dickey in solid start
Knuckleballer outpitched in matchup of Cy Young Award winners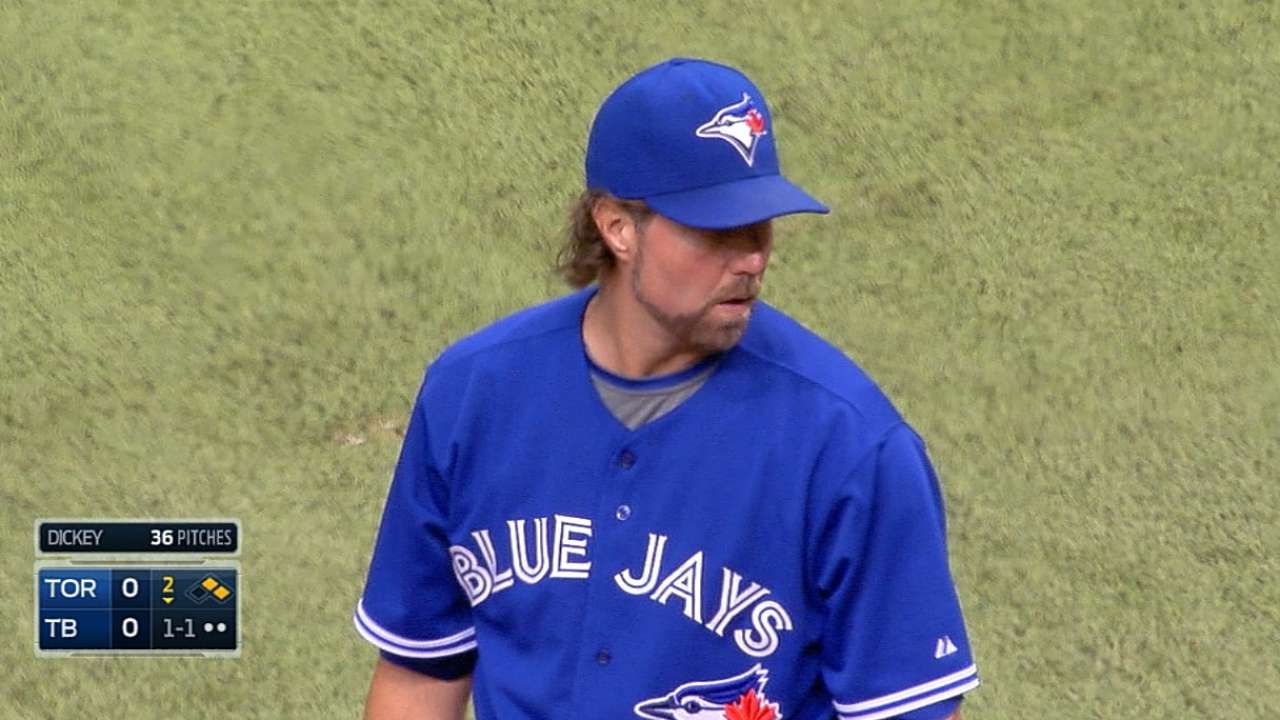 ST. PETERSBURG -- The Blue Jays' bats looked a lot sicker than David Price did on Sunday afternoon.
The Tampa Bay ace silenced the Toronto offense in the Blue Jays' series finale against the Rays at Tropicana Field, as Toronto dropped its final game before the All-Star break, 3-0.
Price was originally slated to start Saturday's game before being scratched with an illness. That didn't stop him from tossing eight-plus scoreless innings the next day and outdueling R.A. Dickey, who put in a solid day's work.
Dickey's knuckleball was often baffling -- Ben Zobrist batted lefty against Dickey in the first inning and struck out, then switched to righty for his next at-bat and got out again -- but not enough to win.
"That's a perennial All-Star over there, and he did a great job today," Dickey said. "What can you say? He shut us down. He almost pitched a complete-game shutout. You know when you're pitching against a guy like that, you don't have a lot of margin for error anyway."
Toronto dropped the series, two games to one, and hasn't won a series at The Trop since 2007. That's now 21 series without a win, including 19 series losses and two splits. The Blue Jays have lost eight of their last 10 games and have won just two of their past 11 completed series.
Sunday's loss also cost Toronto its chance to become the first Blue Jays team to win 50 games before the All-Star break since the 1992 World Series-winning squad. The Blue Jays will enter the break 49-47, good for second place in the American League East.
"We're obviously not playing the baseball that we started off playing and that we're capable of playing," said Jose Bautista, who will be starting in the outfield for the AL in Tuesday's All-Star Game. "We've had a lot of injuries to deal with. Bottom line is, we've got to figure out how to win some of these games that we've been losing, especially close ones.
"Hopefully we can manage to keep winning enough games to stay in one of the top two positions in our division, and when we get all our big bats back, kind of get back in the thick of things."
The All-Star break is coming at an opportune time for the Blue Jays, whose dangerous lineup has been hollowed out by injuries. Toronto's disabled list is full of key players such as Edwin Encarnacion, Adam Lind and Brett Lawrie.
Those names were palpably absent on Sunday, when a lineup filled out by players who have spent considerable time in the Minor Leagues this season failed to muster up any offense against Price or Jake McGee, who closed out the Blue Jays in the ninth.
In the rubber game of the series, Toronto's 4-5-6 hitters were Dan Johnson, Erik Kratz and Steve Tolleson. Dan Johnson was called up from Triple-A Buffalo on Friday, having played with the Bisons all season. Kratz has played 25 games in Buffalo this year. Tolleson has played 19.
"We can't worry about that," manager John Gibbons said. "This is our team right now. You've got to show up and play every day, try and win a game."
That batting order left no wiggle room for Dickey, who scattered two runs in his six innings on Sunday, but lost his ninth game.
In the second inning, Dickey got two quick outs but couldn't nail down the third. Yunel Escobar hit a jam-shot single into right field, Dickey plunked Jose Molina -- to the extent to which a 73-mph knuckleball can plunk a hitter -- and Logan Forsythe lined an RBI single through the right side to put the Rays up, 1-0.
In the sixth, Bautista came within inches of hosing a runner at the plate in his first game back in right field since June 22, but after a successful Rays challenge, those few inches gave Tampa Bay a 2-0 lead.
Like the Rays' first run, the second came with two outs when, with Yunel Escobar on second after a stolen base, Molina lined a single to right off Dickey. Bautista came up firing home, catcher Josh Thole laid the tag on Escobar and home-plate umpire Sean Barber called him out. But Tampa Bay manager Joe Maddon challenged, replays showed Escobar's foot getting in safely ahead of the tag and the out call was overturned.
"We scratched out a couple runs, fortunately for us," Maddon said. "A big play, obviously, is Escobar eventually stealing the bag and J-Mo driving him in."
Really, that run didn't end up mattering with the goose egg the Blue Jays put up against Price and McGee.
"[Price] is good. He's one of the best in the business," Gibbons said. "He did his thing, and then McGee came in and finished it off. I don't care what lineup you throw out there today, it was gonna be tough, tough going."
David Adler is an associate reporter for MLB.com. This story was not subject to the approval of Major League Baseball or its clubs.