Imagine Dragons headline All-Star concert
Grammy Award winners deliver rocking set at TCF Bank Stadium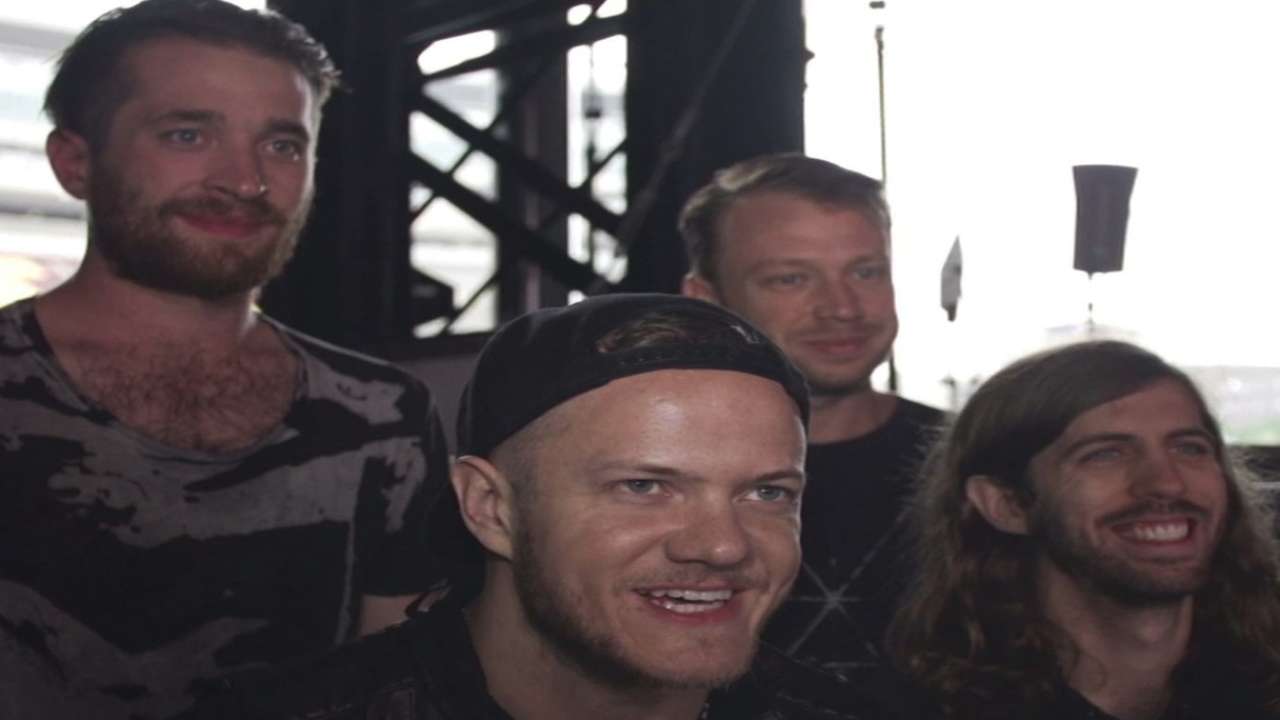 MINNEAPOLIS -- A year and a half ago, a still-yet-to-hit-the-big-time band called Imagine Dragons played at a club 4 1/2 blocks from the University of Minnesota football stadium to a sold-out crowd -- of 700.
Things have changed a bit since that intimate concert on Fourth St. in Minneapolis. Soon after, the alternative rock band from Las Vegas exploded onto the scene, winning a Grammy Award while earning accolades as one of the best breakout stories of the year in 2013.
Fittingly, Imagine Dragons, who count Minneapolis as one of their favorite stops, is in town for the All-Star Festivities that culminate with the 85th Midsummer Classic on Tuesday (watch on FOX). The four-man band was the headliner Saturday night at the Target All-Star Concert presented by Budweiser, performing a free concert at TCF Bank Stadium, home of the University of Minnesota football team.
More than 27,000 tickets were distributed, free of charge, for what has become a staple of All-Star Week. This year's performance had a local flavor, too, as indie rap group Atmosphere opened the show.
Atmosphere, who burst onto the scene as a hip-hop act 17 years ago, transformed underground rap in Minneapolis into something more mainstream, releasing Top 20-charting albums and continuing to push boundaries of what indie rap can mean.
"I realize a lot of people here have no idea who we are," rapper Slug said to the enthusiastic crowd after performing the first song. "So let's have a question-and-answer session. Let's get to know each other."
That comment wasn't intended to really open up the stage for a getting-to-know-you session. It was his way of introducing one of Atmosphere's more popular songs, "Kanye West."
"Put your hand in the air," Slug bellowed. "Put your hands in the air like you really do care."
The bands played in front of a backdrop of two levels of the seating bowl that had been decorated specifically to commemorate a week of baseball festivities. The upper deck was adorned to read "All-Star Game" and "FOX," while the lower level displayed the Twins logo on the far left and right sides, with "2014" and the Major League Baseball logo in the middle.
Atmosphere played for approximately 40 minutes before handing the stage over to the headliners, who opened the show with "Fallen."
Imagine Dragons had to travel far and wide to perform this concert. They were overseas 24 hours prior, performing in Scotland, before high-tailing it to Minneapolis in time for Saturday's event.
In a recent interview with Jon Bream of the Minneapolis Star Tribune, lead singer Dan Reynolds expressed nothing but excitement for the world-wide trek.
"First we went to Canada for the Much Music Awards," Reynolds told the paper. "Then we flew to Hong Kong for the movie premiere ["Transformers: Age of Extinction"] and then we flew straight to Dover, Del., for Firefly [Music Festival] and from that we flew to Europe for festivals. I've been in so many different time zones. It's definitely a great problem to have."
Given Imagine Dragons' long-term love affair with Minneapolis -- the city welcomed them in when they were first starting out -- they weren't going to miss this, even if it meant crossing over an ocean to get here.
"Minnesota, this is one of the first places that believed in us when we were a very small band," Reynolds shouted to the boisterous audience. "I never thought we'd be playing in front of crowds this big."
If they were feeling jet-lagged, they did a good job of masking it. An energetic set included hits such as "Tiptoe," "Hear Me," "It's Time" and "Rocks." The later part of the show was highlighted by "30 Lives," "Who We Are," "Demons" and, the song that earned them a Grammy nomination for record of the year, "Radioactive." They also threw in a surprise in the middle -- a rendition of U2's "With or Without You."
In the middle of the show, Reynolds revealed a bit of news.
"This is our last show for a little bit," he said. "We're going away to make a second album. So this is our last show for a while."
The concert ended with a nine-minute performance of "Nothing Left to Say," followed by a fireworks show that concluded the event.
The Target All-Star concert presented by Budweiser marks the fourth concert to take place during an MLB All-Star Week. In 2013, Mariah Carey performed with the New York Philharmonic on the iconic Great Lawn in Central Park in New York City when the Mets hosted the Midsummer Classic. Missouri native Sheryl Crow performed under the Gateway Arch in St. Louis as part of All-Star Week hosted by the Cardinals in 2009, and New Jersey native Bon Jovi also performed on the Great Lawn in Central Park as part of All-Star Week hosted by the Yankees in 2008.
The 85th All-Star Game will be televised nationally by FOX, in Canada by Rogers Sportsnet and RDS, and worldwide by partners in more than 200 countries via MLB International's independent feed. ESPN Radio and ESPN Radio Deportes will provide national radio coverage of the All-Star Game. MLB Network and SiriusXM will also provide comprehensive All-Star Week coverage. For more information, please visit allstargame.com.
Alyson Footer is a national correspondent for MLB.com. Follow her on Twitter @alysonfooter. This story was not subject to the approval of Major League Baseball or its clubs.