Reds fall in extras to Bucs' one-man show
McCutchen sinks Cincy; Frazier, Heisey homer in five-run sixth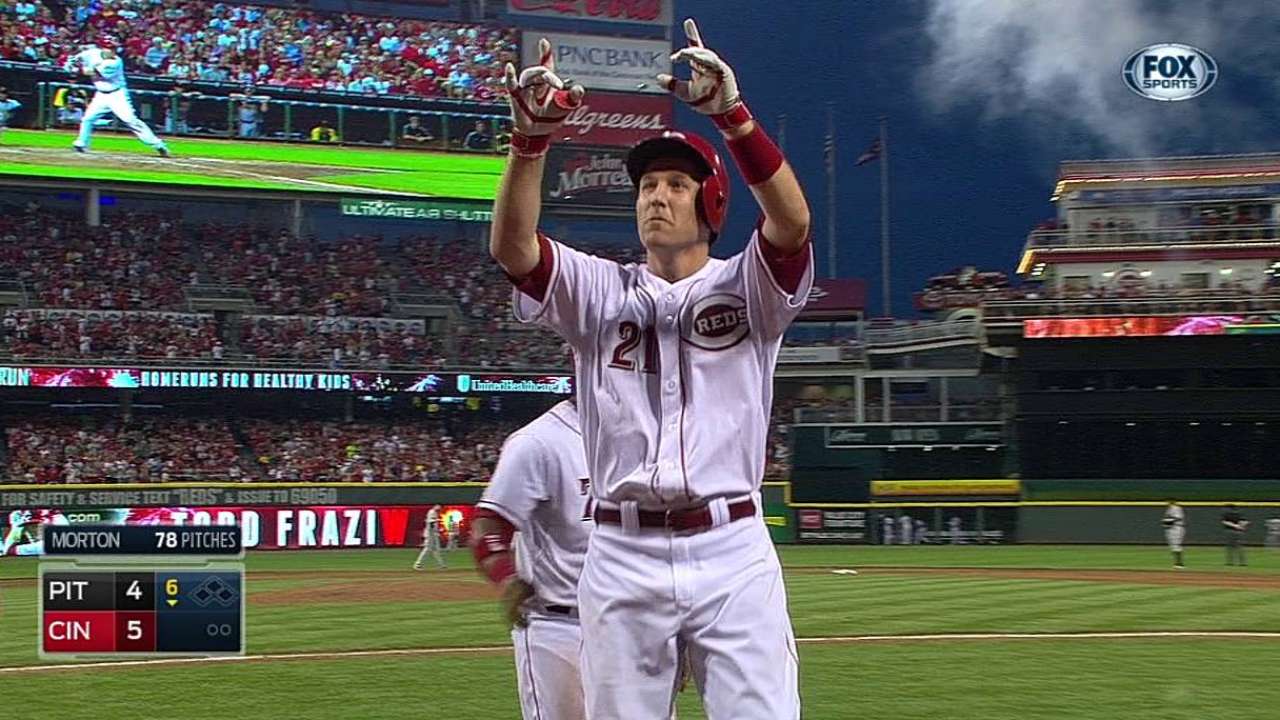 CINCINNATI -- This time, the magic ran out. And it was extinguished by Andrew McCutchen.
For the second consecutive game -- and third time in five days -- the Reds erased a deficit of at least four runs, but in the end, it wasn't enough to overcome two late homers by McCutchen as Cincinnati fell, 6-5, to the Pirates in 11 innings at Great American Ball Park on Saturday night.
After he had hit a solo homer off Jonathan Broxton to tie the game in the ninth, McCutchen connected again in the 11th, this time off J.J. Hoover, to put Pittsburgh ahead.
"He hit a slider, first pitch, well executed," Hoover said. "I can't really execute the pitch better; a good hitter beat me."
McCutchen had been 1-for-7 lifetime against Hoover prior to that at-bat. The one hit was a home run.
"It was the first time I've actually thrown that pitch to him and for him to put that kind of a swing on it is impressive. I just tip my hat to him."
"I was just ready to hit," McCutchen said. "Hoover threw me a slider right down the middle, I was ready to hit, and I was able to get it out."
It looked, for a time, as though the Reds might mount yet another come-from-behind win during a week that had already included multiple thrilling comebacks. In the nightcap of their day-night doubleheader against the Cubs on Tuesday, Billy Hamilton hit a walk-off single to cap a victory after Cincinnati had trailed, 5-0.
Then in the opener of the series against the Pirates on Friday night, the Reds overcame a 5-1 deficit to win, 6-5.
But it wasn't to be on this night.
The Reds had a golden opportunity for a walk-off win in the bottom of the 10th, when Ramon Santiago and All-Star Todd Frazier each drew walks against reliever Ernesto Frieri to lead off the frame. Jay Bruce then grounded a single into right field against Justin Wilson, but Gregory Polanco made a strong, accurate throw to the plate to cut down Santiago.
"It was good," Bruce said of Polanco's throw. "It was right there, it's got to be right on the money, he's got to have time, and he made a good throw."
After Wilson intentionally walked Devin Mesoraco to load the bases, both Ryan Ludwick and Brayan Pena fanned on 98-mph fastballs.
Were it not for a five-run sixth inning, there wouldn't have been much doing for the Reds' offense.
Trailing in the sixth, 4-2, with two on and nobody out, Frazier hammered his 18th home run of the season, a 433-foot smash to center against Pirates starter Charlie Morton, to put Cincinnati ahead, 5-4.
Zack Cozart opened the frame with a walk that was followed by Chris Heisey's eighth career pinch-hit home run, and third homer of the season, to slice a 4-0 deficit in half. Hamilton then singled and stole second before Santiago walked to set the stage for Frazier's blast.
Reds starter Mike Leake had control problems early and couldn't find a rhythm throughout his six innings on the mound.
The right-hander gave up an infield single to Travis Snider, then hit McCutchen and walked Neil Walker in the first. Russell Martin followed with a sacrifice fly to score Snider for a 1-0 Pirates lead.
In the third, McCutchen doubled, moved to third on a groundout by Walker and scored on another sacrifice fly by Martin.
Pittsburgh added two more in the fourth. Gaby Sanchez and Jordy Mercer both singled to lead off the frame. After a sacrifice bunt by Morton moving the runners up, Leake made an errant pick-off throw to third that enabled Sanchez to scamper home and make it 3-0.
Polanco then singled home Mercer for Pittsburgh's fourth run.
"It was one of those games he just wasn't real sharp," Reds manager Bryan Price said of Leake. "That was a game that could have gotten out of hand; that could have easily been a six- or seven- or eight-run ballgame when he left. ... He managed it well and gave us that chance to get back and take the lead."
Leake allowed four runs on nine hits, walking three and striking out two.
As the ups and downs keep coming for the Reds, they are trying to keep things in perspective. They are, after all, 1 1/2 games off the pace in the National League Central after having won 15 of their last 22, a position they'll take gladly given the injury-decimated makeup of the roster.
"We're limping into the break [with Joey Votto and Brandon Phillips injured, among others]. We don't have the same group of guys here [from earlier in the season]," Bruce said. "But we're piecing it together and we're playing the best baseball we can.
"And no matter who's on the field, we're Major League Baseball players, and we expect to win and we expect to play good baseball. And we've been doing that. I'm happy to be a part of this right now."
Manny Randhawa is an associate reporter for MLB.com. This story was not subject to the approval of Major League Baseball or its clubs.