McCutchen rescues Pirates with two late blasts
MVP belts game-tying homer in ninth, go-ahead shot in 11th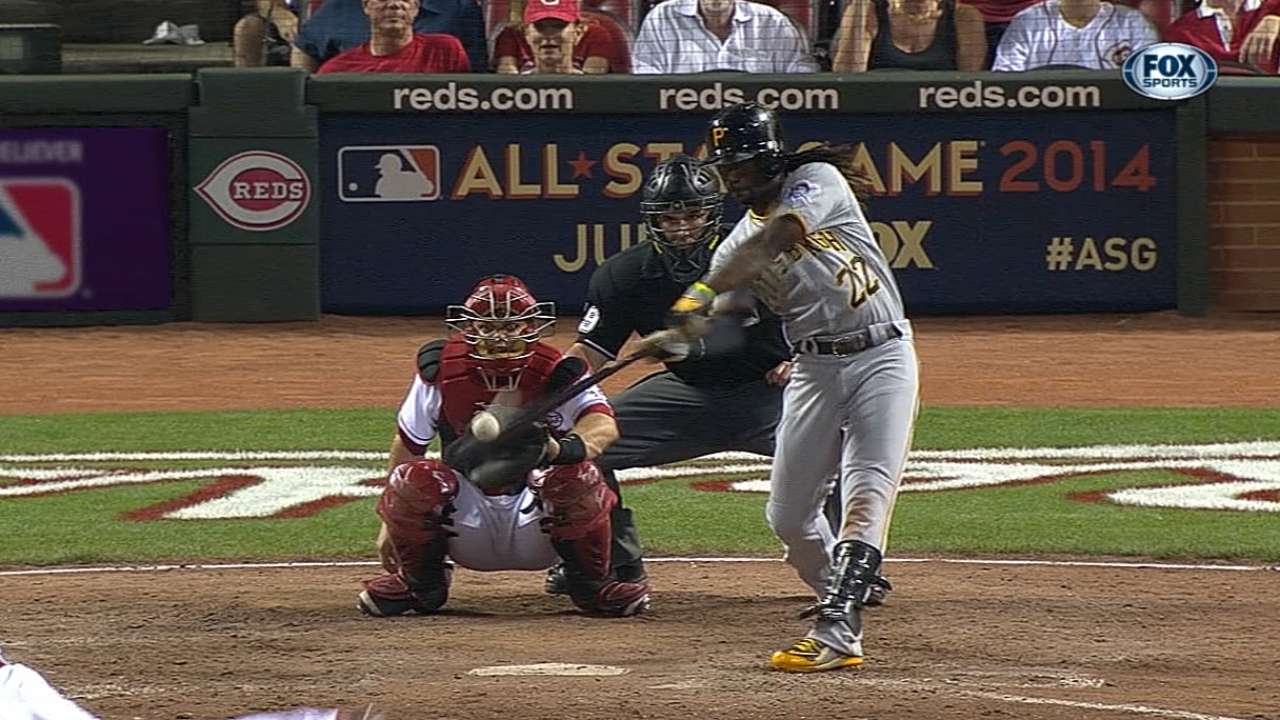 CINCINNATI -- Redemption, thy name is Andrew McCutchen.
Taking matters into his own hands, McCutchen led off the ninth inning with a game-tying homer off Jonathan Broxton and two innings later homered with two outs off J.J. Hoover to give the Bucs a 6-5 victory in 11 innings over the Reds.
McCutchen, already an MVP, turned into lifeguard to save the Pirates on a night they saw Charlie Morton come undone in a five-run sixth.
Following his ninth career two-homer game, none of the previous likely having come under similar circumstances, McCutchen would not take all the credit.
He was mindful of the game-saving collaboration in the bottom of the 10th from Gregory Polanco and Russell Martin. With Ernesto Frieri's two leadoff walks on base and none out, Jay Bruce ripped a single to right off left-hander Justin Wilson. One of Polanco's trumpeted tools entered the shed: He fired a bullet one-hopper to Martin, whose pick-and-tag nailed Ramon Santiago trying to score from second. Wilson then used 98-mph fastballs to fan Ryan Ludwick and Brayan Pena to prolong the game.
"Yeah. ... You have to think about the throw from Polanco," McCutchen said. "If it wasn't for him, I wouldn't have been in that position. So him making that huge throw ... a game-changer. Kept us in the game."
Then McCutchen settled it -- to the genuine admiration of Hoover.
"He hit a slider, first pitch, well executed," Hoover said. "I can't really execute the pitch better; a good hitter beat me. I mean, first-pitch slider, the first time I've actually thrown that pitch to him and for him to put that kind of a swing on it is impressive. I just tip my hat to him."
"I was just ready to hit," McCutchen said. "Hoover threw me a slider right down the middle, I was ready to hit, and I was able to get it out."
"Big swings of the bat ... huge swings. He's a special player. He shows why," said manager Clint Hurdle, who, true to his advocacy of an even temperament, did not show the elation this game deserved.
With McCutchen's lift, the Bucs came off the mat. They also came off as the resilient bunch they are always portrayed to be, recovering not only from the earlier blown lead but from Friday's potentially devastating loss.
"We play, from the start to the end," Hurdle said. "Sometimes we're questioned, 'How do you bounce back?' We just bounce back."
After all the disappointments of the week, real and near, the Pirates now find themselves only 2 1/2 games out of first place in the tight National League Central.
Again, the first half of the game was all Pirates, as Martin lifted a pair of sacrificed flies off Mike Leake, before Leake's errant pickoff throw and Polanco's RBI single in the fourth doubled the lead to 4-0 behind a sharp Morton.
The Bucs have had some major individual implosions this season. You only had to go back a few hours for the latest, when normally unhittable Tony Watson surrendered five consecutive hits with two outs in the eighth for a 6-5 loss.
Nothing, however, may have matched the sudden and total meltdown of Morton. He entered the sixth with that 4-0 lead and having faced 16 men, one over the minimum.
Five batters into the inning, he and the Pirates trailed, 5-4.
Zack Cozart walked, on four pitches. Pinch-hitter Chris Heisey homered, ending Morton's scoreless streak at 15 innings. Billy Hamilton singled and stole second. Santiago walked. Todd Frazier homered.
"Pitches got flat, elevated. From the get-go, I couldn't locate that inning," said Morton, still somewhat in shock after the long game.
Morton had allowed a total of two homers in his previous seven starts.
Martin's dual sacrifice flies were quite the rarity. No Pirates player had turned that double since July 10, 2011, when McCutchen did it against the Cubs in a 9-1 victory at PNC Park. Martin also matched his sac fly total from 181 previous games with the Bucs.
Tom Singer is a reporter for MLB.com and writes an MLBlog Change for a Nickel. He can also be found on Twitter @Tom_Singer. This story was not subject to the approval of Major League Baseball or its clubs.