Kennedy's gem goes unsupported against Dodgers
Righty fans eight in eight scoreless innings, but Padres are shut out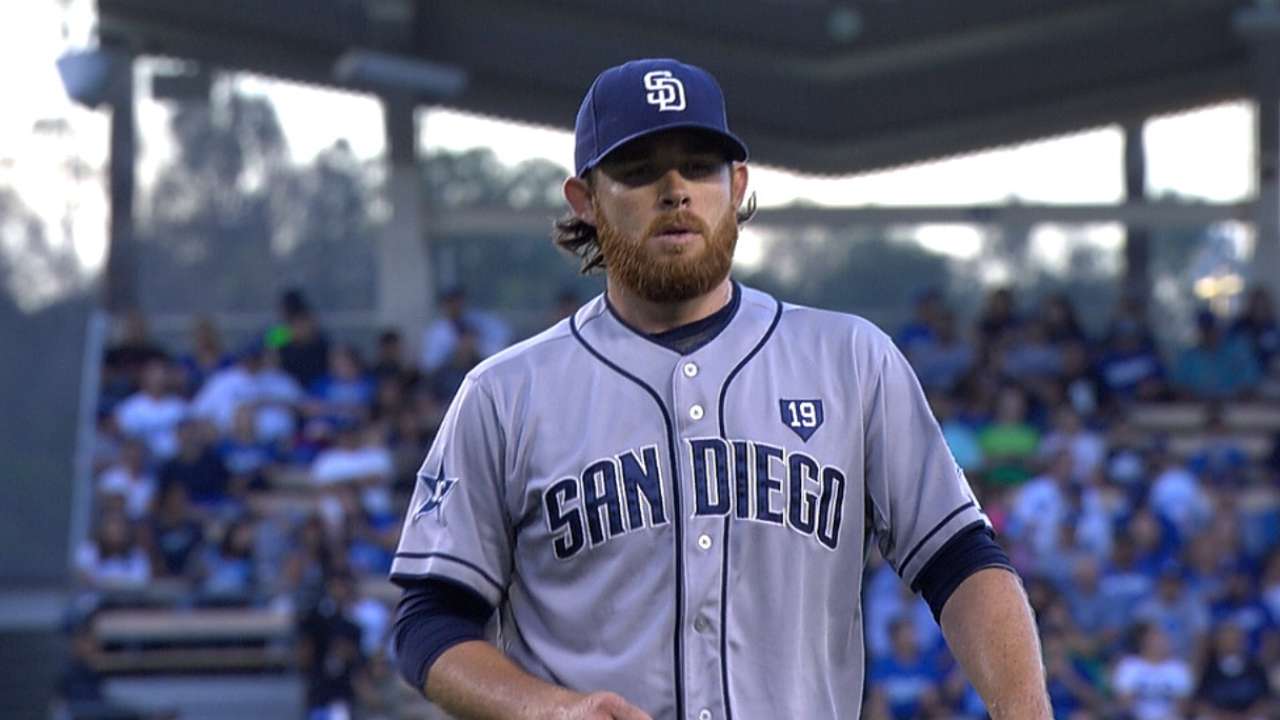 LOS ANGELES -- On his 115th pitch on Saturday, Padres pitcher Ian Kennedy reached back and fired a 95-mph fastball that Carl Crawford just got a piece of, fouling it off to the third-base side.
Pitch No. 116 for Kennedy was yet another heater with some fuzz, this time 96 mph. As he did before, Crawford fouled it off. He ended the eighth inning and his night by getting Crawford to fly out on his next offering.
"Leave it all out there," Kennedy said afterward, smiling. "That was everything I had those last two fastballs."
As it turned out, Kennedy had plenty to leave out there in his final start before the All-Star break, but the Padres' offense couldn't match the effort in a 1-0 loss in front of 51,794 at Dodger Stadium, the Dodgers prevailing on a walk-off sacrifice fly from A.J. Ellis in the bottom of the ninth inning.
Former Padres first baseman Adrian Gonzalez began the ninth inning with a double to center field off Padres rookie reliever Kevin Quackenbush. Matt Kemp struck out, and Quackenbush intentionally walked Andre Ethier. A walk to Juan Uribe loaded the bases to bring up Ellis.
Manager Bud Black went with a five-man infield, bringing Jake Goebbert to play a left-handed second base, leaving left field completely empty and positioning center fielder Will Venable and right fielder Seth Smith shallow and straight away.
"We were trying to cut off the run," Black said. "We know he [Ellis] is heavy on the right side, so if Quack executes there and we get a ground ball, maybe we can get out of that."
Ellis took a strike, fouled off two fastballs, took a ball, then lined the walk-off out that was caught by a retreating Smith near the right-field corner as Gonzalez tagged to score, putting a damper on another gem from Kennedy.
Kennedy's eight shutout innings accounted for his longest outing of the season, tying his season-high with 117 pitches. He allowed only three hits and moved into third place among National League strikeout leaders with 133 by adding eight to his ledger, although it wasn't enough as the Padres (41-53) had five singles against four Dodgers' pitchers, including spot starter Paul Maholm.
"Our pitching has been really good," Black said after the Padres were shut out for the 13th time this season. "We've got to get our bats going."
The Dodgers (53-43) didn't have a whole lot of luck on offense, either, thanks to Kennedy, who has allowed a total of two earned runs over his last three starts. He heads into the second half of the season with a 7-9 record, a 3.47 ERA and looking very much like the pitcher who won 21 games with the D-backs in 2011.
"He's pitching great. He really had command of the outside corner to right-handed hitters," Black said. "I thought that was the big difference tonight. He shut them down."
Kennedy deflected most of the praise to his catcher, Rene Rivera.
"Rene called a great game and allowed me to focus on executing on the pitch. He's so great back there," Kennedy said. "I know if I throw a curveball in the dirt, he's going to block it."
Maholm, starting in place of injured starter Josh Beckett, allowed two hits over six-plus innings. He needed just 65 pitches to get 18 outs and wasn't stressed often.
Kennedy had to work around some traffic, as he allowed the leadoff runner to reach base on four occasions. Each time, though, he escaped unscathed.
"He's been good lately, but today, against their lineup -- it's a series against the Dodgers, so I think there was a lot of pressure, a lot of people watching," Rivera said. "He was great. He was throwing his fastball to both sides of the plate; the curveball was there; the slider was there; even some changeups."
And in his last inning of work, with the finish line close and facing Crawford with two outs, Rivera saw that Kennedy still had a lot left in the tank; Fastball, fastball and, finally, a curveball that got the fly ball.
"He still had some gas left after 100 pitches. He didn't look tired at all," Rivera said. "If we were winning after the eighth, I think he'd go back for the ninth. He was that good."
Corey Brock is a reporter for MLB.com. Keep track of @FollowThePadres on Twitter. This story was not subject to the approval of Major League Baseball or its clubs.