MLB.com Columnist
Bill Ladson
Zimmerman's go-ahead RBI in 10th lifts Nats
After strong start, Washington needs extras to top Hamels, Phils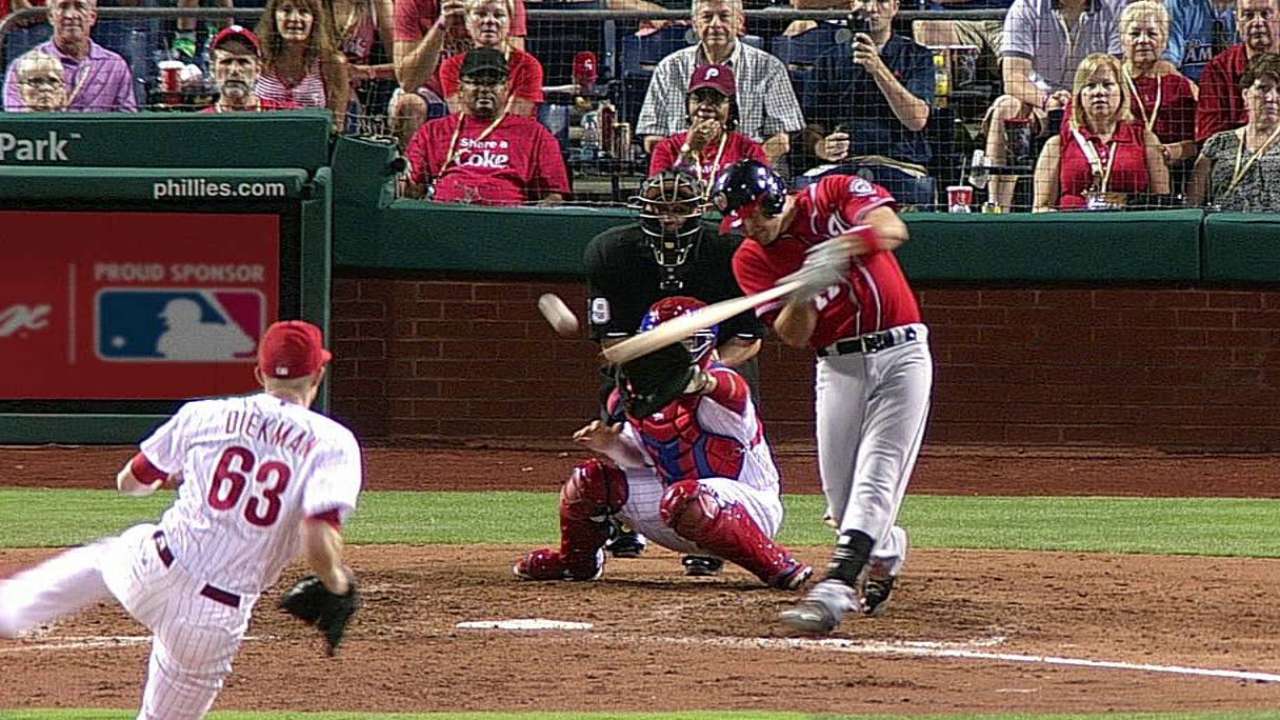 PHILADELPHIA -- Ryan Zimmerman's go-ahead single in the 10th inning helped the Nationals defeat the Phillies, 5-3, at Citizens Bank Park on Saturday night.
The victory means the Nationals are still tied with the Braves for first place in the National League East. Atlanta pounded the Cubs, 11-6, at Wrigley Field earlier in the day.
"Every game's important, but with the way it went last night, [it's] more important tonight," manager Matt Williams said. "We have a quick turnaround. We have to go again tomorrow. So tonight was a good win for us."
With the score tied at 3 and left-hander Jake Diekman on the mound, Washington had runners on first and second with two outs. Zimmerman came to the plate, and Diekman threw a 100-mph fastball that Zimmerman clocked to center field, scoring Denard Span. Zimmerman now has 24 game-winning RBIs in the eighth inning or later.
Zimmerman said he did not know what to expect from Diekman after stepping into the batter's box.
"He really didn't have any pattern. He threw Roche [Adam LaRoche] all off-speed and one fastball," Zimmerman said. "I really didn't know what to expect. I haven't faced him that much either. He was ahead, 0-2, and threw a fastball out over the plate. I put a good swing on it."
With Ian Desmond at the plate in the next at-bat, Diekman threw a wild pitch, allowing Jayson Werth to score.
Left-hander Ross Detwiler was the winning pitcher, while Rafael Soriano picked up his 22nd save of the season by striking out the side. Soriano now has a 0.97 ERA.
"He's been phenomenal," Williams said of Soriano. "He has taken the ball whenever we've asked him to -- not only in save situations, but in tie games as well to get us an extra inning or an extra at-bat. He's been great."
Right-hander Stephen Strasburg started for Washington and grinded through 5 2/3 innings, allowing two runs and striking out nine batters. Both runs were scored in the sixth inning, when Marlon Byrd singled to left field to drive home Jimmy Rollins and Chase Utley.
"He was a little off tonight, not as good as the last time," Williams said. "But he made pitches when he had to. Byrd hit a curveball. We tried to get him through that inning, but he ended up walking the last guy he faced. So we figured we'd go lefty-lefty there [with Jerry Blevins]. … His changeup wasn't quite as good; his fastball command wasn't quite as good tonight, but he battled through it."
However, the Phillies went 2-for-14 with runners in scoring position, something manager Ryne Sandberg blamed on Strasburg and his ability to get out of jams during the game.
"Strasburg had something to do with that," Sandberg said. "He had an outstanding power changeup, which was 89-90 mph. That's what he went to with the men on base. But we scrapped hits and had hits in opportunities, and he pitched out of them."
Washington had struck first against left-hander Cole Hamels, starting in the first inning. After Span led off with a walk, Anthony Rendon doubled down the left-field line to put runners on second and third. Werth came to the plate and grounded out, but Span scored on the play.
Five innings later, Werth was at it again. Rendon started the sixth with a walk, and Werth followed with a two-run homer, his 11th of the season.
One thing is certain: Werth has enjoyed his battles with Hamels, his former teammate in Philadelphia.
"You play with somebody as long as I did and you play the type of games, meaningful games in October, win a World Series," Werth said. "We'll have a common bond our whole life. But it's fun to compete against those guys. It's like I know them inside and out, and they probably feel the same way. It's challenging.
"Cole is a great pitcher; he has good stuff. He left a pitch out over the middle of the plate with two strikes. I was able to barrel it. I hit a lot of homers to right field. I kind of made my money hitting home runs to right field here."
But the Phillies would tie the game in the bottom of the eighth inning against Tyler Clippard. With runners on first and second with two outs, Ben Revere singled to center field to drive in Cody Asche and even the score at 3, ultimately setting up Zimmerman's heroics in extras.
Bill Ladson is a reporter for MLB.com and writes an MLBlog, All Nats All the time. He also could be found on Twitter @WashingNats. This story was not subject to the approval of Major League Baseball or its clubs.