Iwakuma handles A's as Mariners secure series win
Righty finishes first half of season with 2.98 ERA after eighth victory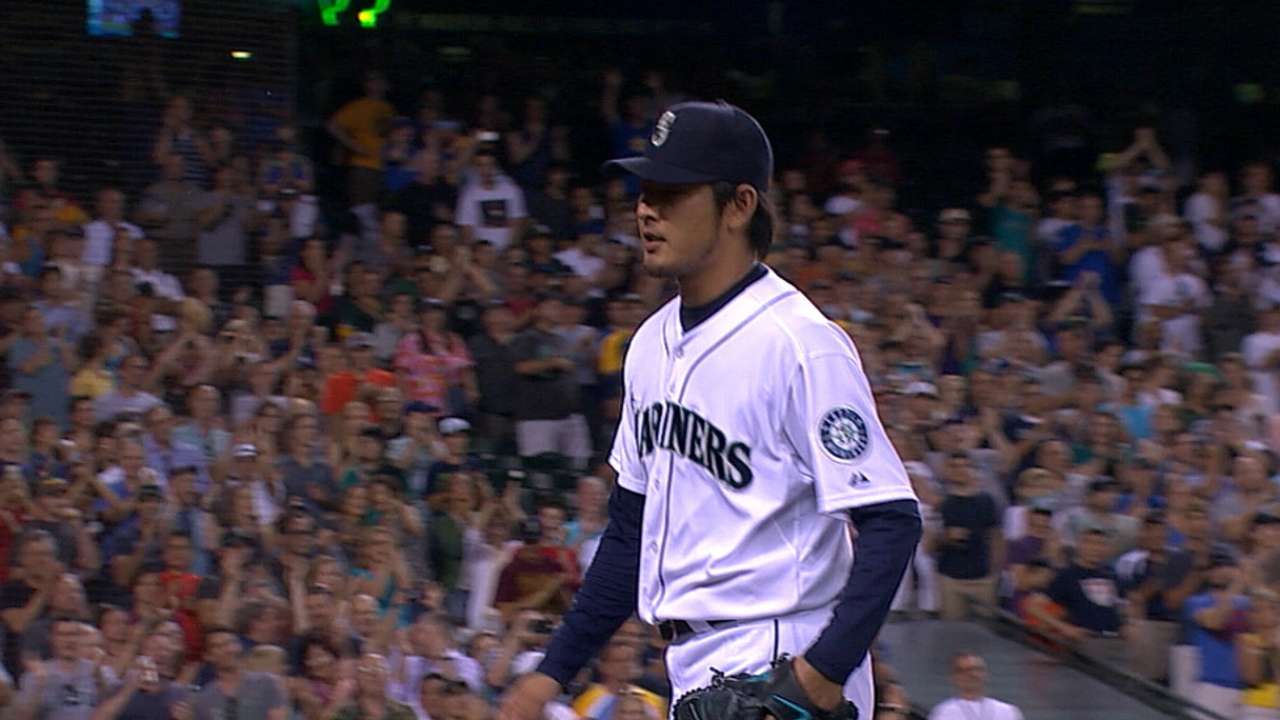 SEATTLE -- Warm weather, excited crowds, great pitching and a pair of wins over their division rivals. What more could have gone better for the Mariners the past two nights at Safeco Field?
For Hisashi Iwakuma, just one more out Saturday would have been the perfect scenario, as he pitched 8 2/3 scoreless innings before a two-run homer by Brandon Moss prevented his first Major League complete game and shutout as Seattle topped the A's, 6-2, for their second straight win against the American League West leaders.
But Iwakuma and the Mariners aren't worried about perfection at this point, though they'd be thrilled to finish off a series sweep now as they close out the first half Sunday with their final game against the club they're chasing in the division standings.
Things are going about as well as could be imagined for a Seattle club whose 51 wins are tied for the fourth-most in franchise history before the All-Star break. Iwakuma even took the time to relish his standout performance on his first bobblehead day with the Mariners after allowing just the two runs on five hits with no walks and eight strikeouts in front of a crowd of 39,204.
"Just looking at the results today, I'm very happy with that," Iwakuma said through translator Antony Suzuki. "Having that being on the bobblehead day is special. We had a lot of fans out there, it was very electric, and [my] last game of the first half, I wanted to finish strong."
All-Stars Kyle Seager and Robinson Cano supplied the offensive support for Iwakuma, with Cano ripping a three-run homer in the eighth after Seager's two-run shot in the fifth.
The Mariners out-hit Oakland, 14-5, with Cano leading the way with a 3-for-5 night that lifted his average to .334 to go along with seven home runs and 56 RBIs. Cano is 14-for-25 on the current homestand.
"He hadn't really gotten hot yet," said manager Lloyd McClendon. "I think the weather is starting to warm up a little, he's starting to heat up, and you're starting to see the real Robbie Cano come out."
Seager now has 15 home runs and 63 RBIs on the season after totaling 22 home runs and 69 RBIs in 160 games in 2013. But the young third baseman is more worried about catching the A's than his own numbers.
"They're ahead of us, so any games you can win, you've got to continue to grind," he said. "These games are over now, tomorrow is a new day, and they're still ahead of us, so we need to keep catching up ground."
The Mariners improved to 51-43 with the win and are 7-5 against the A's, who own the best record in the Majors at 58-36 with one game remaining before the All-Star break. Seattle remains in third place in the tough AL West, but has reduced Oakland's lead to seven games and is now 2 1/2 games ahead of Toronto in positioning for the second Wild Card berth in the AL.
"This is a team you want to beat," Cano said. "They're in first place, and that's the team you want to catch. I don't want to say only myself, I'd say the whole team, is playing really well. Seager, Felix [Hernandez] yesterday, Kuma, [Jesus] Sucre did a great job behind the plate. It's the whole team."
Iwakuma isn't one of the four Mariners ticketed for Tuesday's All-Star Game in Minneapolis, but the 2013 All-Star certainly looked like one of the AL's premier hurlers as he improved to 8-4 with a 2.98 ERA despite missing the first month of the season with a torn finger tendon.
The 33-year-old from Japan is 3-0 with a 1.25 ERA over his last three starts, with 25 strikeouts and no walks. He's walked just eight batters in his 14 starts this season.
"I thought Iwakuma was as sharp as he's been all year," McClendon said. "He had a good fastball and was in and out, kept them off-balance all night except for one pitch in the ninth inning."
The Mariners pushed across the game's first run in the second inning, when Corey Hart doubled high off the wall in left-center, then scored on Dustin Ackley's single up the middle. Hart's double was his first extra-base hit in eight games since coming off the 15-day disabled list on July 4.
After a leadoff single by Cano, Seager added his two-run blast in the fifth. He added a double in the seventh in a 2-for-4 night, putting his average at .276. Seager has hit 12 of his 15 home runs and 42 of his 63 RBIs this season at Safeco Field, where he's batting .346, compared to .207 on the road.
But Seager knew this series has been about pitching -- and providing enough help for Hernandez and Iwakuma -- as Seattle's starters have allowed two runs or fewer in seven of their last eight games.
"It doesn't get too much better than that," Seager said. "Those guys at the top of the rotation are phenomenal. Any time you go into a series with those guys up front, you know if you get a few runs, you'll be on the top end of it."
Greg Johns is a reporter for MLB.com. Follow him on Twitter @GregJohnsMLB as well as his Mariners Musings blog. This story was not subject to the approval of Major League Baseball or its clubs.