Mets use pinch-hits to rally in front of rowdy crowd
C. Young's HR in 7th ties it, Campbell's two-out single wins it in eighth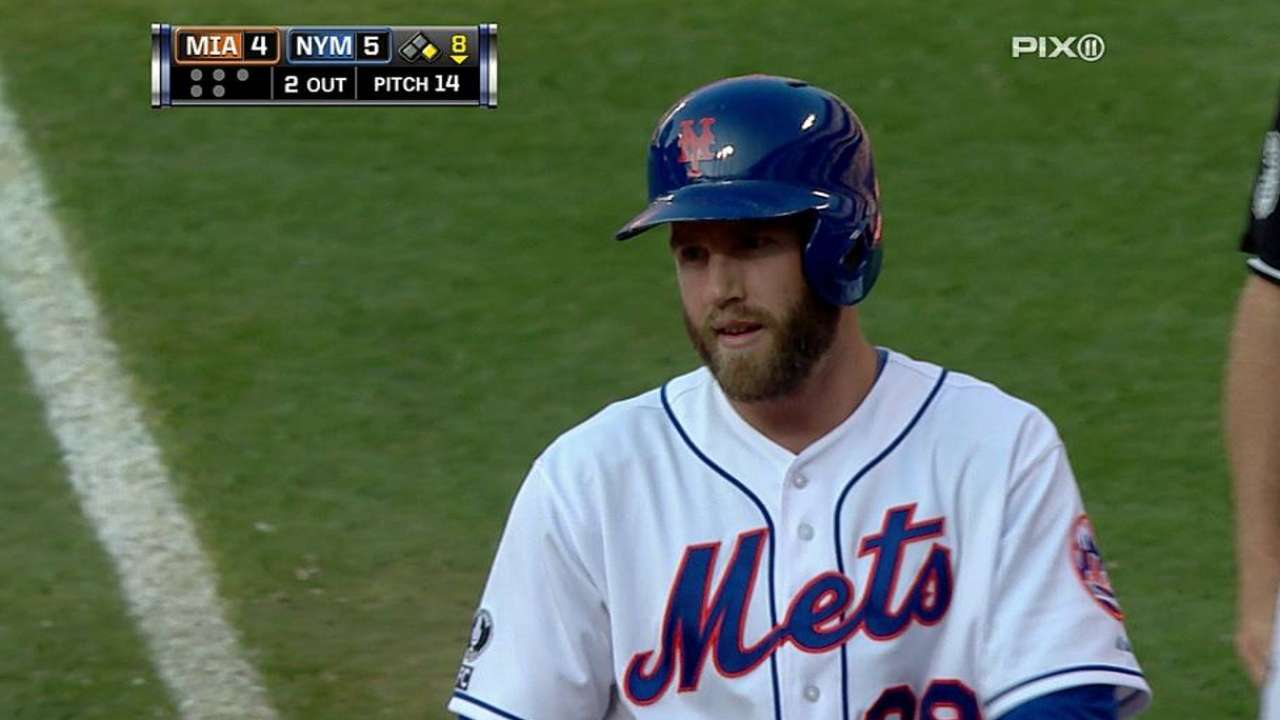 NEW YORK -- The signs were plenty. There were rambunctious, noise stick-wielding denizens packing the center-field bleachers. There were the late-arriving, but surely present, thousands drifting in on a picture-perfect July afternoon. And there were the bursts of energy and excitement -- pent up after several futile months -- during Chris Young's game-tying, pinch-hit homer in the seventh, and again when Daniel Murphy's leaping catch saved a run in the eighth.
And finally, as Travis d'Arnaud slid across home plate in the eighth on an Eric Campbell looper to center, the deciding run in the Mets' 5-4 win over the Marlins on Saturday, the Citi Field crowd of 35,283 made itself heard.
The Mets have changed the mood of their clubhouse over the course of this 10-game homestand that ends Sunday, turning their cliché talk of a chance to end the first half on a high note into actual progress by winning seven of nine. And on Saturday those feelings finally made their way into the seats. The atmosphere was especially electric juxtaposed with the recent attendance numbers.
Terry Collins noticed.
"That's what this town can be like if you're having success," the Mets manager said. "That's why playing in New York is exciting. We've talked about what it's like playing here, we don't have a great record here. Well, the other teams like to play here too because there's no bigger stage to play on than when you come to New York City."
Added Campbell: "We really haven't seen that a whole lot. Obviously winning helps, and winning is going to bring a whole lot of people. Hopefully it continues, because it's fun playing in front of them."
The crowd erupted when Campbell's single to center plated d'Arnaud. Campbell had seen Miami reliever Mike Dunn only once before, getting mostly mid-90s fastballs when the teams squared off in Miami last month. This time Dunn fed him a steady diet of sliders, so the latter wasn't surprised when the lefty went back to it in a full count.
Two key sequences set up Campbell's heroics. First came Young launching the first pitch he saw into the left-field seats to knot the game at 4 in the seventh inning.
"That's something that never gets old," said Young, typically stoic but on this occasion allowing himself a half-smile. "It's a feeling that you love to have. To be able to square a ball up -- there's not a better feeling in sports."
Then came Murphy's grab in the eighth. Adeiny Hechavarria's liner was seemingly destined for right field, but Murphy leaped into the air barely high enough to snag it.
"That's one of those plays you're kind of at the mercy of your own athleticism right there," Murphy said. "Fortunately I had barely enough to get to the ball."
Added Miami manager Mike Redmond: "A big defensive play there that kept us from scoring and possibly changed the outcome of that game."
That was exactly the case, making irrelevant much of what happened earlier: Daisuke Matsuzaka's average outing (four runs in six innings), Tom Koehler's slightly better effort (three runs in 6 1/3), and two separate two-run leads for the visitors.
Miami held a 2-0 advantage, one of the runs coming on Christian Yelich's solo shot, before the Mets scored twice in the fifth. Yelich misplayed a Kirk Nieuwenhuis fly ball that went for a double to put men on second and third with none out, then Juan Lagares' groundout scored d'Arnaud. Nieuwenhuis came home when Ruben Tejada executed a suicide squeeze bunt.
Matsuzaka's outing, which featured 10 strikeouts to tie his career high, might've been his last start for a while. Collins was noncommittal about the future of the rotation, but Jon Niese is expected back off the disabled list after the All-Star break, and Matsuzaka could be the odd man out.
Now the Mets have a chance to finish the first half better than anyone could have expected when they returned home 11 games under .500 and 10 games back in the division last week. They have already clinched this weekend's series, giving them three straight, and another triumph on Sunday would mean eight of 10 for the first time all season.
Collins called this win arguably the biggest of the season.
"We kept fighting," d'Arnaud said. "It shows where all our heads are at right now. We're having fun."
Tim Healey is an associate reporter for MLB.com. This story was not subject to the approval of Major League Baseball or its clubs.