Jackson falters early, Cubs' rally falls short
Right-hander gives up nine runs, three homers in 3 2/3 innings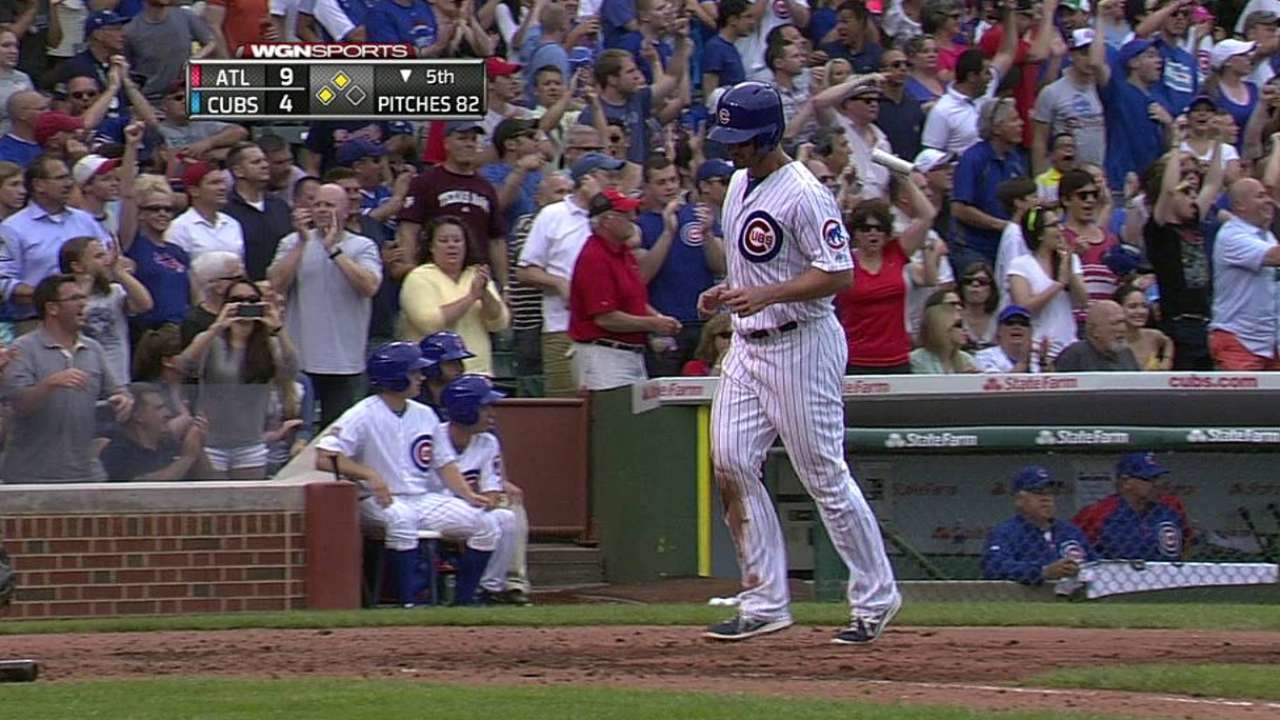 CHICAGO -- Edwin Jackson didn't hold back when assessing his outing on Saturday.
Jackson surrendered nine earned runs on seven hits -- including three home runs -- in just 3 2/3 innings as the Braves pounded the Cubs, 11-6, at a humid Wrigley Field. The outing ballooned Jackson's ERA to 5.64.
"It was just one of those games where it was just embarrassing, how horrendous -- flat-out, no other way to put it," he said. "The team does a great job of battling back, and you continuously go out and give up the lead -- pretty much just unacceptable.
"It's one of those games to put way back in the back of the memory bank."
The game was up for grabs after three innings with the score tied at 3. Then came the fourth, in which the Braves sent 10 men to the plate, pounded two homers and hung a six-spot on the board.
Chris Johnson smacked a two-run homer to left two batters into the inning, but Jackson retired the next two on grounders. One out away from getting out of the inning down just two runs, Braves starter Mike Minor smacked a solo shot to left for just the second home run of his career.
Jackson then loaded the bases on walks to B.J. Upton and Freddie Freeman sandwiched around a single by Andrelton Simmons, and the starter was yanked. Carlos Villanueva came in and served up a three-run double to Justin Upton that put Atlanta ahead 9-3 and closed the book on Jackson.
"To me, today was just not his day," manager Rick Renteria said of Jackson. "Both sides were kind of going back and forth with scoring runs on each other, and we just tried to help him out there a little bit, but it just wasn't his day."
The Cubs fought back with three runs in the fifth, when Arismendy Alcantara, Justin Ruggiano and Anthony Rizzo loaded the bases on singles. Alcantara scored on a passed ball and Chris Coghlan drove in two with a two-out double to left.
Chicago took a 2-0 lead in the first on Ruggiano's RBI single and Coghlan's two-out RBI double four batters later. The Braves responded in the second on Johnson's first two-run homer, which came after a Jason Heyward one-out walk.
"Hopefully, that's just another aspect of my game I'm trying to work on, that power stroke," Johnson said. "But I'm not trying to hit home runs. I hit the first one pretty good. The second one was just a line drive and caught a good day in Wrigley."
The Braves tallied a run in the third on a B.J. Upton double, and the Cubs tied it up in the bottom half. Ruggiano led off with a double and scored on Welington Castillo's two-out double that Justin Upton misjudged in center, as the ball deflected off his glove while he was jumping.
The bright spots of the day came from Alcantara, Ruggiano and Coghlan, who combined to go 7-for-12 with four runs, four doubles and four RBIs.
Coghlan is hitting .429 with eight doubles, two homers and 10 RBIs in 12 July games, while Alcantara is 7-for-18 with three RBIs and five runs scored through his first four Major League games.
Jackson, meanwhile is tasked with figuring out what went wrong during a rough first half. His overall ERA is skewed by a 6.05 mark in 10 road starts, and prior to Saturday's outing, he had a 3.86 ERA in eight home starts.
Either way, it hasn't been pretty. Jackson fell to 13-27 with a 5.23 ERA since joining the Cubs last season.
"At the end of the day, you have two options. You can accept it and fold or take it as a slap in the face and turn around and do something about it," Jackson said.
"We have a long second half. There's definitely a lot of baseball left. I feel like I can definitely turn things around and have a better second half and have the whole first half forgotten about.
"But at the end of the day, those are pretty much the only options. There's no in between."
Joe Popely is a contributor to MLB.com. This story was not subject to the approval of Major League Baseball or its clubs.