Yanks rookie Greene tops O's with vet's poise
Righty scatters four singles over 7 1/3; Teixeira's early double enough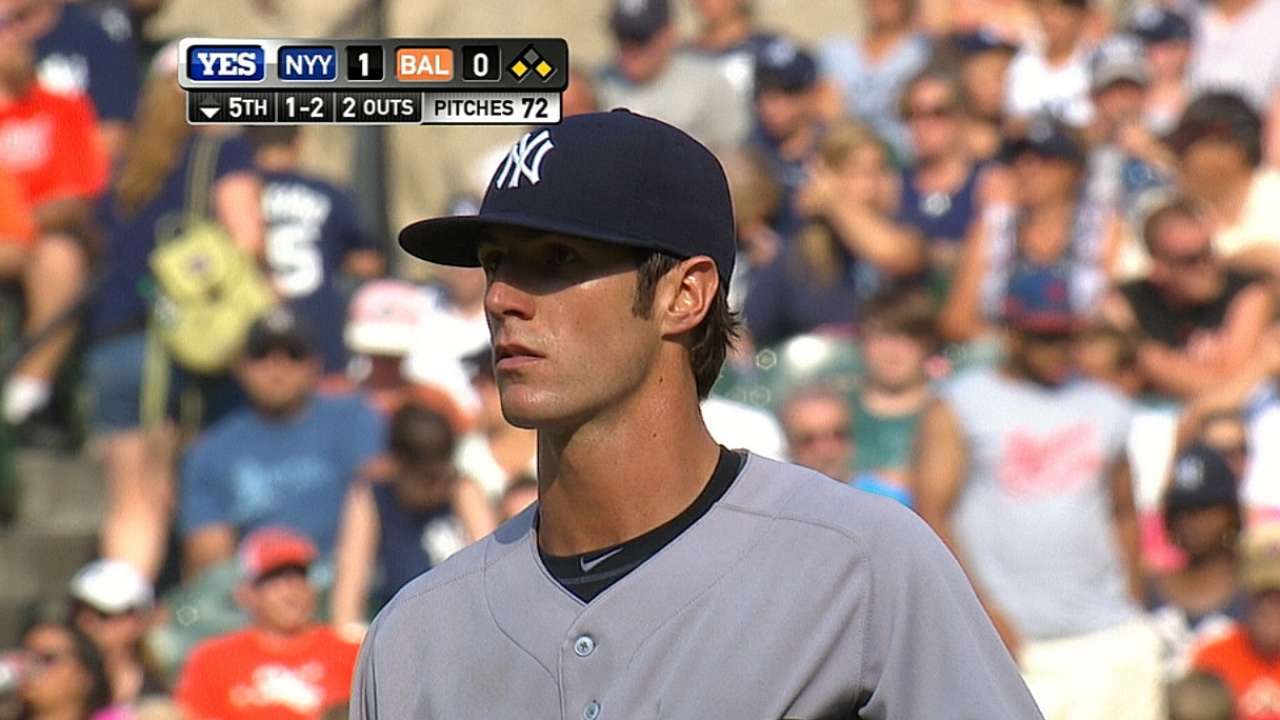 BALTIMORE -- The appeal of an easy weekend highway drive into the Inner Harbor meant that there were plenty of supportive faces clutching tickets when Shane Greene looked up from the infield grass in the eighth inning on Saturday, trying to absorb a standing ovation.
Greene said that he felt goosebumps, and the Yankees sensed that they may have found an answer for their dented rotation. Greene allowed four hits over 7 1/3 stellar innings, earning his second big league win with a 3-0 victory over the Orioles.
"It was awesome, for sure," Greene said. "It means a lot. It means a lot that I got the opportunity, and it means a lot that I can come up here and help the team win."
Mark Teixeira, Derek Jeter and Jacoby Ellsbury drove in runs for the Yankees, who improved to 6-4 on their current 11-game road trip. New York trimmed its deficit in the American League East back to four games behind first-place Baltimore with the victory.
With Greene watching from the dugout, David Huff permitted a hit on the only pitch he threw, but Shawn Kelley recorded two outs in the eighth before David Robertson pitched a perfect ninth inning with two strikeouts for his 23rd save.
"Any time guys go down to injury, it gives other guys opportunity," Jeter said. "When you have those opportunities, you need to make the most of it. [Greene's] done that. He's come out and thrown strikes and put us in a position to win every time he's pitched."
It took an unpredictable slew of injuries for the rotation wheel to land on Greene, a 25-year-old sinkerballer who had posted a 4.61 ERA in 15 games (13 starts) with Triple-A Scranton/Wilkes-Barre, but he is making the most of the opportunity.
"We were really excited about him in Spring Training and what he could possibly do for us," Yankees manager Joe Girardi said. "We felt that he could help us at some point this year, and the time is now."
Trusting catcher Francisco Cervelli with complete confidence, Greene peppered the strike zone in a nine-strikeout performance and didn't allow a hit until Manny Machado connected for a two-out single in the fifth inning. It was the second time in as many starts that Greene has worked 4 2/3 hitless innings.
"Everybody's a big leaguer here; everybody can do the job," Cervelli said. "Just because we lost big names, it doesn't mean the other guys cannot do it. We've just got to work, have a good plan and just come ready to win -- every game."
Girardi challenged Greene in the sixth, leaving him in after the rookie permitted hits to Nick Markakis and Steve Pearce opening the inning. Greene responded by getting Adam Jones to hit into a double play, then fanned Nelson Cruz -- one of the All-Star slugger's three strikeouts against Greene on the afternoon.
"He had control of the game pretty much the whole time, so it was exactly what we needed," Jeter said of Greene.
Orioles starter Chris Tillman permitted three runs and seven hits over 6 2/3 innings, walking three and striking out four. Teixeira doubled home Brett Gardner in the third inning, with Jeter thrown out at the plate on the play.
Jeter rapped an RBI single to left that chased Tillman in the seventh, and Ellsbury greeted T.J. McFarland with a broken-bat double to right that brought the Yankees' third run home.
"Pretty much all my pitches were there for me all day; just a couple of mistakes," Tillman said.
Ellsbury was then thrown out at the plate by Jones on Brian McCann's single to center field. Girardi said that he had no issue with third-base coach Rob Thomson's aggressive sends.
"A lot of it is with two outs," Girardi said. "You're going to take that chance with two outs, and it's good execution. A couple good relays by them, a nice throw by Adam Jones. It's just the two-out situation."
Sitting a game above .500 at 47-46, the Yankees scrambled to find a starting pitcher to plug into their final game before the All-Star break, announcing late Saturday that Chase Whitley will start in what could turn into a bullpen game.
As much thought as Girardi had to give that decision, he figures to be rewarded with some easier choices after the break; Greene's first two outings suggest that he has earned a chance to stick around for at least a few more turns.
"He's going to help us a lot," Cervelli said. "He's already part of this team."
Bryan Hoch is a reporter for MLB.com. Follow him on Twitter @bryanhoch and read his MLBlog, Bombers Beat. This story was not subject to the approval of Major League Baseball or its clubs.