Johnson powers Braves' rout with pair of homers
Atlanta pulls away with six-run fourth; Minor uneven, but goes yard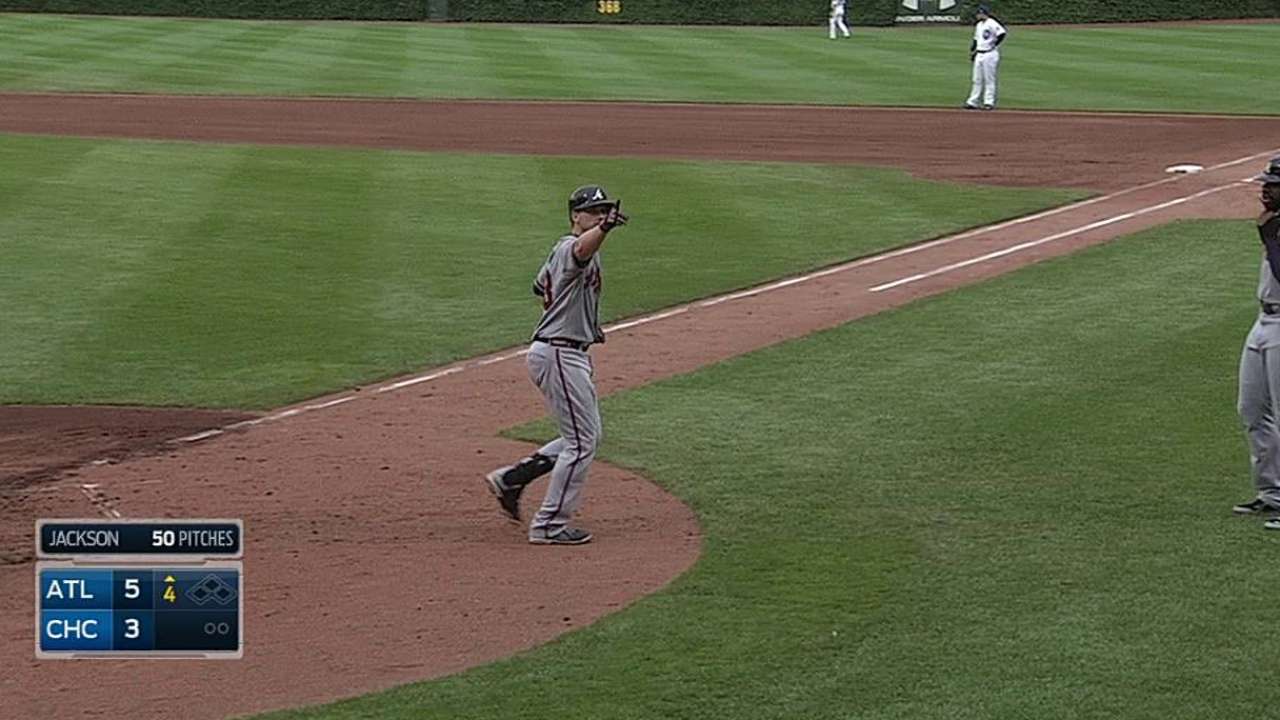 CHICAGO -- The wind was blowing out at Wrigley Field, which usually causes batters to swing from their heels nearly as much as the Home Run Derby during the All-Star festivities.
But Chris Johnson insisted he wasn't looking to go deep, which is somewhat believable because the Braves third baseman had just three homers before Saturday.
Johnson, though, nearly doubled his homer output by stroking a pair of two-run shots, and the Braves busted out of a recent offensive funk with a power surge in an 11-6 victory over the Cubs.
"That's just another aspect of my game I'm trying to work on, that power stroke," Johnson said. "But I'm not trying to hit home runs. I hit the first one pretty good. The second one was just a line drive and caught a good day in Wrigley."
Justin Upton went 2-for-5 with four runs batted in, including a key bases-loaded double in the fourth inning.
The Braves, who had three homers in the game -- including one from starter Mike Minor -- had scored a total of 15 runs in losing five of six before Saturday with no home runs. They had managed just one homer in the previous 12 games.
The offensive barrage couldn't have come at a better time, because Minor (3-5) was not particularly sharp, although he was probably better than his line indicated. He allowed six runs on 11 hits in six innings, but that was good enough on Saturday. Minor has won six times in six career games against the Cubs.
"They hit some good pitches today, swinging bunts, but I think it evened out because they hit some balls on the screws that went right at guys," Minor said. "But it was one of those days where I felt like I made some good pitches and they just got hits."
Chicago starter Edwin Jackson (5-10) had a nightmare outing, giving up nine runs on seven hits and the three long home runs in 3 2/3 innings.
"It was just one of those games where it was just embarrassing how horrendous -- flat-out, no other way to put it," Jackson said. "The team does a great job of battling back, and you continuously go out and give up the lead -- pretty much just unacceptable."
It was apparent early on that this wouldn't be a classic pitching duel.
The Cubs broke through first with a pair of runs in the first inning. Arismendy Alcantara (2-for-5) continued his torrid first week in the Majors with a leadoff double and scored when the next batter, Justin Ruggiano, followed with a single. Ruggiano scored to make it 2-0 when Chris Coghlan (2-for-3 with three RBIs) doubled with two outs.
The Braves struck right back in the second. Jason Heyward walked with one out, and Johnson followed with the first of his two homers -- a blast deep into the left-field bleachers -- to tie the score at 2.
Andrelton Simmons gave the Braves a 3-2 lead in the top of the third with an RBI single, scoring B.J. Upton, but the Cubs quickly answered in the bottom of the inning when Welington Castillo hit a scorching liner to center that B. J. Upton misjudged. The ball glanced off his glove and Castillo was credited with an RBI double.
The Braves then opened up a big advantage with a six-run fourth inning. Heyward got things started with a leadoff double, and Johnson followed with another line-drive homer into the left-field bleachers to make it 5-3. It was the third career multi-homer game for Johnson.
The next two batters were retired on grounders, and it appeared that Jackson would escape with just the two runs scoring, especially with Minor up next. But the right-hander never retired another batter. Minor hit a line drive into the left-field bleachers to make it 6-3.
"I have to say that was luck more than anything," Minor said.
B.J. Upton walked, Simmons singled and Freddie Freeman walked to load the bases. That was it for Jackson. Carlos Villanueva came on, but he provided little relief as Justin Upton immediately touched him up for a bases-clearing double to make it 9-3.
Minor gave up three runs in the fifth, but was able to get through six innings. David Carpenter pitched the final two innings to earn his third save.
"Today was one of those days we needed all the offense we could get," manager Fredi Gonzalez said. "The wind was blowing out -- a typical Wrigley Field day with the wind blowing out -- and you never felt comfortable."
John Jackson is a contributor to MLB.com. This story was not subject to the approval of Major League Baseball or its clubs.