Mikolas, Rangers bitten by rough sixth inning
Angels score four runs to rally, handing Texas its seventh straight loss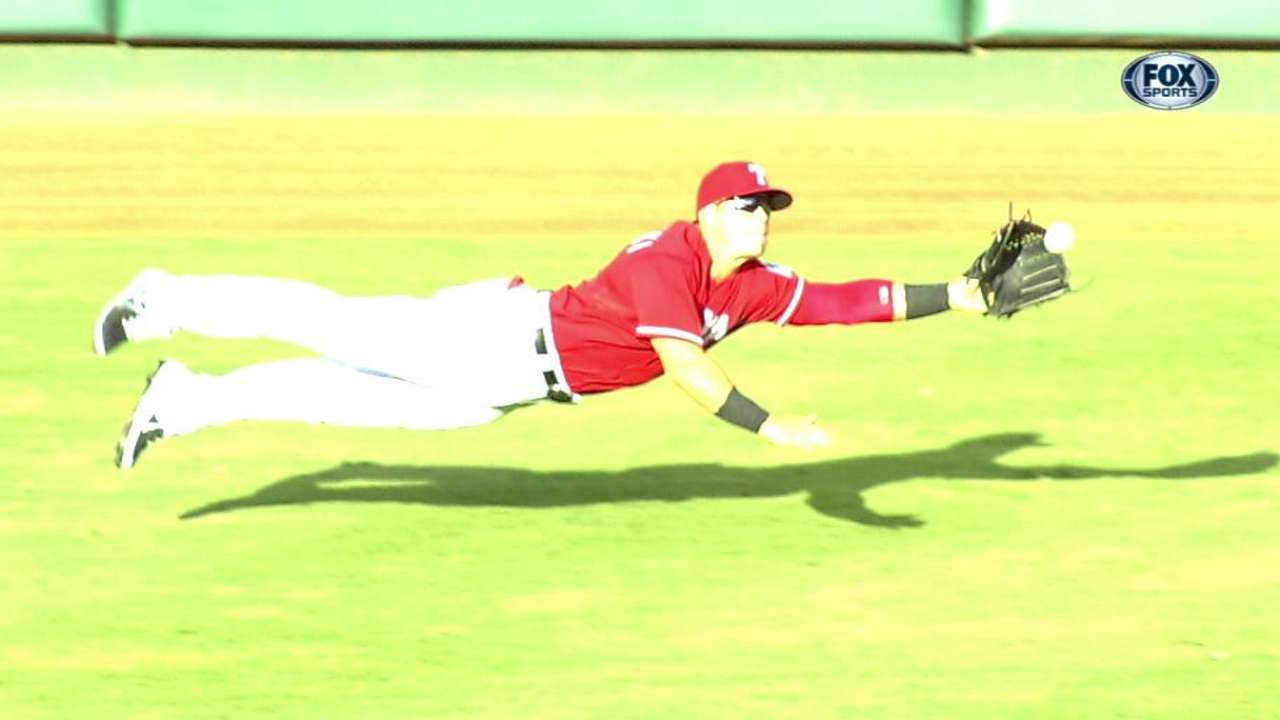 ARLINGTON -- The sixth inning changed everything.
Before it, Rangers starter Miles Mikolas had given up just a single run. For the first time since the Angels arrived in town Thursday, the Rangers were winning.
But the sixth inning changed that in the Rangers' 5-2 loss to their division rivals, their seventh loss in a row and 21st in 24 games.
Sparked by back-to-back singles by Albert Pujols and Josh Hamilton, the Angels scored four runs in the sixth inning to take a 5-2 lead. Pujols scored on Howie Kendrick's single, Hamilton on a David Freese single. Kendrick and Freese were brought in moments later when Hank Conger doubled.
The runs ended Mikolas' night -- and ultimately the Rangers' -- as the starting pitcher slowly walked off the field with his eyes fixed on the ground. After 5 2/3 innings, five of which were strong ones, Mikolas had given up nine hits and five runs. The four earned runs all came in the sixth.
"I left some pitches up. I think the one to Hamilton and the one to Conger both were changeups that I've got to get down in a situation like that. Get that ground ball," Mikolas said. "Those changeups are down, they're probably ground balls. One of them was probably a double play, and we're out of the inning right there."
Rangers manager Ron Washington said he wasn't going to pull Mikolas after Pujols and Hamilton scored because his pitch count was still low and he wanted Mikolas to find a solution to work through it. He was hoping Mikolas would find a way to take control of the situation, and up until that point he was pitching a strong game.
"He had 68 pitches going into the sixth inning, he was throwing well," Washington said. "I pull him out right there, what do I have to do? Get four more innings out of my bullpen? No, he's got to figure out a way to get through that."
Angels manager Mike Scioscia acknowledged Mikolas' first five innings, and credited him for his ability to slow down his team.
Conger's double made the difference in an otherwise quieter night for the Angels.
"He has nice action on his fastball and spins the breaking ball well," Scioscia said. "He changed speeds, had a cutter and a slider. He pitched a good game, we didn't get many good looks."
Mikolas isn't the only young pitcher on an injury-depleted Rangers squad that has to find a way to work through jams like the one he faced in the sixth inning.
The Rangers' rotation is averaging 5.5 innings per start, and the team has been outscored 60-34 in the sixth this season.
That is the largest deficit in any inning.
"You've also got to stay out there and figure out a way to make pitches, to minimize the damage," Washington said. "You give up a couple of runs, but you don't want to stand out there and have four of them cross the dish. You just gotta minimize the damage. I'm not saying that kid can't give up runs. But you minimize the damage."
The Rangers' offense wasn't able to help with that cause Saturday, despite taking an early 2-0 lead.
Rougned Odor drove in Carlos Pena after they both doubled in the second, and then Shin-Soo Choo brought in Robinson Chirinos a few minutes later. The two runs in the second were the only two the Rangers would score.
"I think tonight we had seven chances to drive in a run, I think it was seven," Washington said. "And we didn't do it, besides the two we got. We haven't mustered any offense the past two days."
The Angels wouldn't score a run until the third, and then not again until the sixth. But when they did, they struck big.
Grace Raynor is an associate reporter for MLB.com. This story was not subject to the approval of Major League Baseball or its clubs.