Weaver stifles Rangers long enough for bats to erupt
Veteran allows two runs in seven innings; Conger sparks four-run sixth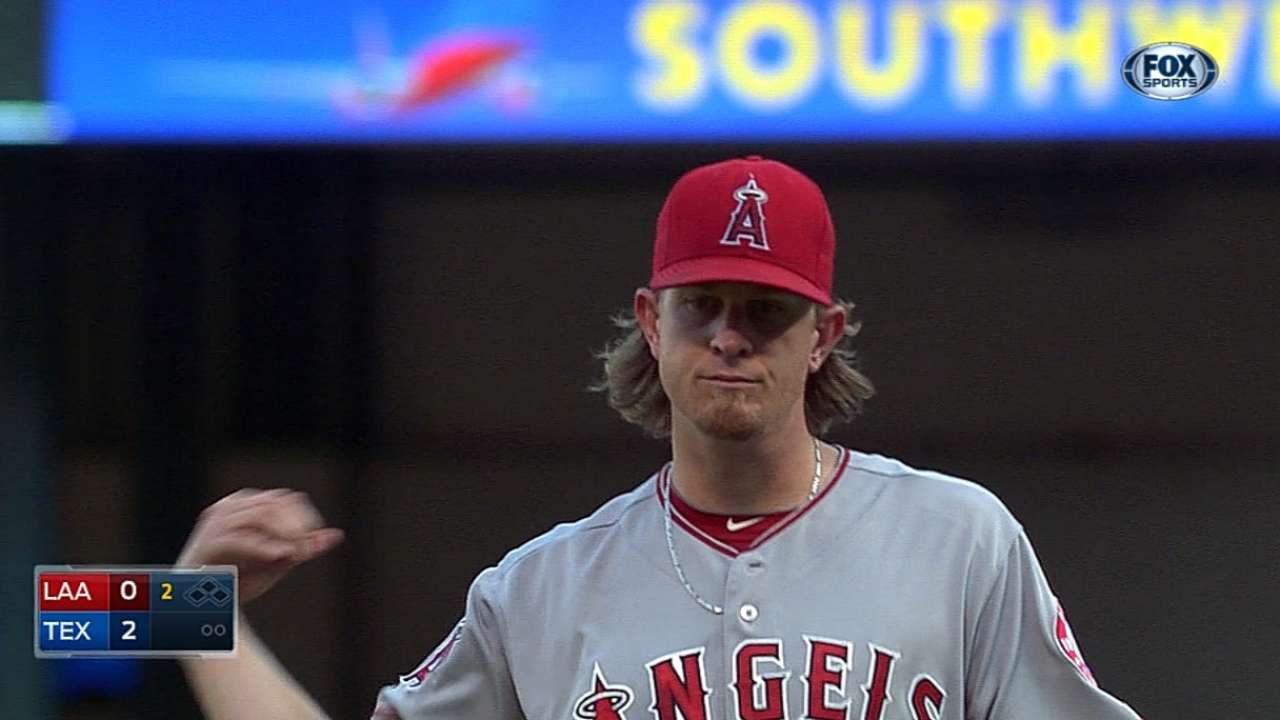 ARLINGTON -- Howie Kendrick had his cake and three base hits, too. Jered Weaver, meanwhile, gave a clinic in damage control on Saturday night, waiting for his high-powered offense to locate its mojo.
Once that happened, in a sudden flurry, the Angels were on their way to yet another happy ending, dispatching the Rangers, 5-2, at Globe Life Park.
Presented a cake in the clubhouse before the game on his 31st birthday, his family in attendance, Kendrick banged three hits and Hank Conger ripped a pair of doubles to spearhead an Angels attack that rallied with four runs in the sixth inning. The club's 28th comeback win of the season leads the Majors, and with an A's loss later Saturday, moved the Angels to within 1 1/2 games of first place.
Weaver moved to 10-6 as the Rangers' losing streak was pushed to seven games with their 21st defeat in the past 24 games.
"Weav did a great job all night for us," Kendrick said, "and it was good to go out and have a day like today, get a couple of hits, help your team win a game. We've been playing really well, and we're always confident we can string some good at-bats together and come back. We have a deep lineup that can make a pitcher work, and that's what we did tonight."
Texas' Miles Mikolas, in his third career start, carried a one-run lead into the sixth, but it didn't last long. Singles by Albert Pujols, Josh Hamilton, Kendrick and David Freese had the Angels in front, Kendrick driving home Pujols and Freese delivering Hamilton.
When Conger drove a two-run double into the right-field corner, the Angels had a three-run lead as Conger was getting thrown out in a relay at third.
Kendrick, Freese, Conger and Collin Cowgill combined to go 7-for-13 with three runs scored and four RBIs. Cowgill was forced to leave the game with facial and right thumb injuries of an undetermined manner when he was struck by the ball on a bunt attempt against reliever Matt West in the eighth inning.
Having received stitches to his nose, Cowgill was taken to a hospital for tests. There were no results immediately announced.
There had been some doubt if Weaver would make another appearance before the All-Star break after experiencing tightness in his lower back after just two innings of his previous outing against the Blue Jays. But he recovered quickly and was cleared to take his normal turn in the rotation.
After convincing manager Mike Scioscia to let him finish the seventh inning, Weaver departed having yielded two runs on four hits, with three walks and three strikeouts. It was the work of a resourceful craftsman who knows his tools and what to do with them.
"I had to talk him into it a little bit," Weaver said of a conference at the mound with Scioscia after a leadoff single by Rougned Odor and a fly-ball out by Shin-Soo Choo. "I left a curveball up to Choo there, but I still felt good and fresh. It was nice of him to show confidence and let me get those final outs."
Mike Morin worked a perfect eighth and Joe Smith matched it in the ninth for his 14th save.
"We were monitoring him closely to see that there was no aggravation [of the back ailment]," Scioscia said. "He got all the way up to 100 pitches [finishing at 103] and seven innings. That's what we wanted for Weav.
"In the seventh, we had Mike ready, and [Elvis] Andrus has had good numbers against [Weaver]. But Weav was adamant he was good, and he talked me into leaving him in the game. I was on the fence."
Weaver snuffed a Rangers rally in the first by striking out Adrian Beltre and Leonys Martin, but they scored twice in the second. Carlos Pena and Odor doubled around a hit batsman (Robinson Chirinos). Odor's double scored Pena, and Odor raced home on Choo's groundout.
Weaver pitched out of trouble again in the third after Alex Rios' leadoff double, stranding him at third after a two-out walk to Jake Smolinski.
"I had three walks -- not what I wanted to do," Weaver said. "Hank had a great game and the defense did the job as well. I felt great. I didn't feel restricted, worried about [the back]. It was nice to come out of it unscathed."
The Angels shaved the early deficit in half in the third on a frustrating at-bat by Pujols against Mikolas, a 25-year-old right-hander. With the bases loaded and one out, Pujols lifted a drive into the second deck, foul, and then lashed what appeared to be a sure double worth at least two runs to left-center. Flying toward the gap, left fielder Smolinski extended his body fully to make a midair stab of the line drive.
"I saw it well off the bat," Smolinski said. "I just wanted to give myself a chance to dive."
Conger, who'd reached safely on Pena's error leading off, scored on the sacrifice fly.
The injury to Cowgill was a matter of concern in the aftermath of the Angels' third win in the four-game series that concludes Sunday. A valuable role player with a .277/.354/.407 slash line, Cowgill had singled, walked and been hit by a pitch in his first three at-bats.
"Obviously, it was an unfortunate turn of events," Scioscia said. "We'll have to wait and see how he is."
Lyle Spencer is a reporter for MLB.com. This story was not subject to the approval of Major League Baseball or its clubs.