Royals can't catch break in race with Tigers
Shields' eight K's in seven innings not enough as KC falls 7 1/2 back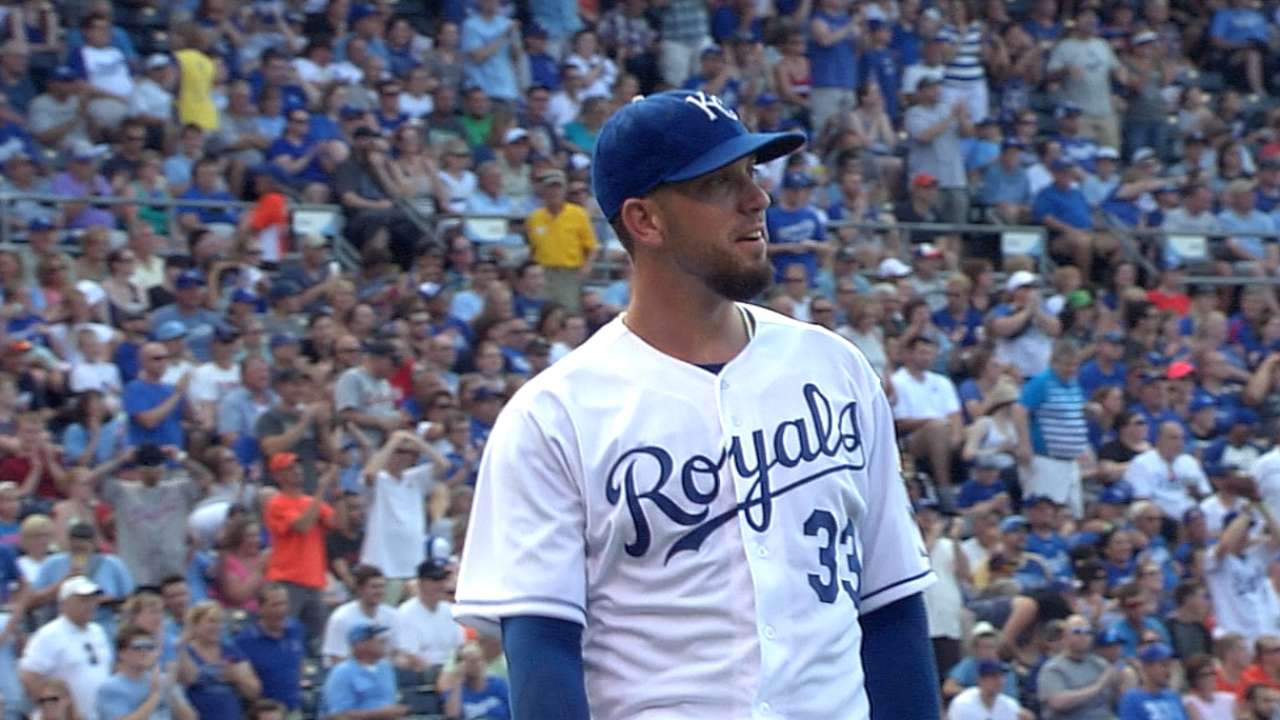 KANSAS CITY -- This prelude to the All-Star break is starting to feel uncomfortably familiar to the Royals.
A year ago, they were dead-set on rising to the .500 mark and instead lost five straight games to go six under at the break. This year, they've dropped three straight to Detroit and another loss on Sunday would mean they've sunk to .500 for the first time in a month.
The Tigers defeated the Royals, 5-1, on Saturday night with 33,849 fans watching the top two teams in the American League Central at Kauffman Stadium. That put the Tigers 7 1/2 games ahead, the Royals' biggest deficit of the season.
Amidst the clubhouse gloom, however, losing pitcher James Shields found a glimmer of hope. He reflected that after the five straight losses a year ago, the Royals roared out of the break and jumped into the AL Wild Card race.
"Maybe we should lose five, considering what we did after the break last year," Shields said, managing a smile. "You never know."
Even manager Ned Yost spun a positive note.
"I think to this point we've under-achieved as a club; but we're still seven games better than we were last year," Yost said. "We know that we're a second-half club. We've been a second-half club the last two years, so we'll take this opportunity to catch our breath and get back after it."
Last year the club was 43-49 at the break, six games under. Right now, they're 47-46, one game over. That's Yost's seven.
The Tigers got single runs off Shields in the third and fourth innings and he finished strong, facing the minimum nine batters in the fifth through the seventh.
"I thought he just pitched his tail off," Yost said.
The Royals got their only run in the sixth off Tigers right-hander Rick Porcello when Salvador Perez and Omar Infante each singled, and Billy Butler stroked a sacrifice fly. The score was still 2-1 going into the ninth.
That's when reliever Aaron Crow took over for the Royals and his string of 9 2/3 consecutive scoreless innings quickly turned to dust. J.D. Martinez led off the ninth with a home run to left-center field.
After the Tigers won an instant replay challenge -- Nick Castellanos was safe on an error at first base -- Alex Avila crashed a two-run homer to right field. Suddenly the Tigers had a four-run advantage.
What did Yost see from Crow?
"Nothing. I mean nothing," Yost said. "He was behind in the count on every hitter and you can't pitch that club behind on every count."
The Tigers, who last year lost the season series to the Royals, 10-9, are dominating this year's series, winning nine of 12 games so far. They're 6-0 in Kansas City.
"It often has to do with when you play a team," Tigers manager Brad Ausmus said. "You wouldn't have said that at our place a few weeks ago when they took three out of four."
And when the Royals left Detroit at that time, they were in first place by a half-game. Now, they're 7 1/2 out.
"This was a big series for us going into the break," Porcello said. "We're definitely looking to at least create some space between us and we've been able to do that so far."
The Royals went into this showdown series feeling confident.
"All the way up to this series we've been feeling really good over the last three weeks to a month or so," Shields said. "We were playing really good baseball."
Not now. So far in this series the Royals have lost 16-4, 2-1 and 5-1. With runners in scoring position, they're just 3-for-21.
"It's the big leagues," Yost said. "You're either getting it done or not getting it done. And we're not getting it done."
The Royals have 69 games remaining.
"We've still got a long way to go," Butler said. "We'd love to win the division. I don't know how far we're back in the Wild Card, but we're still in it basically in every aspect."
The Royals are three games out in the AL Wild Card race.
"We want to get in the playoffs. We'd love to win the division, don't get me wrong," Butler said. "That's our main goal, but we're still right in the thick of stuff."
Dick Kaegel is a reporter for MLB.com. This story was not subject to the approval of Major League Baseball or its clubs.