Porcello wins 12th as Tigers stay tough on Royals
Avila's two-run blast provides insurance for club's fifth straight victory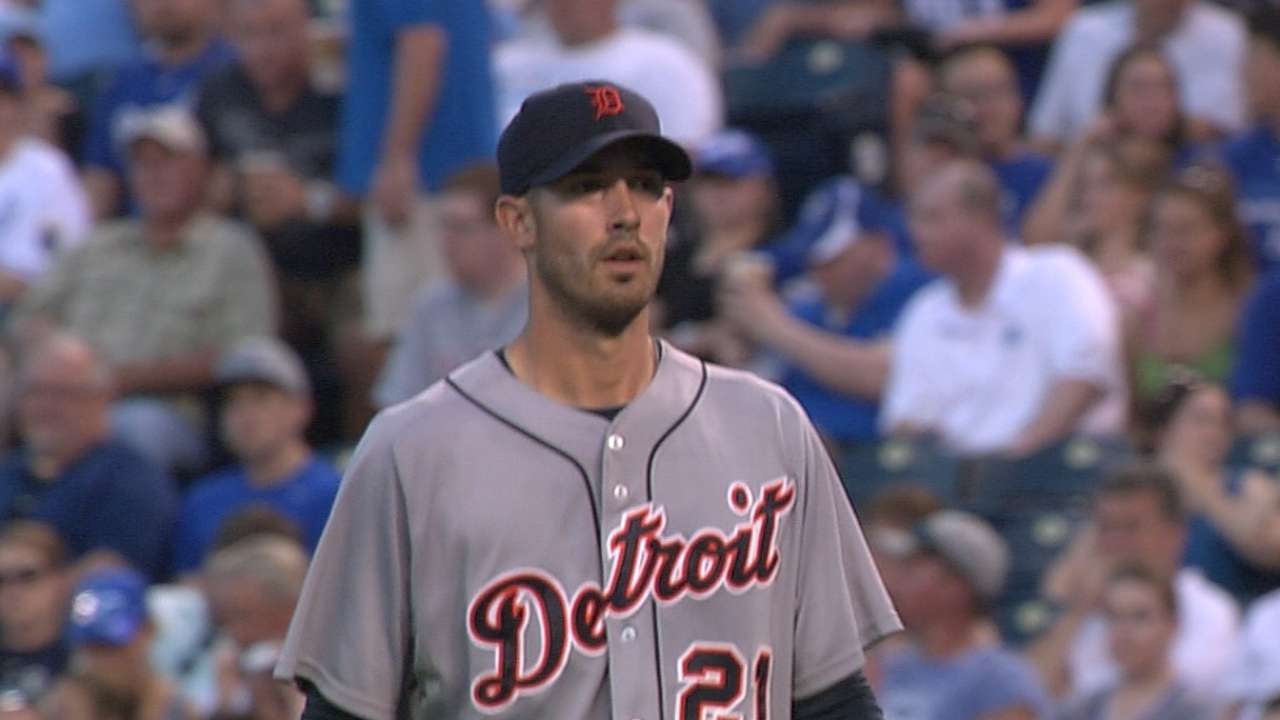 KANSAS CITY -- Rick Porcello capped off a roller coaster last seven days with a fine start as the Tigers beat the Royals, 5-1, on Saturday night for their fifth straight win.
Porcello allowed one run in seven innings in earning his 12th win, while lowering his ERA to 3.39.
"I think he clearly is an All-Star," Tigers manager Brad Ausmus said. "There's going to be quote-unquote snubs every year at the All-Star Game, and I think he's clearly a snub."
The Tigers increased their lead in the American League Central race to 7 1/2 games after taking the first three games of the series. It's their largest advantage of the season.
"This was a big series for us going into the break," Porcello said. "We're definitely looking to at least create some space between us and we've been able to do that so far."
Porcello's batterymate Alex Avila keyed the offensive attack with an RBI single in the fourth and a two-run home run in the ninth for insurance.
"He's had some good at-bats here." Ausmus said. "He had a couple of good at-bats tonight with the single, obviously, and then the home run."
Porcello's whirlwind last seven days began last Sunday when one of his roughest outings coincided with an individual honor.
On the same day the righty allowed seven runs and 11 hits in 5 2/3 innings of an 11-5 loss to the Rays, Porcello was named one of five AL starters in the Final Vote for a spot on the All-Star Game roster. Porcello finished third in voting.
"Well, we all thought that he definitely deserved it," Avila said. "I will say though, that it is a tough group in that Final Vote. And all those guys deserve it, too."
Porcello persevered through the sweltering heat and constant pressure from the Royals' offense on Saturday.
Kansas City collected six hits plus three walks off Porcello, who benefited from a pair of jam-escaping double plays in the second and third innings.
"I wasn't getting ahead of hitters as consistently as I would have liked to, but those double plays were huge. [They] limited some innings that could have gone differently," Porcello said.
Ian Kinsler and Austin Jackson started the scoring in the third, nearly the exact way they did the previous night in the Tigers' 2-1 win.
Jackson smacked a two-out double, then Kinsler singled him home in the next at-bat. On Friday, Jackson led off the game with a two-bagger, and Kinsler plated him with a single.
Avila put the Tigers up 2-0 with an RBI single off Royals starter James Shields in the fourth that scored Torii Hunter, who reached on a triple.
"Over the last few years, I've had some good battles with Shields and he's extremely tough, and he's got a million different pitches on both sides of the plate that he can get you out with, so you really have to be on your game," Avila said.
The Royals' run came in the sixth on a sacrifice fly by Billy Butler to make it 2-1.
J.D. Martinez's third hit of the game was a solo home run off reliever Aaron Crow and put the Tigers up 3-1 in the ninth inning before Avila's blast provided a four-run cushion.
The Tigers can sweep the series and head into the All-Star break on a six-game winning streak with a win on Sunday.
"They're playing better than us right now. Their pitching, for the most part, is as good as we are, but they're swinging the bats much better," Royals manager Ned Yost said.
Jackson Alexander is an associate reporter for MLB.com. This story was not subject to the approval of Major League Baseball or its clubs.