Peavy's quality outing goes for naught
Righty limits damage, but Sox unable to cash in scoring opportunities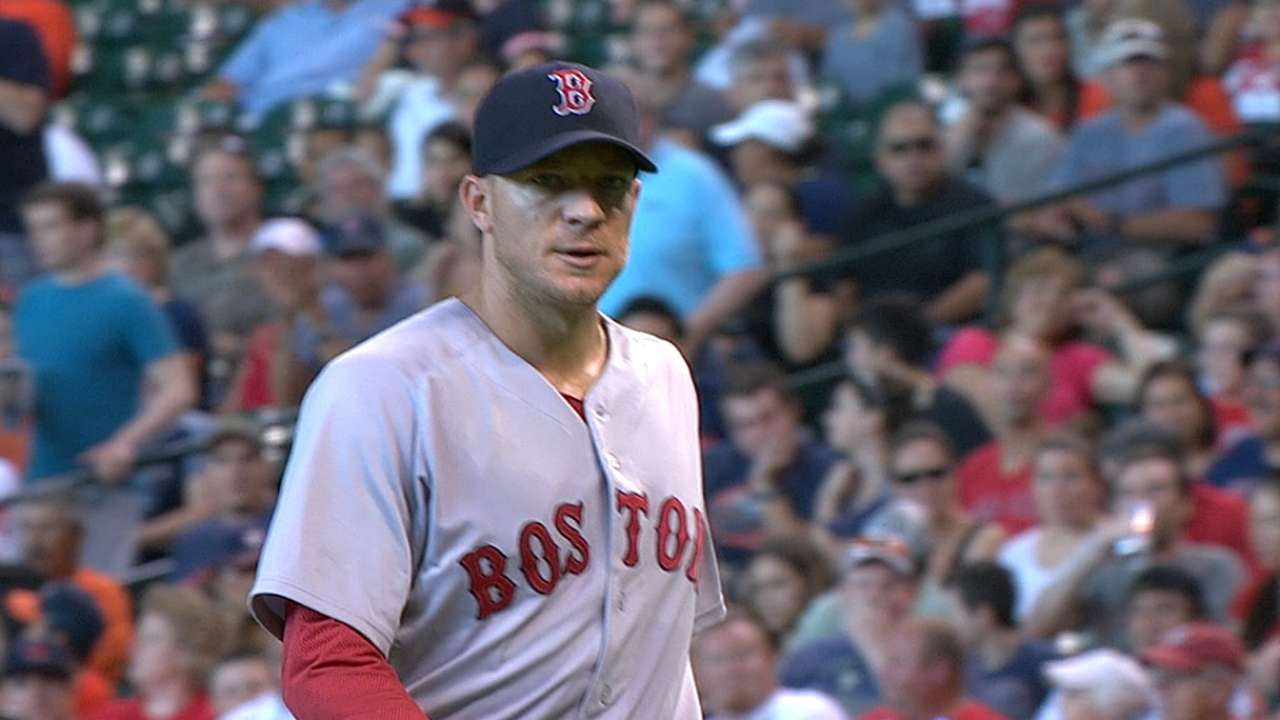 HOUSTON -- There they were -- manager John Farrell, Mike Napoli and David Ross -- all talking about how good Jake Peavy is. And there was Peavy, talking about how he needs to be better for his team.
The three Red Sox complimented Peavy's work ethic, or his performance Saturday, or how he's not letting any distractions impact his performance. After all, his name has been a popular one in trade rumors leading up to the All-Star break.
For at least seven innings Saturday, however, Peavy was a Red Sox, and he pitched well. Then came the leadoff double he gave up in the eighth inning to Jose Altuve that led to Boston's demise, as Altuve would go on to score and the Astros would snap the Red Sox's three-game winning streak in a 3-2 loss at Minute Maid Park.
"It's not even the run support, it's just finding a way to win on that day," Peavy said. "I've pitched in tight games my whole career and found a way to put us in better situations to win those tight games."
Peavy walked out to the mound in the eighth inning to face Altuve, and Farrell said they planned for him to come out after facing the All-Star second baseman. Altuve ended up on second and Peavy walked to the dugout amidst a smattering of applause from Red Sox fans understanding his time with the club may be running out.
Two outs later, Chris Carter hit a grounder up the middle that Brock Holt stopped and flipped to second. Yet a speedy George Springer beat out a barehanded catch from Dustin Pedroia and Altuve scored to break a 2-2 tie.
For seven innings, Peavy dueled against the Astros, consistently avoiding any serious trouble and limiting any Houston opportunity. He struck out a season-high nine batters, and gave up six hits and one walk against a young, aggressive lineup.
"He's a leader," Ross said. "He's in the game when he's not playing, he studies, he goes over scouting reports probably more intense than any pitcher I've ever played with."
Yet Peavy's record fell to 1-8 with an ERA of 4.59. In Peavy's six June starts, the Red Sox averaged 1.5 runs. Saturday was no different, as Boston's 13 hits resulted in just two runs.
After Friday's 8-3 series-opening win against the Astros, Farrell harped on the timing of his team's hits leading to the surge of runs for a Red Sox team that's last in the American League in runs scored. On Saturday, it was back to missed opportunities.
Take the ninth inning, when Mookie Betts and Holt hit one-out singles to put runners on base with Pedroia and David Ortiz next in the lineup. Pedroia grounded into a double play on a call that was challenged and confirmed to end the game. It mirrored a situation in the fifth inning, when Ortiz grounded into an inning-ending double play to halt a promising rally.
"Once again, we built a great opportunity for ourselves with a couple guys on, and unfortunately as we did in the fifth, in the ninth inning we roll into a double play that keeps us cashing in on any opportunities," Farrell said. "In key moments we didn't get a hit."
In the clubhouse, Peavy asked if the Orioles had won and if the Sox had lost any ground in the division. He then also addressed the fact that his name will be brought up in rumors prior to the July 31 non-waiver Trade Deadline.
"I don't want to leave a man in this room," Peavy said. "At the same time, I would never be upset with an organization doing what they think is best."
Mike Vernon is an associate reporter for MLB.com. This story was not subject to the approval of Major League Baseball or its clubs.